Augmented reality brings safety training to life
For Global Safety Day this year, employees and contractors took part in an experiment to see if the new and developing technology could be used to teach safety measures across the operation in a campaign titled "Stronger & Safer Together".
The HSE (Health, Safety, and Environment) team at APM Terminals Brazil developed an augmented reality (AR) app for employees, contractors and visitors to download on their phones which provided video and 3D information about risks and safety operations in the terminal and office buildings.
Smartphone App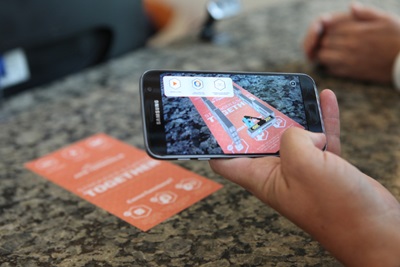 After opening the app, users pointed their phone at stickers placed on a piece of equipment or on the floor or wall of an office building. Then safety information about the location or equipment – such as a reach stacker used to move containers around the terminal – was displayed on the screen, said Gabriel Fiorda Guarnieri, HSE Coordinator for APM Terminals Brazil.
In the case of the reach stacker, the app provided details of the safe distance to stand away from the machine while it was in operation. An animation showed the range of motion the machine was capable of and how much space it need to carry and stack containers in the yard. Another digital marker on the ground — much like a poster — showed potentially unsafe areas at the entrance to the terminal area. Previously, the operational layout of some areas of the terminal were only available on paper. Now they can be accessed at any time via the AR app.
Working with a local contractor, the health and safety team developed marketing campaign materials that were accessed via posters and stickers with a graphic design that triggered access to the 3D information and safety training videos. The markers and stickers functioned like QR codes, prompting the phone app to display the requested materials. The AR information was used during the Global Safety Day discussion sessions, meetings, interventions and pre-shift talks. Users could access the animations and videos through their cell phones all day and the system is still in place.
AR Takes Over Training
APM has joined organisations such as Boeing, DHL, and the U.S. Marine Corps in adding augmented reality to employee training to improve effectiveness. Market researchers estimate that overall demand for augmented reality will drive market growth from $11.4 billion in 2018 to $60.55 billion by 2023.
While AR – the practice of combining digital information with real-world interaction – has been in use for some years, it came to large-scale public awareness with the Pokemon Go game that depicts fictional cartoon characters in the environment using a smartphone and tasks players with walking around collecting them as they appear.
In addition to APM Terminals Brazil, other APM Terminals' companies have experimented with augmented and virtual reality. At the 2018 Trans-Pacific Maritime Conference, visitors could take a virtual tour of Pier 400 at the Port of Los Angeles. Also, the Maersk Resolute drilling rig was the subject of a virtual tour for customers.
Also read: Oil Driller: Is it a lucrative career?
Using AR for training builds on the gaming habits of younger workers, and engages older workers in a new environment, writes Jay Samit, vice chairman of Deloitte's Digital Reality practice in Forbes.com. Millions of people of all ages use their smartphones for communications and games, so using the same tools for company training will engage workers in a familiar way.
Researchers at Accenture have found that using AR for training helps employees perform tasks with a higher degree of accuracy and quality. For APM Terminals, that means users can access the information at any time while they're working in the terminal, allowing them to double check safety procedures on the spot using their phones and the AR safety information. They don't have rely on their memory or return to the office to refer to manuals.
Users Love AR Training
On Global Safety Day in APM Terminals Brazil, the app was downloaded more than 1,200 times and it is still being accessed to train port workers, contractors and visitors (anyone who goes to the terminal has to get some level of safety training).
Guarnieri said users were already familiar with using similar technology, such as Pokémon GO or other games on their own phones, so little training was needed to get employees started. The 3D animation and videos helped users understand and retain the safety procedures that are a part of everyday operations at busy terminals.
"It was really well accepted because they see they were able to see the movement of the reach stacker and details of specific equipment and the operational layout," he said.
The AR content was meant to be only part of the activities for Global Safety Day, but it turned out to be the most popular way of receiving safety training.
"It was planned to be just one way to share a message, and in the end, it was the main activity for the day," Guarnieri said.
Wider adoption of AR technology
After the successful test for Global Safety Day, APM Terminals Brazil plans to adopt AR technology for future campaigns.
"We plan to use it for all safety and environmental training and the platform for internal communication to eliminate printed materials," Guarnieri said. "We're working together with the marketing and internal communication departments to see how far we go with this initiative."
Having enjoyed the AR content at Global Safety Day, workers in Brazil are now eager to see new content. "Now people are asking us what will be the next step," Guarnieri said.
In the coming years, APM Terminals plans to take AR to the next level in its training programs and give workers the latest, most accurate information and skills available, when and where they need it most, without putting them at risk.