Austal To Build Largest High-Speed Catamaran Ferry For Molslinjen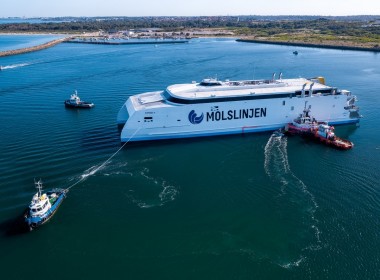 A €83.65 million (~ A$136 million) contract for the design and construction of a new 115 metre high-speed catamaran has been announced by Austal for Molslinjen of Denmark.
This is the next contract after the delivery of the 109 metre high-speed catamaran Express 4, to Molslinjen in January 2019. The new Auto Express 115 will be the largest ferry (by volume) that has ever been built by Austal.
New generation medium speed engines that can work with LNG will be fitted in the vessel. It is designed in such a way that so that it can be upgraded for the use of LNG in the future.
With the construction starting from the third quarter of 2020 and will be delivered in the first quarter of 2022.
"With this new order, Austal has once again demonstrated a clear capability to offer the best, most advanced high speed ferries, cost competitively, reliably and to the highest quality.
"To be designed in Henderson over a 12 month period and then built at our state-of-the-art shipbuilding facility in Balamban in the Philippines, the catamaran will feature Austal's signature raked-bow and optimised hull form, and an LNG-capable medium-speed power plant that offers a powerful, yet economical and environmentally-friendly solution.
"Express 5 will provide Molslinjen with a truly exciting high speed craft that will deliver a unique customer experience."
The vessel will have a capacity for 1,610 passengers, space for 450 cars (or 617 lane metres for trucks + 257 cars) over 2 vehicle decks and an operating service speed close to 37 knots. Additional capacity will added by the ship on the Bornholm route between Ystad and Rønne of Molslinjen from early 2022. The vessel will also have leather reclining seats (with USB ports), Wi-Fi, a full bistro and bar(s), children's play area and multiple audio-visual screen.
The latest design will expand the portfolio of Auto Express vehicle passenger ferry of Austal that will include over 30 catamaran and trimaran hull designs, ranging from 49 to 127 metres LOA, delivered to 30 operators since 1996.
The Auto Express platform features the proprietary Motion Control and MARINELINK-Smart systems of Austal so that it can be customised to fit any requirement or route. It helps in providing the passengers and the crew with a smoother journey and an even better performing ship for the operators.
This is the ship building contract that was referred in the Austal's trading halt request on 23 October 2019. That announcement was made to help the parties resolve the security arrangements under the shipbuilding contract and as a result request of Austal to end the current trading halt in place.
Reference: austal