Bahamas Maritime Implementation Committee Marks 'World Maritime Day' by Launching New Website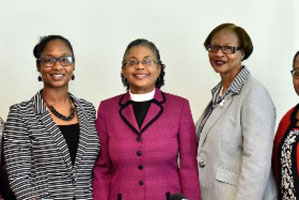 The International Maritime Organization (IMO) observes 70 years since the Convention establishing the organization was adopted. This year's theme is, "IMO 70: Our Heritage — Better Shipping for a Better Future."
In addition to commemorating the day, the National Maritime Policy Implementation Committee launches its website, 'Maritime Matters' www.bahamas.gov.bs/maritimematters
The objective of the website is to provide the public with a central hub that amalgamates maritime-related matters, disseminates information on maritime policy and increases public awareness and education on marine and maritime-based initiatives.
The website will be the central point to give the public access to information such as press releases, legislation, educational programs, training, scholarships and job opportunities regarding the maritime, marine environment, and fishery industries.
Chairperson of the National Maritime Policy Implementation Committee (NMPIC), Rev. Angela Palacious said in a press conference, September 26, 2018 at the Ministry of Transport and Local Government: "the Implementation Committee is pleased to join the international community in celebrating this year's theme and extends an invitation to the private sector and the Bahamian community to participate in and provide stakeholder expertise to any of the subcommittees (Legal; Education and Public Awareness; Environment; Economic; and Enforcement).
"In addition," she said, "the NMPIC announces the launch of its new website, 'Maritime Matters."
Source: http://www.bahamas.gov.bs