Brittany Ferries Commits To Portsmouth By Extending Long-Term Agreement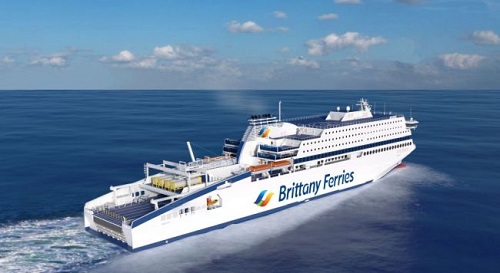 The relationship between Portsmouth International Port's relationship and the major European ferry operator, Brittany Ferries, has been strengthened. They have announced a joint long-term agreement for additional five years.
This means Brittany Ferries is committed to Portsmouth until the end of 2031. During this time further three ships will join the current fleet serving routes from the city. Alongside the Honfleur, Brittany Ferries' state-of-the-art environmentally friendly ship powered by Liquid Natural Gas (LNG), Galicia and Salamanca will both be based in Portsmouth from 2021.
Additional ferries will increase freight numbers and holidaymakers. Currently, the port welcomes over 1.85 million Brittany Ferries' passengers annually. This makes it one of the UK's most popular routes for travelling to France and Spain.
Recently the council approved £19m of investment to transform the facilities and overhaul existing infrastructure for meeting up customers' expectations. It is now a critical priority to replace the 30-year-old passenger boarding tower, required for foot passengers to get access onto the ships.
Cllr Gerald Vernon-Jackson, Leader of Portsmouth City Council said: "This is fantastic news for the city. We are delighted that one of France's premier travel brands, Brittany Ferries, continues to demonstrate their commitment to Portsmouth.
"This also shows the importance of continued investment to make sure the Port is in the best possible position to remain operating as the UK's most successful council-owned port.
"Long-term reassurance from Brittany Ferries means the city's residents benefit from a thriving commercial port, which contributed nearly £8m to the council's budget. This has been essential in helping provide services for the city's most vulnerable residents."
Major projects to improve facilities have already included a brand new energy efficient £9m linkspan, which is best described as a drawbridge to get cars and lorries on and off of ferries. This latest piece of infrastructure will be in place for the next 30 years.
Christophe Mathieu, CEO for Brittany Ferries, said: "Brittany Ferries is delighted to reaffirm its commitment to Portsmouth International Port, our international hub for operations serving France and Spain. Extending our relationship until 2032 will provide further certainty for future plans and supports the on-going investment we are making in fleet renewal."
In 1976, Brittany Ferries first sailed into Portsmouth International Port as one of its earliest customers. Owned and operated to this day by Portsmouth City Council, the Port has worked closely with Brittany Ferries for the last 40 years. It has been the one and only ferry operator to use the Port on a constant basis during the last four decades.
Reference: portsmouth-port.co.uk