Bureau Veritas and [bluester] co-operate in online marketplace for maritime services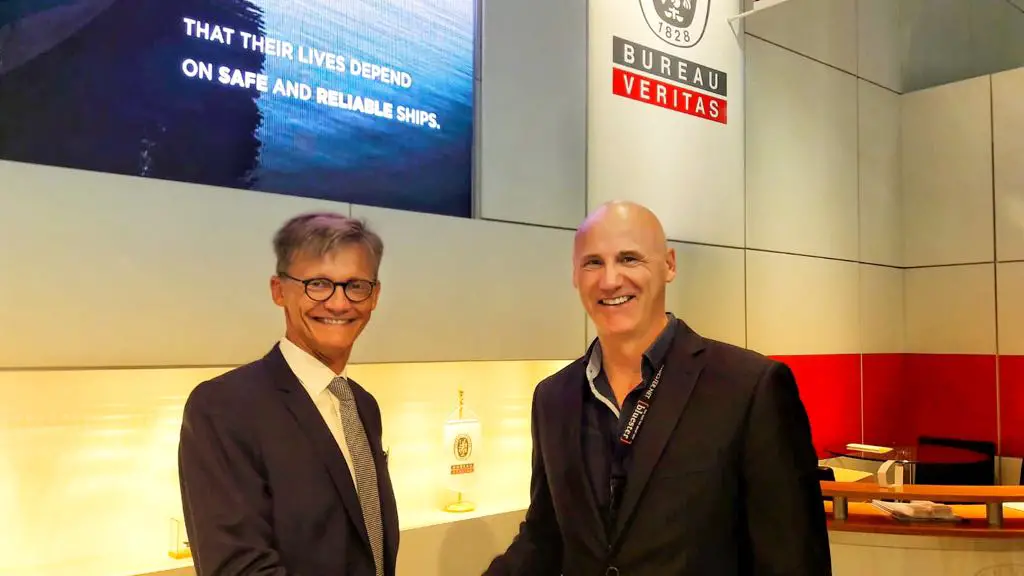 Paris-La Défense, France, September 4th, 2018 – Bureau Veritas is integrating its digital platforms with the [bluester] online marketplace and providing independent vendor qualification services to [bluester] users. The cooperation agreement was signed at SMM in Hamburg by Matthieu de Tugny, COO, Marine & Offshore, Bureau Veritas, and Christoph Kiese, CEO of [bluester].
The [bluester] market place covers the full range of maritime procurement requirements says Christoph Kiese, describing just some of the services available through [bluester]:'Whether it is diving inspections, lifeboat maintenance and repair services, compass calibrations, CO-2 bottle refills, load testing of cargo cranes through to dry docking or hull or damage surveys, [bluester] is providing visibility, transparency in a competitive market place.'
[bluester]'s online marketplace enables buyers and suppliers to settle through a common interface using a set of streamlined processes. Ship managers and service providers automatically, impartially and transparently match against their own predefined criteria for direct contract conclusion on the platform.
Kiese: 'Both the market coverage of [bluester] and the functionality has established what we think is a unique platform in the maritime industry.'
Desktop and global online verification of [bluester] listed service providers by Bureau Veritas will add to the safety, reliability and efficiency of direct contracting through [bluester] as service providers' qualifications and documentation will benefit from impartial validation.
Deep integration of the [bluester] platform into Bureau Veritas' own digital tools VeriSTAR Info, My VeriSTAR, Bureau Veritas Approval Explorer and PSC Ready provides added value and benefits to customers of the [11,000+] ships Bureau Veritas. BV customers will have access to the [bluester] marketplace via a single sign on and receive special user benefits. Once registered with [bluester], Bureau Veritas customers access the portal with the click of a button from their familiar Bureau Veritas desktop and mobile platforms. The special benefits inter- alia include easy transfer of data.
Matthieu de Tugny, describing the background to the cooperation deal with [bluester] said: 'Partnering with [bluester] is a strategic decision for Bureau Veritas. We believe that smart online applications, focused on the enhancement of dedicated market processes in the Maritime Industry, are an important element of digitization in the maritime sector.'
[bluester] CEO Christoph Kiese stresses the importance of the independent and impartial vendor verification that Bureau Veritas will provide: "Through the cooperation with Bureau Veritas, not only for the first time in shipping a global marketplace for maritime support services is accessible, but market participants can also rely on the commercial and legal information shared by buyers and suppliers. This significantly adds value to the allocation process of the entire industry. Additionally, the highly secure user ranking installed is another element that makes the use of our online platform beneficial for all ship managers and service providers.'
About bluester
Bluester GmbH was founded in December 2016 in Ahrensburg, Germany. It offers digital solutions and online applications to optimise supply chain processes concerned with technical and professional maritime support services. The main online application provided to maritime professionals is the [bluester] marketplace (https://www.bluester.net/index_sp.html). Others for example are the BWTS Finder or the RFQ Generator (https://bwts.bluester.net/ and https://rfq.bluester.net/).
Ship Owners/ Managers already using [bluester] inter alia OSM Ship Management, Nordic Shipping, Orion Reederei, TMS Ship Management, Albros Shipping, INOK TM, Bremer Bereederungsgesellschaft, Schiffahrtsgesellschaft Oltmann and other international renowned Ship Owners/ Managers.
Bluester GmbH is corporate member of Transparency International – Deutschland e.V.
As of today Bluester GmbH has 9 permanent co-workers.
For more information about Bluester GmbH and [bluester] please visit https://www.bluester.net/
or contact: Christoph Oliver Kiese, christoph.kiese@bluester.net, M: +49 176 55 45 32 53