C5F's Theater Counter Mine and Maritime Security Exercise Concludes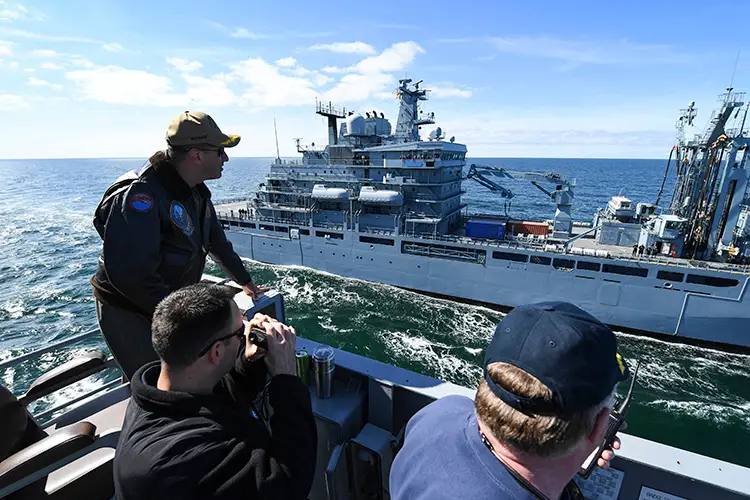 U.S. Navy and coalition assets completed the U.S. 5th Fleet Theater Counter Mine and Maritime Security Exercise, Sept. 18.
The multi-faceted exercise was conducted to ensure maritime stability and security in the U.S. Central Command area of responsibility, connecting the Mediterranean and the Pacific through the western Indian Ocean and three strategic choke points.
'Cooperative security ensures cooperative prosperity, and these collective exercises conducted with our partners and allies allow us to practice the full spectrum of naval operations,' said Vice Adm. Scott Stearney, commander, U.S. Naval Forces Central Command and U.S. 5th Fleet. 'This demonstration of naval maneuver, posture and partnership reassures the international community that we will ensure maritime stability and security in the Central Region, anywhere, anytime.'
U.S. 5th Fleet assets lead Theater Amphibious Combat Rehearsal (TACR) 18, Mine Countermeasures Exercise (MCMEX) 18-3 and a MK-60 Griffin surface-to-surface missile and naval gun exercise. U.S. 5th Fleet assets also participated in the U.S. Central Command (CENTCOM) led exercise Bright Star 18 in Egypt.
Taking place in Djibouti, TACR enhanced readiness for littoral and mine countermeasures capabilities inherent to the U.S. Navy and Marine Corps team to preserve freedom of movement through the critical choke point of the Bab al Mandeb. Approximately 4,500 U.S. Marines and Sailors participated in the integrated amphibious training, which included simulated air defense training, mine countermeasure training, quick-reaction force drills, deck landing qualifications, tactical recovery of aircraft and personnel rehearsals as well as visit, board, search and seizure exercises (VBSS).
MCMEX 18-3, an exercise conducted between the U.S. and United Kingdom quarterly, enhanced cooperation, mutual mine countermeasure capabilities and interoperability, demonstrating the shared commitment of ensuring unfettered operations of naval, support and commercial vessels throughout the maritime domain. The exercise allowed the two nations to incorporate all aspects of the MCM 'triad', using airborne, surface and underwater assets.
Five coastal patrol ships forward-deployed to Bahrain conducted surface warfare training in the Arabian Gulf to enhance their ability to defend minesweepers and other coastal patrol ships by executing a MK-60 Griffin missile exercise and gunnery exercise led by U.S. 5th Fleet's Task Force (TF) 55.
'This fleet firing event was a great opportunity for TF 55 patrol craft to maintain proficiency and increase lethality against small boats,' said Capt. Adan Cruz, TF 55 commodore. 'The hard work, attention to detail and effective coordination between civilian agencies and military units paid great dividends and has been a tremendous success.'
The guided-missile destroyer USS Carney (DDG 64), Fleet Anti-Terrorism Security Team (FASTCENT), a Task Force 55 VBSS team and a Task Force 56 expeditionary mine countermeasures company participated in Bright Star 18, centralized around joint regional security and cooperation in conventional and irregular warfare scenarios near the critical choke point of the Suez Canal.
U.S. 5th Fleet also welcomed the arrival of the F-35B to theater, as part of the Essex Amphibious Ready Group. The F-35B combines next-generation fighter characteristics of radar-evading stealth, supersonic speed, fighter agility and advanced logistical support with the most powerful and comprehensive integrated sensor package of any fighter aircraft in the U.S. inventory, providing the commander of U.S. Naval Forces Central Command (NAVCENT) significantly improved capability to approach missions from a position of strength.
The successful completion of these combined exercises illustrate that the U.S. and our partners stand ready to ensure the freedom of navigation and the free flow of commerce wherever international law allows.