Cammell Laird Splashes New RoRo Ship for Red Funnel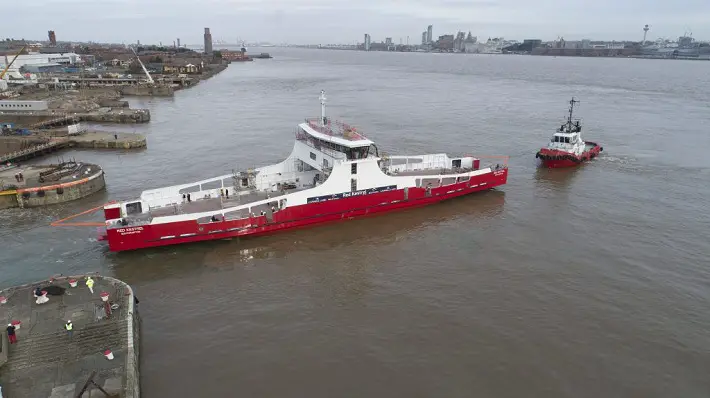 The Red Kestrel, a new freight-only RoRo vessel, will operate between Southampton and Isle of Wight.
The 1,070 gross ton newbuild will officially join the fleet on arrival in Southampton, and enter service in May 2019, following a trials and training period.
The launch event marks the debut of Red Funnel's first dedicated RoRo freight ship since the company's inception.
"We are delighted by today's launch of Red Kestrel…We're thrilled that not only will Red Kestrel increase our total capacity and enhance convenience for our cross-Solent customers but we also take tremendous pride in supporting the revival of world-class shipbuilding in this country," Fran Collins, CEO of Red Funnel, commented.
"We are especially proud to be working for a British ferry company, winning the contract against international competition," Tony Graham, Cammell Laird Chief Operating Officer, said, adding that the shipyard sees a big market in ferry repair, conversion and newbuild.
Red Kestrel is Red Funnel's first ship to be designed for freight traffic. As a freight vessel, it is limited to 12 passengers and constructed specifically to provide additional year-round freight capacity for Red Funnel's Southampton-East Cowes route, which currently handles 53% of all freight movements across the Solent.
At 74 meters in length, the newbuild will provide 265 lane meters of roll-on/roll-off freight capacity.
To minimize the environmental footprint, the hull shape has been designed specifically to reduce wash and a propulsion package has been selected to make the vessel highly fuel efficient whilst meeting the latest Tier III emission regulations. The use of azimuth thrusters will also make the ship very maneuverable, according to Cammell Laird.
The crossing time of 55-60 minutes will be identical to Red Funnel's existing Raptor class RoPax ships and Red Kestrel will use the same berths in Southampton and East Cowes.
Based in the UK port of Southampton, Red Funnel carries 2.3 million passengers and over 800,000 vehicles on its ferry route between the UK port of Southampton and East Cowes and 1.1 million passengers between Southampton and West Cowes on its Red Jet Hi-Speed service.
Press Releases: Cammell Laird
Photo Courtesy: Cammell Laird