CMA CGM Commits To The Environment And Is First To Have Trialed Biofuel Oil Onboard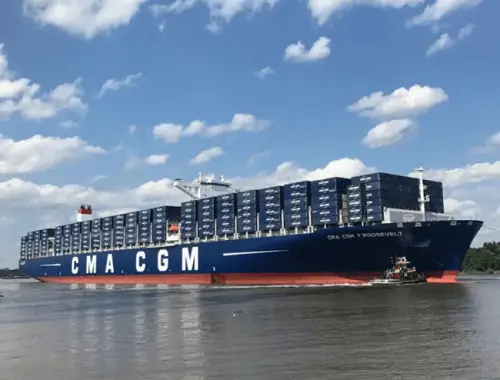 The CMA CGM Group, a world leader in shipping and logistics, reiterates its firm commitment to the environment on the occasion of World Environment Day. As a Group known for its capacity to innovate in the service of the energy transition, CMA CGM is further accelerating its actions in 2019 to protect the environment.
CMA CGM, a pioneer in environmental protection
The Group is firmly committed to the reduction of its carbon emissions and has implemented a number of initiatives to make its fleet more eco-friendly. In recent years, the Group has introduced many innovations to reduce the carbon footprint of its vessels, including:
Improvements in ship design to improve their penetration into the water and thus reduce their fuel consumption,
Latest-generation engines which reduce fuel consumption by an average of 3% and oil consumption by 25%,
An approved ballast water treatment system which clears the discharged water of any living organisms that may harm marine life, without releasing any chemicals into the sea,
The creation of a Fleet Navigation Center, enabling the Group's vessels to optimize their routes in order to reduce their fuel consumption and thus their CO2 emissions.
The Group has achieved a 50% reduction in CO2 emissions per container transported per kilometre between 2005 and 2015. It has also achieved a further 17% reduction between 2015 and 2018, in line with its 2025 objective of -30%.
CMA CGM, a leader in the energy transition of the maritime industry.
CMA CGM Commits To The Environment And Is First To Have Trialed Biofuel Oil Onboard
Testimony to its ambition for the energy transition of the maritime industry, the Group has become a pioneer in the use of liquefied natural gas (LNG) as a marine fuel. This energy source reduces CO2 emissions by up to 25%, sulfur, and fine particles emissions by 99% and nitrogen oxide emissions by 85%.
Since 2018, the Group has thus taken delivery of its first two LNG-powered vessels, and by 2022 it will receive a total of 20 LNG-powered cargo container ships, including nine 22,000-TEU (Twenty-foot Equivalent Units) vessels to be delivered from next year.
In 2019, CMA CGM also became the first shipping company in the world to successfully test a biofuel oil on board one of its container ships. This major step in the decarbonization of ocean freight will highlight the prospects for the development of marine biofuel oil.
This commitment is driven by the strong human and family values shared by the Group's 110,000 employees, who act on a daily basis to build a sustainable future. Their work is regularly acknowledged; in 2018, CMA CGM received a total of 40 distinctions and awards and was ranked among the 1% most responsible companies in the field of transport by specialized agency EcoVadis. This is fully in line with the CSR policy of the CMA CGM Group, which today unveils its 2018 CSR Report.
Reference: cma-cgm.com