CMA CGM Receives Environment Award At Lloyd's List Global Awards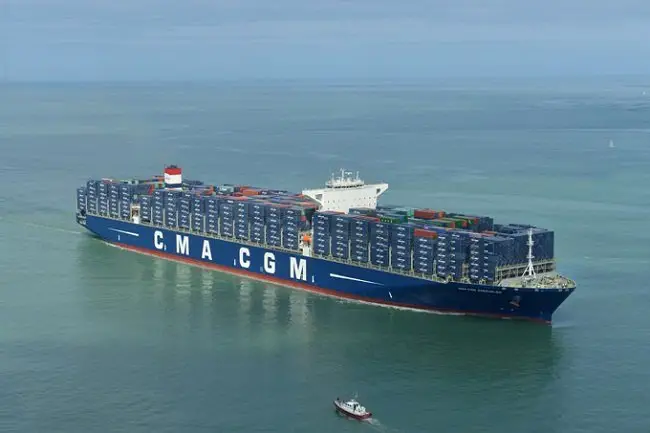 The CMA CGM Group, a worldwide leading shipping group, is very pleased to have been awarded the Environment Award at the prestigious Lloyd's List Global Awards, which were held yesterday in London by the maritime industry's leading publication.
This prize rewards the actions the CMA CGM Group has been carrying out for several years to reduce its environmental footprint as well as its pioneering choice to power its future vessels with LNG, thereby leading the entire industry towards an unprecedented energy transition.
Maritime transport is currently the most environmentally-friendly mode of transportation of goods. The Group innovates constantly to make its ships more environmentally-friendly; the CMA CGM ANTOINE DE SAINT EXUPERY thus emits less than 3 grams of CO2 per ton transported per kilometre, as compared with 91 grams for a truck and 470 grams for a plane.
The Group has additionally reduced its CO2 emissions per container transported per kilometre by 50% between 2005 and 2015, and it has set up a plan to achieve a further 30% reduction by 2025. Proof of its commitment, the Group achieved a 10% reduction in 2017 alone.
In 2018 CMA CGM has also been awarded for the fourth consecutive year the "Gold Recognition Level" by the ratings agency EcoVadis. EcoVadis assesses companies' corporate social responsibility, particularly through the prism of environmental protection. This evaluation positions CMA CGM among the top 1% most responsible companies in its sector and among the top 5% most responsible companies across all sectors.
The jury of the Lloyd's List Global Awards, comprised of a panel of leading journalists and figures of the shipping world, rewards every year leaders and companies advancing the shipping industry. The Environment Award acknowledges the company that has launched the most significant environmental initiatives.
Press Releases: cma-cgm.com
Photo Courtesy: cma-cgm.com