Diversified Port Holdings Announces Its Rebrand to Patriot Ports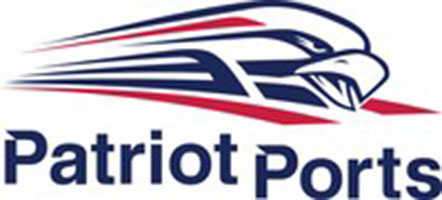 Diversified Port Holdings, parent company to port terminal organizations Portus and Seaonus, has announced the business' rebrand to Patriot Ports.  The rebrand strengthens the combined entity's focus on providing innovative turn-key logistics solutions in both the marine, as well as inland logistics sectors.
The merger of Patriot Rail and Patriot Ports took place in the fall of 2017 and the organization has been working diligently to complete the integration.  The individual port operating entities will continue to keep the names of Portus and Seaonus, although their logos and colors will change to the new Patriot Ports logo.  The Eagle that currently represents the rail companies will now represent the port entities, unifying the two transportation service organizations.
The Eagle symbolizes courage, honesty, and truthful principles, and provides a consistent message of who Patriot is as a company to its employees and customers.  The change of name and logo is effective immediately however changes to the individual websites and company signage will transition over a period of time.
Patriot remains fully committed to a seamless integration of the new port and rail company structure with the priority of the company continuing to be customer first, along with the delivery of cost effective and exceptional service.
Patriot Ports has operated for over 20 years providing import and export solutions for customers across multiple port locations throughout the Southeast and Gulf.  For more information, please visit:
SOURCE Patriot Ports