DNV GL launches new mobile test equipment for testing frequency and voltage control of power plants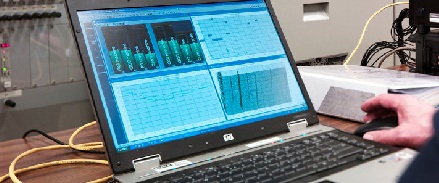 DNV GL, the world's largest resource of independent energy experts and certification body, has launched a new mobile and flexible test tool which allows users to verify the frequency performance and voltage control of power plants, to ensure a reliable power supply. This is especially important for island operations, where the power plant operates in isolation from the national or local grid and for highly sensitive industrial environments, such as pulp mills, refineries, chemical industries and data centres with in-house power production.
New global compliance rules and ancillary services mean that Transmission System Operators now demand that power producers verify their frequency containment reserve and voltage control/reactive power capabilities, as this is crucial for the short-term balance of generation and load. DNV GL's Energy Transition Outlook report, forecasts that the world will experience a surge in global electricity production, with renewable sources powering an estimated 80% of global electricity production in 2050. The large-scale integration of renewables further increases the future need for testing services to ensure that power plants can keep pace with demand.
DNV GL has already demonstrated the success of the mobile test equipment by undertaking successful testing of a pulp mill in Sweden and shipping it to Myanmar for use at a local power plant. Over the course of three weeks, the team travelled across Myanmar, testing, adjusting and verifying the frequency controllers of several units. The tests performed are part of a larger project aimed at improving the power quality in Myanmar by transitioning from manual to fully automatic frequency control.
The new test equipment can meet several needs including:
Grid Code fulfilment verification
Dynamic model validation
Enabling island operation capability
Optimized tuning of frequency and voltage control
Speaking about the launch of the tests equipment, Prajeev Rasiah, Executive Vice President North Europe, Middle East & Africa at DNV GL said: "Shifting requirements within various industries coupled with national regulations means that ensuring the integrity of turbine generators has never been more important. Our new mobile test equipment meets a crucial market need for robust verification using smaller and smarter tools that reduce cost and increase revenue for customers."
About DNV GL
DNV GL is a global quality assurance and risk management company. Driven by our purpose of safeguarding life, property and the environment, we enable our customers to advance the safety and sustainability of their business. Operating in more than 100 countries, our professionals are dedicated to helping customers in the maritime, oil & gas, power and renewables and other industries to make the world safer, smarter and greener.
In the power and renewables industry
DNV GL delivers world-renowned testing and advisory services to the energy value chain including renewables and energy efficiency. Our expertise spans onshore and offshore wind power, solar, conventional generation, transmission and distribution, smart grids, and sustainable energy use, as well as energy markets and regulations. Our experts support customers around the globe in delivering a safe, reliable, efficient, and sustainable energy supply.
Press Releases: DNV GL
Photo Courtesy: DNV GL