DNV GL supports Ørsted as Lenders' technical advisor to the 1.2 GW Hornsea Project One offshore wind farm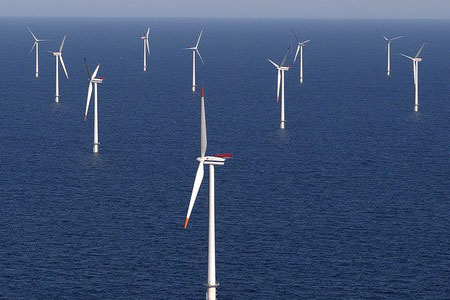 BRISTOL, United Kingdom – 27 September 2018 – DNV GL, the world's largest independent energy advisory and certification body, has successfully completed a lenders' technical due diligence on Ørsted's Hornsea Project One, the world's largest offshore wind farm with a total capacity of 1.2 GW.
The project, which is currently under construction, consists of 174 7 MW Siemens Gamesa wind turbines and is located 100 km offshore, making it the furthest offshore wind farm in the UK. The exceptional distance is made possible by an innovative electrical transmission system using the world's first offshore reactive power compensation mid-station, enabling power to be transmitted 100 km to shore.
Working in close collaboration with Ørsted and the lenders, legal, financial and insurance advisors, DNV GL conducted an independent energy yield assessment and undertook a detailed technical due diligence study on all aspects of the offshore wind farm and offshore transmission assets.
DNV GL's Energy Transition Outlook report forecasts that renewable energy sources will power a surge in electricity demand, accounting for an estimated 80% of global electricity production in 2050. As electricity consumption accelerates, offshore wind farms will play an increasingly important role to ensure that we can meet this demand.
"Drawing on our extensive offshore wind experience, we identified the key technical and commercial aspects of the project. This enabled 35 financial institutions, many of which have limited experience in lending to offshore wind projects, and a credit rating agency to evaluate the risk profile of the proposed structure, and to lend various tiers of debt capital to the project. Making it the largest project financing of a single renewable energy asset known to date," said Prajeev Rasiah, Executive Vice President for DNV GL's Energy business in Northern Europe, Middle East & Africa.
About DNV GL
DNV GL is a global quality assurance and risk management company. Driven by our purpose of safeguarding life, property and the environment, we enable our customers to advance the safety and sustainability of their business. Operating in more than 100 countries, our professionals are dedicated to helping customers in the maritime, oil & gas, power and renewables and other industries to make the world safer, smarter and greener.
In the power and renewables industry
DNV GL delivers world-renowned testing and advisory services to the energy value chain including renewables and energy efficiency. Our expertise spans onshore and offshore wind power, solar, conventional generation, transmission and distribution, smart grids, and sustainable energy use, as well as energy markets and regulations. Our experts support customers around the globe in delivering a safe, reliable, efficient, and sustainable energy supply. Learn more at dnvgl.com/energy.
Source: https://www.dnvgl.com