Dream Cruises Launches New Series Of Universal Class Ships & Lays Keel For Second Global Class Ship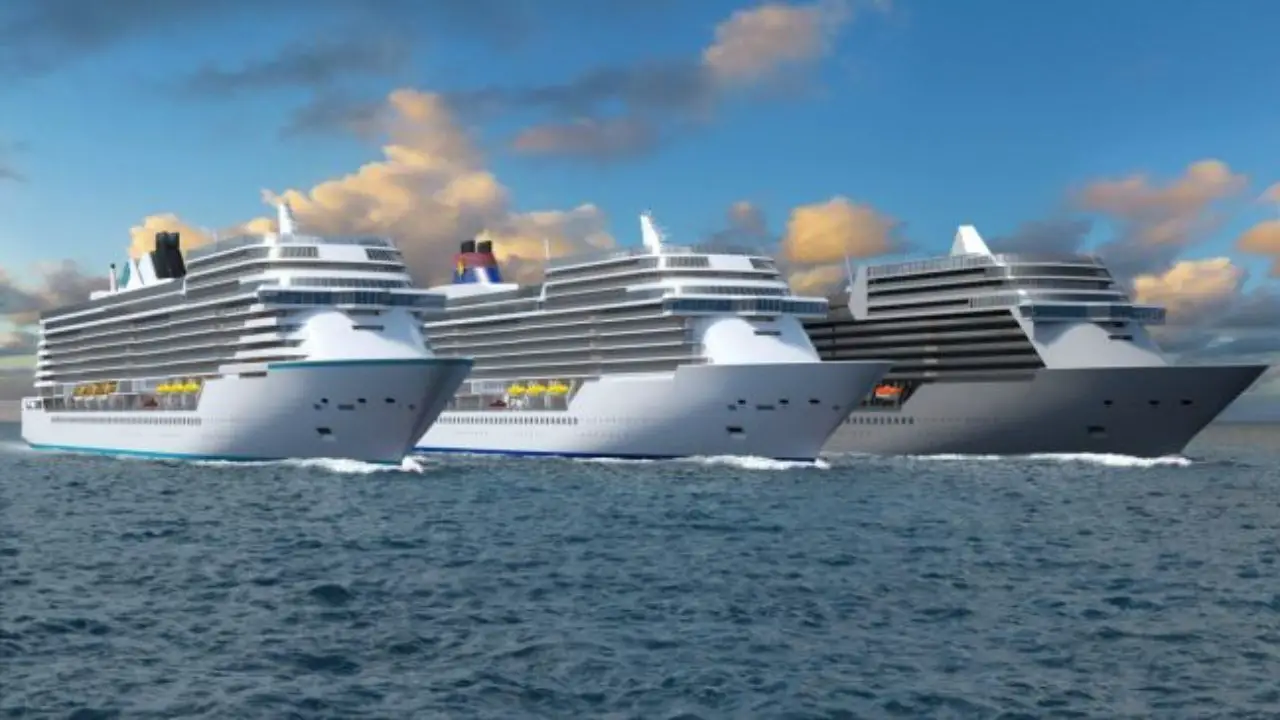 Dream Cruises Launches New Series Of Universal Class Ships & Lays Keel For Second Global Class Ship
The keel-laying ceremony of the Global Class' second 208,000 GT Dream Cruises ship took place at MV WERFTEN in Rostock. The midship was made here.
Only two weeks ago, the passenger ship section of the 'Global Dream' was transferred from Rostock to the covered dock to Wismar. It was the largest portion of the ship with a length of 235 meters and a height of 20 decks that have been ever towed.
The keel-laying ceremony of Global 2 was attended by the guests of the state and federal government, managing directors and media representatives from Germany and Asia, Minister of Economic Affairs Harry Glawe, Genting Hong Kong Chairman and CEO Tan Sri Lim Kok Thay, Deputy Managing Director Hui Lim, Group President Colin Au, Genting Cruise Lines President Kent Zhu, Dream Cruises President Michael Goh and MV-WERFTEN CEO Peter Fetten.
Related: Bad News: Research Shows Cruise Ships Poisoning City Air With Sulphur More Than Cars
According to the tradition, lucky coins were placed by all the participants on the Pallung before the 470-ton section was lowered by the 95-meter high gantry crane.
"We are here for the keel laying of the second ship of the Global Class," said Tan Sri Lim Kok Thay. "But more importantly, we start designing and building a new series of ships, the Universal Class. The first ship will be delivered in late 2022. "
Cruises account for about 2.5% of the entire travel sector. The vessels are so designed, constructed and operated by the Universal Class so as to make the cruise feel like a vacation on land. The ships with a gross size of 88,000 have the capacity to hold 2,000 passengers and provide all the facilities of bigger cruises, without the congestion of more than 5,000 passengers on board. The Universal Class ships will be operated by Genting. It will also do so for hotel brands that wish to enter the cruise industry but cannot due to construction constraints.
"Large hotel brands are always mindful of their brand image, so the Universal Class ships are perfect because they guarantee quality" Made in Germany ". They will meet the highest safety and environmental standards, including LNG propulsion, "said Peter Fetten, Managing Director of MV WERFTEN. "After delivery of the two Global Class ships, the largest ships ever built in Germany, we will bring our experience in the construction of universal ships. MV WERFTEN will be fully employed by 2024. "
Economics Minister Harry Glawe said: "The keel laying is another milestone in MV WERFTEN's ambitious cruise shipbuilding program. The employees master the complex challenges and develop successfully; They secure thousands of jobs, increase added value and contribute to economic stability in Mecklenburg-Vorpommern. "
Also check:
Mariner of the Seas Deck Plan
Wonder of the Seas Deck Plan
Liberty of the Seas Deck Plan
Reference: MV-werften