Fincantieri Delivers Fourth Royal Princess Class Ship Sky Princess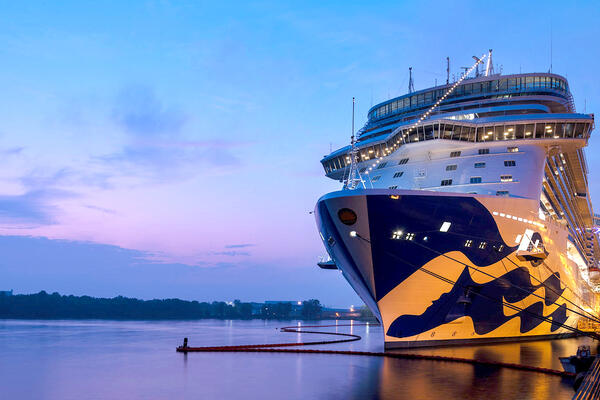 Fincantieri Delivers Fourth Royal Princess Class Ship Sky Princess
The fourth Royal Princess class ship that was built for Princess Cruises by Fincantieri, Sky Princess has been delivered. The Princess Cruises comes the world's largest cruise operator Carnival Corporation & plc, which is the fastest-growing premium cruise line. It was delivered at the Monfalcone shipyard when the Deputy Minister of Economy and Finance, Laura Castelli was present.
This is the 17th ship that has been delivered by Fincantieri to Princess Cruises and all were built at the Monfalcone shipyard. The Sky Princess marks that a for the first time a ship has been purpose-built as a Princess MedallionClass Ship. It is leading technology that helps to deliver personalized service on a large scale by providing better guest-crew interaction and interactive entertainment.
Micky Arison, Chairman of Carnival Corporation, Arnold Donald, President and CEO of Carnival Corporation, Stein Kruse, Group CEO of Princess Cruises, Holland America Line, Seabourn, Carnival Australia, and Carnival UK, and Jan Swartz, Group President of Princess Cruises and Carnival Australia attended the ceremony along with other guests. Giuseppe Bono the CEO of Fincantieri welcomed the guests.
The new ship is built on the basis of its sister ships Regal Princess and Majestic Princess. With a total of 145,000 gross tons, it offers accommodation for 4,610 passengers in 1,830 cabins and 1,411 crew members. All these ships have been built at the Monfalcone shipyard since 2013 that introduced cruise passengers to a new generation of ships. Enchanted Princess and Discovery Princess are two more of this class of ships that are to delivered in 2020 and 2021 respectively.
Like it's sister ships, this vessel makes a technological benchmark by its innovative layout, great performance, and the top-notch state-of-the-art technology in Europe and around the world.
It reaffirms the leadership of Fincantieri in the market by providing innovative and customer-centric service. It also consolidates its partnership with the largest cruise ship operator in the world, Carnival Corporation.
Reference: fincantieri