FUELSAVE Introduces Containerized Engine Optimization System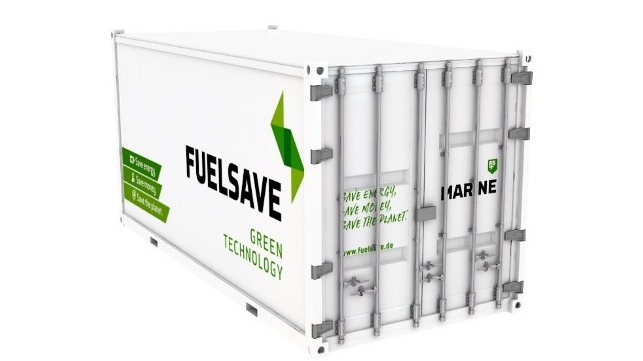 FUELSAVE will unveil a containerized version of its revolutionary FS MARINE+ technology during the SMM 2018 trade fair, taking place during the first week of September, in Hamburg Germany.
The FS MARINE+ Container has been designed to provide ship operators with a more cost-effective, plug-in-and-play version of its engine combustion optimization and emissions abatement system.
Read more: A Guide to Container Units Designs
The FS MARINE+ Container version enables shipowners to deploy the solution with minimum installation and ship preparation costs and without space constraints under deck, while enabling the system to be reusable from one ship to another. The development also facilitates the possibility of "hot-swapping" the containers in due to service and maintenance requirements without impacting the shipping schedule.
The fuel additive technology, proven to improve fuel consumption by up to 25 percent, cut CO2 and nitrogen oxide (NOx) emissions by up to 80 percent, FSN and PM by 40 percent and slash engine maintenance costs, can now be installed on deck in either a TEU or FEU container. The development negates the need for engineroom modifications as only additional pipework is required to connect the FS MARINE+ Container to the engine.
Marc Sima, President of the Germany-headquartered FUELSAVE, said: "The development of a containerized system allows vessels where machinery space is limited to benefit from the FS MARINE + technology. The FS MARINE+ Container is the complete engine optimization package. It is an easy-to-install-and-maintain module that substantially reduces the costs of installation and operation."
Supplied in a conventional Twenty Foot Equivalent box for auxiliary engines or a Forty Foot Equivalent unit that incorporates a methanol tank for operation with both main and auxiliary engines, the FS MARINE+ Container generates a synthetic hydrogen-based gas, which is injected as an additive into the engine's combustion air intake.
While hydrogen is proven to have a positive impact on emissions, its sole use has only a marginal effect on engine efficiency. However, when mixed with and oxygen along with water and methanol injections, combustion efficiency is improved while the engine's air intake temperature is reduced, thus further optimizing the combustion process. Additional efficiency gains are achieved since intake air cooling is reduced to improve the performance of the turbocharger.
"The result is improved efficiency through earlier, cleaner combustion. The system reduces soot on cylinders and decreases operating temperatures of all heat-bearing components, including cylinder heads and liners, pistons and valves, which contribute to lower costs in terms of maintenance and lubricant requirements. It extends engine lifetime," said Sima.
The efficiency improvements incorporated into the latest version of FS MARINE+ affords more efficient electrolysis, with a lower power requirement and increased H2 production.
FUELSAVE CEO, Jan Brugger, added: "All of our technologies have a direct economic and ecological benefit for our customers. The investment is amortized in a short period of time through direct cost savings from the increased efficiencies, and customers can gain assurance from the fact that our research, development, testing and manufacturing are all carried out in Germany, in close collaboration with universities and recognized test institutions. Few, if any energy-saving measures come with a warranty and performance guarantee like that offered by FUELSAVE."
The first FS MARINE+ fully integrated Container will be installed later this year to the deck of a container ship operating in the Caribbean Sea.
The FS MARINE+ Container will be showcased for the first time worldwide, in the outside area of SMM 2018, at Hall A2 FG Stand 11.