GreenVoyage-2050 Project Gets $US4.3 Million To Fight Climate Change By Reducing GHG Emissions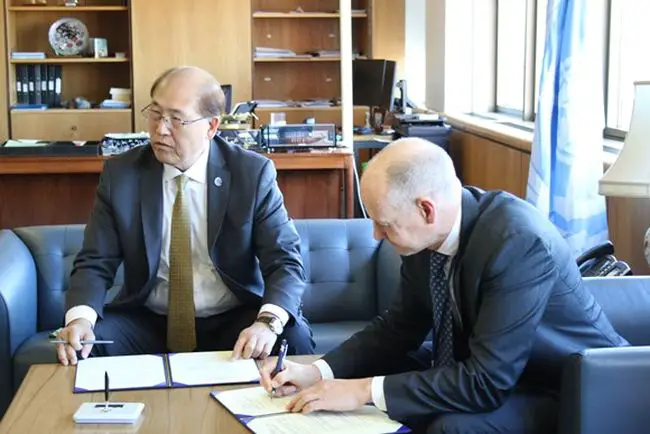 GreenVoyage-2050 Project Gets $US4.3 Million To Fight Climate Change By Reducing GHG Emissions
An additional NON 40,000,000 has been provided by Norway to the IMO-Norway GreenVoyage-2050 project that is going to help in the reduction of GHG to get along with the plan of IMO for the reduction of emission in the greenhouse gas from shipping.
This also supports the UN SDG 13 which is based on climate action. The goal of this project is to help the countries put into force legal, policy and institutional reforms and thereby develop capacity and start and promote efforts at a global level so as to showcase and test innovative technology solutions for the reduction in emissions of GHG from shipping.
Read: The Exxon Valdez Oil Spill Incident
Presently, IMO is choosing pioneer pilot countries, new pilot countries, partner countries, industry partners and strategic partners at national, regional and global levels.
The initial funding of NOK 10,000,000 is being followed by the new tranche for the project which was provided this year.
Meeting with IMO Secretary-General Kitack Lim to sign the agreement for additional funding (13 November), Mr Sveinung Oftedal, Specialist Director of the Norwegian Ministry of Climate and Environment, said, "Norway is very pleased to enhance our financial commitments to support IMO's efforts to build capacity and to provide technical assistance to support the IMO initial GHG strategy. We will continue our efforts to further support the GreenVoyage-2050 project, considering the importance of this project to achieve the goals of the IMO GHG strategy."
A range of partnerships that will support sustainable development and will be made visible in UN SDG 17 was included by IMO. The various other global projects that have been put in by IMO for the reduction of emissions in GHG from shipping which comprises the Global Industry Alliance to Support Low Carbon Shipping (GIA), under the auspices of the GEF-UNDP-IMO Global Maritime Energy Efficiency Partnerships Project (GloMEEP Project) the Global Maritime Technology Cooperation Centre Network (GMN) project, which is funded by the European Union and implemented by IMO.