IRClass & Shipparts.com Ink Cooperation Agreement To Promote Indian Equipment Suppliers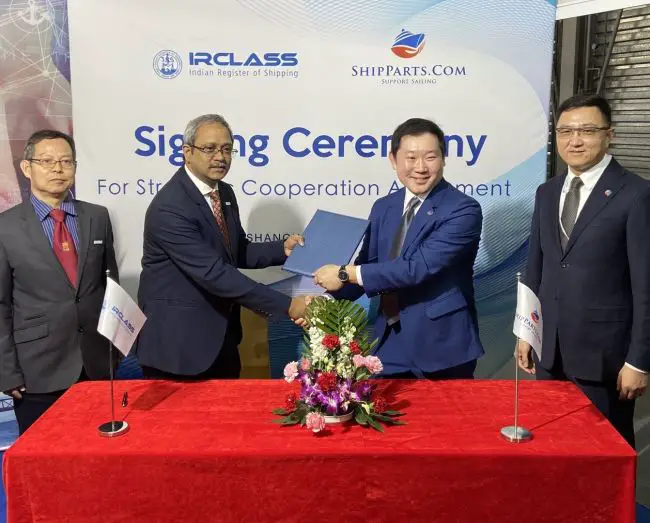 A cooperation agreement has been signed by the Indian Register of Shipping (IRClass) and ShipParts.com for the development of business opportunities that benefit both the companies in the Indian and international maritime industries.
According to the cooperation agreement that was signed at the Marintec 2019 trade show today in Pudong, Shanghai, the Indian equipment suppliers and manufacturers that use the ShipParts.com e-procurement will be certified by IRClass and third party verification of products that are transferred on the site will also be offered.
IRClass Pavilion will be built by ShipParts.com to offer well built digital route to international maritime markets to the certified Indian suppliers.
It will also get the authority to for the introduction of IRClass services to China and international manufacturers that want to enter the maritime sector of the sub-continent.
H V Ramesh, Sr. Principal Surveyor & Vice President, IRClass said: "The agreement we have signed today with one of the world's leading maritime e-commerce platforms marks a new chapter of cooperation that is underpinned by our common business values and digital growth aspirations."
Indian maritime sector has a lot of potential to grow and a number of steps are being taken by the government to boost the maritime industry.
Roy Yap, Chief Growth Officer (CGO), ShipParts.com, said: "India has long been an integral part of the international maritime industry, providing the sector with shipbuilding and repair capacity, quality equipment and services, and professional seafarers and maritime executives. Poised for growth, ShipParts.com is pleased to provide another digital channel for Indian manufacturers and service providers to the world stage with IRClass certification and verification."
Reference: IRClass