Kongsberg Awarded Contract for Grimaldi's Nine Hybrid RoRo Vessels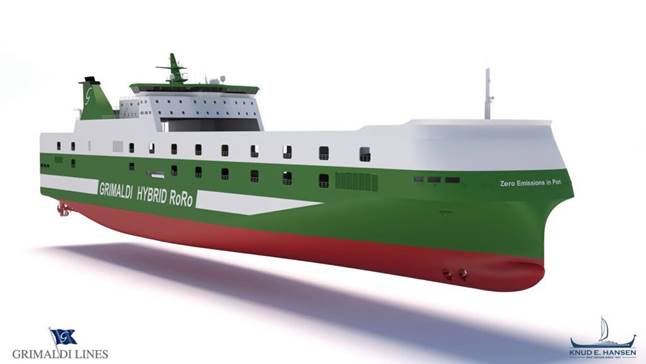 Norway's maritime technology group Kongsberg Maritime has been awarded contracts by China's Nanjing Jinling Shipyard to deliver power and hybrid systems to nine roll-on/roll-off vessels (RoRo vessels) ordered by Italian Grimaldi Group.
The contracts are valued at more than NOK 400 million (USD 47.04 million). The contract scope includes the delivery of supply and integration of large battery systems, shaft generators, frequency converters and energy management systems. The contract also includes an option for three additional vessels which can increase the price tag to more than NOK 500 million.
The delivery will start from 2019 and will be completed by 2022.
The 64,000-ton ships known as the Grimaldi Green 5th Generation will be 238 meters long and 34 meters wide. The nine RoRO ships will be capable to transport over 7,800 linear meters of rolling units or an equivalent of 500 trailers.
The ships ­­– known as the Grimaldi Green 5th Generation – will be 238m long, with a beam of 34m and a gross tonnage of 64,000 tonnes. The nine vessels will be capable of transporting over 7,800 linear meters of rolling units, or the equivalent of 500 trailers.
"Our hybrid solutions deliver tangible benefits," says Stene Førsund, EVP Global Sales & Marketing, Kongsberg Maritime. "Vessels will have zero emissions while in port, reduced overall fuel consumption by utilizing our peak shaving technology, while the batteries will be charged at sea by using the shaft generators."
"The contract shows that our concepts for hybrid vessels are expanding into new vessel types and positions Kongsberg as a leading provider of hybrid technology in the offshore and marine vessel segments," Førsund adds.