Ministry Of Shipping Signs Agreement To Set Coastal Marine Technology At IIT Kharagpur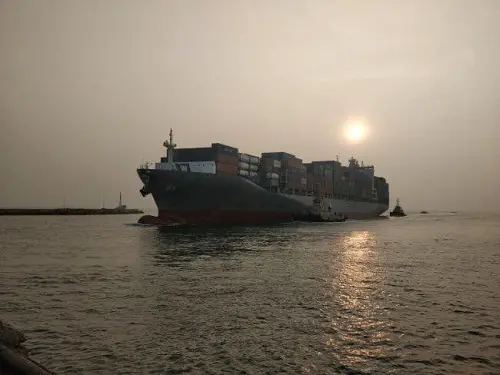 Ministry Of Shipping Signs Agreement To Set Coastal Marine Technology At IIT Kharagpur
An agreement has been signed by the Ministry of Shipping to set up Centre for Inland and Coastal Maritime Technology at IIT Kharagpur. CICMT will be responsible to provide technological, vessel design and applied research support for inland waterways and coastal shipping.
Memorandum of Agreement (MoA) has been signed between Ministry of Shipping and IIT Kharagpur to set up the Centre for Inland and Coastal Maritime Technology (CICMT) at IIT Kharagpur. Shri Mansukh Mandaviya, Minister of State for Shipping(I/c) and Chemicals & Fertilizers was present when the MoA was signed.
Speaking on the occasion, Shri Mandaviya said, "Indigenous technology is the need of the hour for the maritime sector, and we are determined to promote Make- In- India as per the vision of Prime Minister Shri Narendra Modi."
A detail about the state-of-the-art center which is being set up under the flagship Sagarmala Programme, Shri Mandaviya said that the project is of strategic long-term interest for the port and maritime sector of the country and will provide tremendous impetus to Inland water transportation and coastal shipping.
"First of its kind, this center will be a hub for the latest technology tools for the maritime sector and reduce India's dependence on foreign institutions. It will also reduce the cost of research drastically and result in cost and time savings for work in the port and maritime sector," he added.
"Currently, there is no testing and experimentation facility available in the country for inland and coastal vessels for which the shipbuilders have to approach various European countries. The state-of-the-art Centre for Inland and Coastal Maritime Technology (CICMT) is being set up to address this long felt need and to provide impetus to the development of inland waterways and coastal shipping in the country," Shri Mandaviya further added.
On this occasion Director, CICMT, IIT Kharagpur said that with the signing of this MoA and further setting up of this centre India will become a key player in ship modal testing facility as only four other countries in the world have this testing facility at present.
The Sagarmala programme is funding the project costing Rs 69.20 crore. The funding for CICMT is for 5 years after which revenues generated from the end users will make it sustainable.
The technological support, research, testing and experimentation facility to agencies involved in inland water transport, shipbuilding, ports. etc will be provided by CICMT at IIT Kharagpur. The main focus of the centre will be on ship design for coastal/inland waterways, shipbuilding technology, and structural design, transport systems & logistics, cryogenic cargo handling, green/renewable energy harvesting from coastal and inland waters and automation and artificial intelligence (AI) for maritime operations.
CICMT is a set up that signifies a major leap in indigenous innovation and cutting edge technology support to the port and maritime sector directly contributing to the Sagarmala programme. It is based on close collaboration amongst government, academic institutions and industry to make applied research relevant to day to day groundwork in the port and maritime sector.