MOL's "Wind Challenger" Design Acquires Preliminary Approval from ClassNK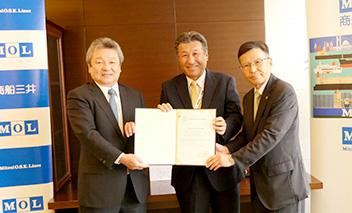 MOL's "Wind Challenger" Design Acquires Preliminary Approval from ClassNK
For the design of a hard sail system, Nippon Kaiji Kyokai (ClassNK) has awarded the Approval in Principle (AiP) to Mitsui O.S.K. Lines, Ltd. (MOL) and Oshima Shipbuilding Co., Ltd. The system uses telescopic hard sail to convert wind energy to propulsion force. It is also a fundamental technology of the "Wind Challenger Project" that MOL and Oshima Shipbuilding are spearheading.
MOL and Oshima Shipbuilding along with other organizations have played a major role in the research and development of the Wind Challenger Project. This project aims at reducing GHG by making use of wind energy. The AiP reception marks the initial design completion of the sail structure and controls.
Read more: Types of Boats
MOL and Oshima are to move forward to complete the detailed designing and implementation of the project. They also aim to launch a new building vessel that will have a hard sail.
The vessel's GHG emission will be reduced by 5% on a Japan-Australia trip and by 8% on a Japan-North America West Coast trip. The long term goal of this project is to come up with a solution that will help achieve the target of IMO by combining other ways to reduce GHG emission by proving multiple sails in the vessels.
MOL and Oshima will contribute to decarbonisation by developing one technological way to reduce GHG.
Reference: MOL