MSC Isabella – The 23656 TEU Giant Becomes Largest Container Ship To Call Port Of Singapore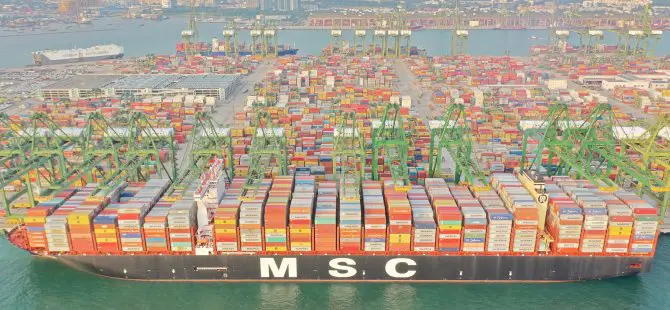 MSC Isabella – The 23656 TEU Giant Becomes Largest Container Ship To Call Port Of Singapore
MSC Isabella has become the largest container ship ever to call on the PSA Singapore. The dimension of MSC Isabella is 400m length and 61m width and it has the capacity to carry about 23,656 standard twenty-foot containers.
Mr. Eddy Ng, Managing Director of PSA Singapore Terminals 2, said, "MSC Isabella's call affirms the steadfast partnership between PSA and MSC Mediterranean Shipping Company while demonstrating PSA's capability to handle the world's largest container vessels, further enhancing Singapore's status as a premier global transshipment and logistics
"Our biggest and most energy-efficient ships are being deployed on the Asia-Europe trade, which demonstrates our continued commitment to this largest and busiest trade corridor. We are delighted to welcome the first port call in Singapore by MSC Isabella from our largest Gülsün-Class of ships", said Mr. Y J Tan, Regional Managing Director for MSC Asia Regional Office in Singapore.
Reference:PSA Singapore