MSC Katya R. Improves Trade Links With Costa Rican And Boosts Export Links To Europe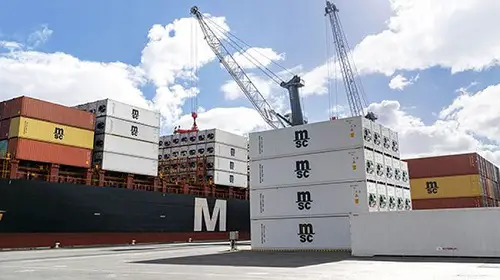 The global leader in transportation and logistics, MSC Mediterranean Shipping Company, is improving trade links between Costa Rica and northern Europe by adding a new direct call from the Port of Moin. On June 16, MSC Katya R. launched a new era in cargo shipping for the port and for exporters using its facilities and becomes the largest vessel to call Moin Terminal in Costa Rica. MSC's service plans to bring larger container ships for shipping in European and Asian markets with more capacity to carry refrigerated produced on transatlantic routes.
MSC Katya R. will operate on a direct weekly service from Moin, the company's Ecuador Service to key ports in North West Continent or NWC which is the region known in the maritime transportation business in norther Europe. Antwerp, Rotterdam and Bremerhaven with connections to destinations throughout Europe are the direct ports of call from Moin.
Costa Rican companies which export food and other commodities in containers will be benefited by this new service. Costa Rica is categorized as the world 's largest exporter of pineapples and the third largest exporter of bananas.
The agricultural products exported by Costa Rica are temperature controlled; and they are increasingly moving in refrigerated containers called "reefers" as opposed to being transported by dedicated refrigerated vessels. As a respond to these trends MSC is providing advanced reefer technology that is required by their partners and shippers to ensure that the product is in perfect condition and also reaches on time to its destination.
Reference: msc.com