Norwegian Cruise Line Holdings Announces Order for Next Generation of Ships for Norwegian Cruise Line
Norwegian Cruise Line Holdings Ltd. (Nasdaq: NCLH; together with NCL Corporation Ltd., "Norwegian Cruise Line Holdings", "Norwegian" or the "Company") today announced it has reached an agreement with Fincantieri S.p.A. to construct the next generation of extraordinary ships for its Norwegian Cruise Line brand. Four ships are on order for delivery in 2022, 2023, 2024 and 2025, with an option for two additional ships to be delivered in 2026 and 2027.
The four 140,000 gross ton ships will each accommodate approximately 3,300 guests. The new class of ships will build upon the highly successful offering of freedom and flexibility found on the brand's most recent Breakaway-Plus Class ships and feature a host of innovative designs that will further elevate its already award-winning guest experience. A priority of the prototype design is energy efficiency, with the aim of optimizing fuel consumption and reducing the impact on the environment. Details on the ships' many innovative guest facing and first at sea features will be announced at a later date.
"This new class of ships will continue Norwegian Cruise Line brand's legacy of introducing meaningful innovation to the cruise industry," said Frank Del Rio, president and chief executive officer of Norwegian Cruise Line Holdings Ltd. "This order continues to highlight our disciplined newbuild program, extends our growth trajectory well into the future, enhances our already attractive earnings profile, and drives expected long-term returns for our shareholders."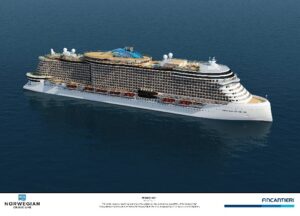 "For the past 50 years, Norwegian Cruise Line has been focused on offering our guests the very best in cruising," said Andy Stuart, president and chief executive officer of Norwegian Cruise Line. "It is with great excitement that we look ahead to our next 50 years, which includes this next generation of ships that will offer guests the innovative experiences that have come to define the Norwegian Cruise Line brand."
"We are extremely excited to collaborate with Norwegian Cruise Line and this partnership allows us to include a new prestigious client in Fincantieri's portfolio," said Giuseppe Bono, CEO of Fincantieri S.p.A.
"We are very proud of the innovative design of these ships and recognize the various stakeholders of the export chain who have contributed decisively to achieving this goal. The significant value of the order will provide substantial economic benefits by extending the employment horizon of our shipyards, and we are honored to support the growth of our country's economy."
The contract price for each of the four vessels is approximately €800 million per ship. The Company has obtained export credit financing with favorable terms to fund 80 percent of the contract price of each ship delivered through 2025, subject to certain conditions.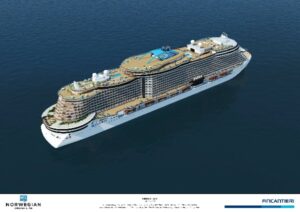 Press Releases: Norwegian Cruise Line
Photo Courtesy: Norwegian Cruise Line