Norwegian Cruise Line Holdings Ltd. Announces New Terminal at PortMiami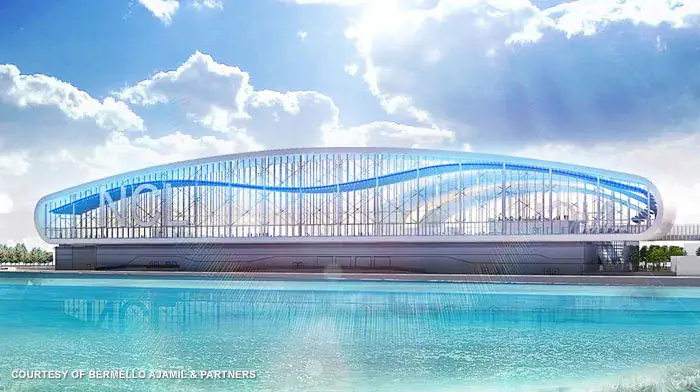 Norwegian Cruise Line Holdings Ltd., a leading global cruise company which operates the Norwegian Cruise Line, Oceania Cruises and Regent Seven Seas Cruises brands, today unveiled the design of the new and dedicated Norwegian Cruise Line terminal at PortMiami. The terminal at PortMiami represents the continued relationship and strong ties between Norwegian and Miami, which has been the company's home since its launch in 1966. Pending the final approval by the Miami-Dade County Board of County Commissioners, the project will commence in May 2018, and is scheduled for completion by the fall of 2019, as Norwegian Encore, the newest ship of the Breakaway Plus class, makes her debut in Miami with seasonal cruises to the Caribbean.
"Norwegian has been sailing from Miami for over fifty years, longer than any other cruise line, and we are honored to be partnering with PortMiami and Miami-Dade County to construct an iconic terminal that will contribute to Miami's world famous skyline and strengthen its position as the Cruise Capital of the World," said Frank Del Rio, president and chief executive officer of Norwegian Cruise Line Holdings Ltd. "This terminal marks the latest step in our continual efforts to strengthen our presence in strategic home ports around the world. We look forward to welcoming Norwegian Encore and the thousands of guests sailing on Norwegian Cruise Line and her sister brands to this state-of-the-art terminal."
Norwegian is widely recognized for introducing modern-day cruising more than 50 years ago, by transforming a common means of transportation to a new style of vacation with its first Caribbean voyages out of the port of Miami and launching the city's status as the "cruising capital of the world." As a result of the continued relationship, Miami-Dade County will invest $100 million to build a new terminal dedicated to Norwegian Cruise Line, with Norwegian Cruise Line Holdings Ltd. augmenting the county's allocated funds with its own contribution to PortMiami, as was unveiled today at a press conference held at the 2018 Seatrade Cruise Global exhibition.
"Investing in PortMiami's infrastructure positions Miami as a global destination for visitors," said Miami-Dade County Mayor Carlos A. Gimenez. "The construction of a new cruise terminal with the capacity to berth an additional 5,000-passenger cruise ship represents thousands of jobs and increased opportunities for our community. We are grateful for Norwegian Cruise Line's continued partnership."
"PortMiami is proud to be recognized as the Cruise Capital of the World, welcoming more passengers than any other port in the world," said Chairwoman of the Miami-Dade County Economic Development and Tourism Committee Rebeca Sosa. "Norwegian Cruise Line's partnership is a big win for the growth and expansion of tourism in Miami-Dade County. We are honored by our partner's commitment to PortMiami and Miami-Dade County."
Globally recognized for their award-winning designs and projects around the world, the Miami-based firm of Bermello Ajamil & Partners Inc., was selected to design the new terminal. The project will be constructed to LEED Silver standards, focusing on innovation in design and terminal operation to create a platform that will optimize energy performance, indoor air quality, water efficiencies and maximize the use of local materials and resources. After the press conference, attendees were able to get a close-up look of the new terminal through an interactive 3D virtual reality experience and model on display.
"The new Norwegian terminal will set the standard for passenger comfort and experience and will become an iconic building on Miami's waterfront, a true representation of the role that Norwegian and PortMiami played as the pioneers of modern cruising," says Luis Ajamil, president and chief executive officer of Bermello Ajamil & Partners, Inc.
The modern terminal draws its inspiration from a nautilus, with its spiraled and multi-level façade, opening up to grand ocean views. Once complete it will be the new "pearl" of Miami, redefining the landscape of the city's skyline. Innovative lighting, inviting indoor and outdoor waiting areas and other guest-centric elements will enhance the overall passenger experience. At nearly 166,500 square feet, the debuting Norwegian terminal will accommodate ships of up to 5,000 passengers, and feature new technology to support faster and more efficient embarkation and disembarkation processes, as well as expedited security screening and luggage check-in. A dedicated lounge and service area will facilitate a warm and welcoming sense of arrival for large groups and charters, and a new parking garage, and valet parking area with direct access to the terminal and lounge are also scheduled to be completed.
Norwegian Cruise Line maintains an ongoing commitment to Miami, offering new and enhanced itineraries and ships for guests to discover year round with the freedom and flexibility they can only experience with Norwegian at sea. For additional information or to book a cruise aboard one of Norwegian's newest ships, contact a travel professional, call Norwegian at 888-NCL-CRUISE (625-2784), or visit www.ncl.com.
Press Releases: Norwegian Cruise Line
Photo Courtesy: Norwegian Cruise Line