Norwegian Cruise Line To Be Featured on Upcoming Episode of CNBC's "The Profit"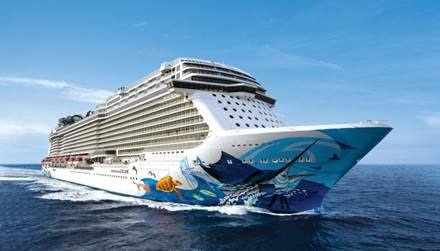 Norwegian Escape's Godfather and international music star, Pitbull, made a special appearance at PHD Rooftop Lounge at Dream Downtown in New York earlier this afternoon. The Grammy-Award winning Latin superstar and Norwegian Cruise Line President and Chief Executive Officer Andy Stuart celebrated Norwegian Escape coming to homeport in the Big Apple in Spring 2018 with many guests and fans. The afternoon kicked off with guests enjoying delicious bites from Norwegian Escape's culinary outposts, sipping on cocktails crafted from Pitbull's very own vodka, Voli, and sampling a selection of Michael Mondavi Family Wines. Guests were able to "walk the plank" in a virtual reality segment of the largest ropes course at sea and pose for sharable photos with the ship's celebrity Godfather Mr. Worldwide. The exclusive afternoon was topped off with an electrifying performance from For the Record: The Brat Pack™, one of Norwegian Escape's award-winning Broadway-style shows. Norwegian Cruise Line President and CEO Andy Stuart and Pitbull took to the mic to say a few words to the guest and toast to the beautiful ship, Norwegian Escape, as well as discuss their joint support for Hurricane relief efforts in the Caribbean.
When Norwegian Escape arrives to her new homeport in Manhattan next year, she will sail seven-day cruises to Bermuda during the summer months and seven-day cruises to Canada & New England and the Bahamas & Florida as well as a selection of longer cruises to the Western and Southern Caribbean during the fall/winter 2018/2019 season. Norwegian Escape will be the brand's largest ship to ever homeport from New York City at 164,600 gross tons and 4,266 guests. Norwegian Cruise Line has been homeporting year-round Norwegian Cruise Line will set sail for primetime this summer, as the popular cruise brand will be featured in a one-hour episode of CNBC's hit reality series "The Profit". The show follows serial entrepreneur and investor Marcus Lemonis, who puts his own money on the line to help save and grow struggling small businesses across the country. Filmed on board Miami-based Norwegian Escape, the episode will highlight small business Zoe's Chocolates, as they present their product to Norwegian executives in the hopes of securing a deal.
Also read: Is the Bermuda triangle mystery true?
In each one-hour episode of "The Profit," Lemonis makes an offer that's impossible to refuse; his cash for a piece of the business and a percentage of the profits. Once inside these companies, Lemonis does almost everything he can to save the business and make himself a profit; even if it means firing the president, promoting the secretary or doing the work himself. Norwegian Cruise Line is featured on the show as one of today's top cruise brands, highlighting the line's unique brand proposition of freedom and flexibility and premium offerings, which are a strong match for the high quality chocolates offered by Zoe's. Viewers will get an inside look at what cruise executives look for in partners and why aligning with like-minded brands builds strong business relationships that bring value to guests.
The episode featuring Norwegian Cruise Line will be airing on Tuesday, July 25th at 10PM ET/PT on CNBC.
Norwegian Escape, currently sailing the Eastern and Western Caribbean from her homeport in Miami, features 27 dining options, 21 bars and lounges, and entertainment options to thrill cruisers of all ages with the largest Ropes Course at sea, the largest Aqua Park at sea, and dedicated adults-only and kids-only spaces. Norwegian Escape's dining experiences include outposts of several popular land-based outlets, including the floating Jimmy Buffett's Margaritaville restaurant and 5 O'Clock Somewhere Bar, a music venue and outdoor bar on The Waterfront featuring live nightly performances where guests can enjoy the sounds of the tropics. Norwegian Escape features Miami's oldest and most legendary bar, Tobacco Road.from the Manhattan Cruise Terminal since 2003.
Press Releases: Norwegian Cruise Line
Photo Courtesy: Norwegian Cruise Line