The Ocean Cleanup Chooses DNV GL To Verify Origin Of Their Ocean Plastic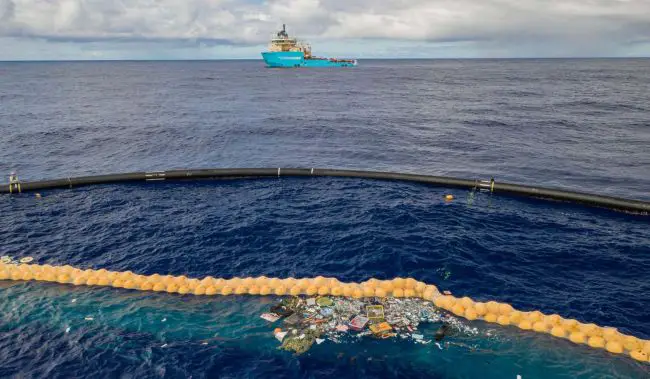 The Ocean Cleanup Chooses DNV GL To Verify Origin Of Their Ocean Plastic
DNV GL has been working with Ocean Cleanup for 18 months for the establishment of a set of needs and processes of verification which is created to help build the trust and transparency for customer.
The Dutch non-profit organization, the Ocean Cleanup develops innovative and new technologies in order to eliminate the plastic from the ocean. It has brought out the very first batch of plastic to the shore from the ocean. This was their first mission Great Pacific Garbage Patch in which the largest accumulation of plastic waste in the world was done which spanned an area of about 1.6 million square kilometres.
The plastic trash that is so collected will be changed into products and sold in order to contribute to the fund for the cleanup operations. The Ocean Cleanup has chosen DNV GL as their partner for assurance to check the source or origin of the plastic.
"To bring transparency to the market, we asked the leading certification body DNV GL to launch a standard, to certify that ocean plastic is actually 100% plastic taken from the ocean. DNV GL followed every step of ocean plastic and will continue to do so, to be able to confirm if the plastic in our products truly is 100% coming from the ocean," says Boyan Slat, Founder and CEO of The Ocean Cleanup.
DNV GL has been making a set of needs and processes of checking. These techniques help in tracing and making the definition of ocean plastic clear thus, making the developing market more transparent. The next step is to make these requirements a standard that will be open for any party that wants ocean plastic product certification. This will make sure that the origin of the recovered plastic is defined and verified thereby, building trust in the customers that the products are made from the plastic that is recovered from the ocean.
"Building trust through standards and independent verification has been DNV GL's work and mission for more than 155 years. Our objective has always been to address challenges at hand, contributing to safer and more sustainable outcomes in a transparent way. When purchasing products verified by DNV GL, consumers can fully trust that it is an ocean plastic product and that they are contributing to the solution," says Luca Crisciotti, CEO of DNV GL-Business Assurance.
Reference: DNVGL