Pasha Hawaii Celebrates Steel Cutting for M/V George III at Keppel AmFELS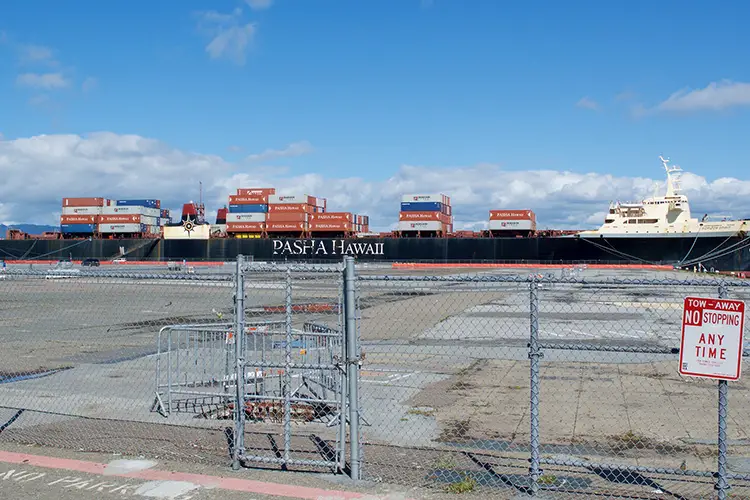 Jones Act carrier Pasha Hawaii announced that construction has started for the first of two new LNG-fueled container ships for the U.S. West Coast – Hawaii trade.
The first steel plates have been cut for the M/V George III, the first of two Liquefied Natural Gas ("LNG") fueled containerships being built at Brownsville, TX-based Keppel AmFELS, a subsidiary of Keppel Offshore & Marine ("Keppel O&M"). The two 'Ohana Class vessels will join the Pasha Hawaii fleet, which provides service to the Hawaii/Mainland trade lane.
The new, 774-foot U.S. Jones Act vessels will carry 2,525 TEUs, with a sailing speed of 23.0 knots. The design of the ship's hull has been fully optimized using computational fluid dynamics and will be one of the most hydrodynamically efficient hulls in the world.
The 'Ohana Class vessels have been named George III and Janet Marie, in honor of the parents of The Pasha Group President and CEO George Pasha, IV. Delivery of the vessels is expected in 2020.
"Three generations of our family's vision exemplify our unwavering commitment to serving our customers and investing in the future of Hawaii," said George Pasha, IV. "We are marking the first production milestone of our new LNG ships, and honor the legacy of the Pasha 'ohana. We also commend the remarkable talents and organization of the highly skilled shipbuilders on the Keppel team who are working hard to transform these steel plates into the most environmentally efficient vessels for the Hawaii trade."
The new vessels will operate fully on LNG from day one in service, substantially improving the vessels' environmental footprint. Energy savings will also be achieved with a state-of-the-art engine, an optimized hull form, and an underwater propulsion system with a high-efficiency rudder and propeller.
Mr. Simon Lee, President of Keppel AmFELS, said, "We are pleased to be able to support the Pasha Hawaii fleet with the design, engineering and construction of two state-of-the-art containerships that will be highly efficient, sustainable and safe. Our design philosophy includes a construction methodology that is easy to execute and maximizes the capabilities of our yard."
Pasha Hawaii is a wholly owned subsidiary of the family-owned global logistics and transportation company, The Pasha Group, one of the nation's leading Jones Act shipping and integrated logistics companies, and is proud to support U.S. shipyards.
Source & pics: pashahawaii.com
Image: https://www.flickr.com/photos/wbaiv/33270532544