Port Of Southampton Welcomes High Efficient RoRo Vessels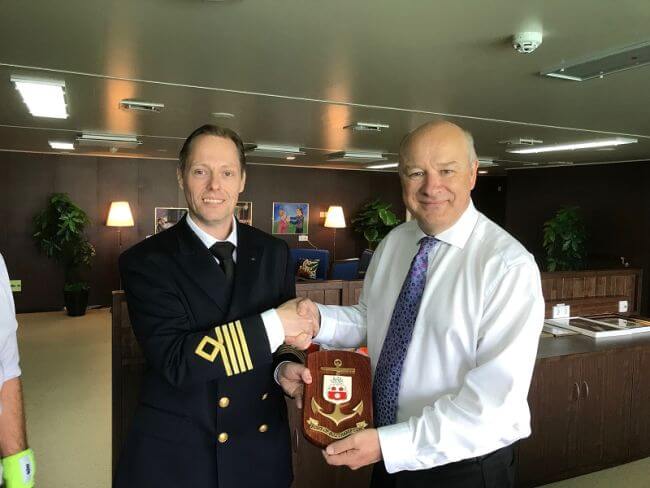 Port Of Southampton Welcomes High Efficient RoRo Vessels
The new high-efficiency RoRo vessel from Wallenius Wilhelmsen's HERO class has made its maiden call at the Port of Southampton.
A new benchmark has been set worldwide by the HERO class, which stands for High-Efficiency RoRo, for automotive shipping. The HERO class has two new-build vessels in its fleet and the latest, MV Traviata, has called at the Port of Southampton for the first time.
Phil Buckley, Harbour Master attended the traditional plaque and key ceremony welcoming the vessel on its maiden call. The plaque was presented to Captain Jari Nokkosmaki.
The Traviata has the capacity to hold 8,000 cars and follows her sister vessel, Titus, the first vessel in the HERO class fleet that called in Southampton last Summer.
Vessels in this new class have been designed to improve the environmental footprint of the automotive shipping line's fleet. They have features like an efficient exhaust gas cleaning system removing 70% of particulate matter from the air and reducing sulfur content to less than 0.1% of exhaust emissions.
Alastair Welch ABP Southampton Director said: "It is great news that shipping lines are becoming far more energy-efficient. Accelerating the steady progress that has been made in recent years around air quality is a key part of our own long-term commitments to sustainable operations."
Paul Barker General Manager Port Operations at Wallenius Wilhelmsen Solutions said: "It is always a pleasure to see a new vessel makes its maiden call and the Traviata sets new standards when it comes to its environmental footprint. We see ourselves as a "good neighbor" to the port and the city and support all actions towards improving air quality."
Reference: abports.co.uk