RAL Christens TundRA Hybrid Diesel-Electric Tug 'Vilja'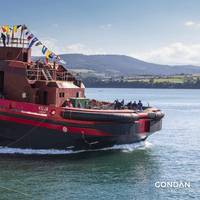 In the Port of Luleå on the 20th of August, the most powerful ice breaking tug, TundRA 3600-H (Hybrid) tug VILJA was christened.
The Board Chair Ms. Birgitta Ahlqvist broke the bottle shapped sculpture that was made for the event.
For Robert Allan Ltd. the 36 mette tug is an achievement. The vessel is featured with hybrid propulsion system and batteries that makes it flexible and efficient so that it can work throughout the year.
The tug will be able to operate on the electrical battery power feeding shaft-driven motor-generator sets and also the ship's load only or by using a single main engine in the hybrid diesel-electrical mode driving both shafts through the same motor-generator sets which will produce a bollard pull of up to 55 tonnes, or by the two main engines in direct diesel-mechanical mode supplemented with available battery boost that brings the total available bollard pull up to 100 tonnes.
In order to meet the oeprational requirements and the environmental conditions, the operation modes will be fine tuned in the first year. It is capable of breaking 1 metre of ice thickness at the vessel speed of 3 knots.
The TundRA 3600-H tug VILJA has the following vessel particulars:
Length overall: 36.0 m
Breadth, moulded: 13.0 m
Depth, least moulded: 6.7 m
Draft, navigational: 7.0 m
Bollard Pull: 100 Tonnes
Reference: ral.ca