Samsung Heavy Proves Its Technological Superiority With eco friendly LNG Fulled Vessels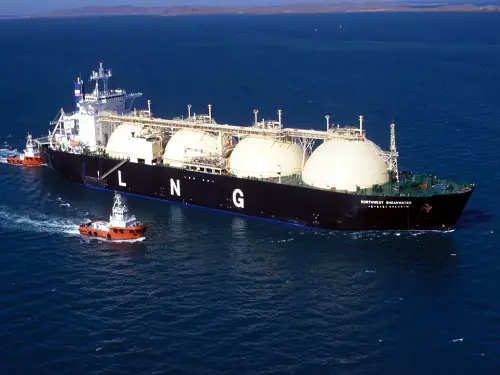 Samsung Heavy Industries (SHI) has successfully built its first LNG-fuelled vessels with its own technology, proving itself to the eco-friendly shipping industry for its construction capability and technological prowess.  SHI announced on April 29, 2019 that the two LNG-fuelled 113,000 dwt oil tankers delivered to an Asian shipowner early this year just completed the first bunkering at the port of Rotterdam in Netherlands and now begin its operation as ecofriendly vessels.   
The two oil tankers are the first LNG-fuelled vessels SHI built at its yard. The order was awarded at the end of 2015, and they were delivered this January and February, respectively. One of the main features of the two LNG-fulled oil tankers is that in comparison with conventional vessels using diesel oil as fuel, they are fitted with an LNG supply system, 'S-Fugas', developed on SHI's own that can eliminate Sulphur Oxide (Sox) emissions by 99%, Nitrous Oxide (NOx) emissions by 85% and Carbon Dioxide (CO2) emissions by 25%.  
Also read: Knock Nevis: World's Largest Ship Ever
The S-Fugas is a core technology necessary to be applied to the engineering and construction stage due to its feature that vaporizes LNG at the temperature of -163? to supply the gas to the main engines and generators. An additional feature is an integrated smart ship solution, INTELLIMAN ship software, which helps further increase the operational safety of the vessels with its real-time monitoring function that shows changes in temperature and pressure, fuel level, etc. in an LNG fuel tank not only on-board but on-shore.  
Currently, LNG as fuel is considered as a cheaper and more eco-friendly alternative than low sulfur oil and scrubber in the long run to meet the IMO 2020 regulations that require the reduction of Sulfur content in fuel to 0.5%.
SHI's own LNG propulsion technology has helped it secure orders for 10 LNG-fuelled ships from international shipowners to date this year.    
Also read: Largest Container Ships In The World
"SHI's competences have been proven when it comes to the fabrication of the entire LNG value chain from Floating Liquefied Natural Gas (FLNG) facilities, LNG carriers, LNG bunkering vessels, to LNG-fuelled vessels," said Dr. Yong-Lae Shim Vice President of Ship & Offshore Research Institute in SHI. "SHI will continue working towards even better quality and costs by using more local vendors for materials and equipment and upgrading the system performance".  
Reference: samsungshi.com