Vard Delivers Luxury Expedition Cruise Vessel Hanseatic Inspiration For Hapag-Lloyd Cruises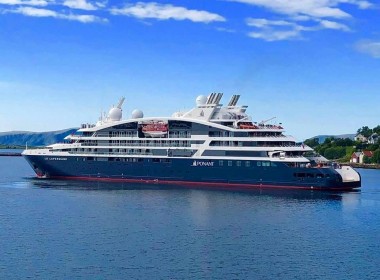 Vard Delivers Luxury Expedition Cruise Vessel Hanseatic Inspiration For Hapag-Lloyd Cruises
​​For Germany's Hapog-Lloyd Cruises, the second ship of the new series of luxury expedition cruise vessel has been completed and delivered. The HANSEATIC nature that was delivered by Vard Langsten in Norway is followed by the 16,000 GWT HANSEATIC inspiration that is 139 meters long. HANSEATIC spirit that is the third vessel is set to be completed in 2021. Each vessel is so designed so as to give the guests high-quality experience even in the most remote regions like the Arctic, Antarctic, Amazon, etc.
The HANSEATIC inspiration has seven spacious passenger decks along with 120 luxury cabins that can accommodate 230 passengers. Alike its sister vessel, it also keeps both quality and environmental aspects intact. It also has a water sports marina, spa, and fitness area. It is also featured with energy-efficient hull design and technology.
The ship is the mark of the collaborative efforts of the global VARD and Fincantieri network, in close cooperation with the customer Hapag-Lloyd Cruises.
VARD 6 07 is the design of HANSEATIC inspiration which is by Vard Design in Ålesund, Norway. At Vard Tulcea in Romania, the 139m long and 22m wide hull was made. The final outfitting was done in Vard Langsten in Norway in March this year. Companies like Fincantieri Group's Marine Interiors and VARD's subsidiaries Vard Electro, Vard Accommodation, and Vard Piping contributed to it. Sea trials were followed successfully in August. The outfitting stage project in Norway provided work to about 950 highly experienced local and international shipbuilders.
"I am delighted to deliver HANSEATIC inspiration, the second high class, expedition cruise vessel in this new HANSEATIC series from the VARD network to Hapag-Lloyd Cruises," comments Ronny Langset, Yard Director at Vard Langsten. "It is always a pleasure to see the teamwork and interaction between all involved partners in such advanced projects; the solution-oriented and hard work of our employees, the classification society DNV GL, and all contractors and suppliers, in harmony with the excellent collaboration with the team at Hapag-Lloyd Cruises."
"Hapag-Lloyd Cruises and the HANSEATIC series sets high standards and optimal passenger experiences. We're convinced the inspiration, will delight generations of voyagers for many years to come" says Ronny Langset.
Speaking about the project, and the company's specialism in expedition cruise, Mauro Leboffe, Executive Director, Cruise, VARD, adds: "This is a growth sector and VARD, with its full support from Fincantieri's cruise experience, and through its collaborations with leading ship owners such as Hapag-Lloyd Cruises, has consolidated a position as an innovative, trusted and high-quality partner within the expedition cruise industry."
"As HANSEATIC inspiration ably demonstrates, we focus on designs that mix beauty with functionality builds that exude quality throughout and final delivery that is on time and according to the most demanding specifications. Together with our customers we have the expertise this sector requires, and the ambition to realize unique, safe and eventful cruises for passengers all around the world" says Mauro Leboffe.
HANSEATIC inspiration also has DNV class PC6 the high ice classification for passenger ships. With 175 crew members, the vessel is all set to provide 5-star services to its passengers. On the 11th of October 2019, the ship will be named at a naming ceremony at the Port of Hamburg.
HANSEATIC inspiration has a high ice classification for passenger ships, DNV class PC6. The vessel, which will be manned by around 175 crew members, offers 5-star service for its passengers all around the world. The ship will be named in a naming ceremony at the Port of Hamburg on 11 October 2019.
Reference: Vard