Wärtsilä wins world's first 'LPG as fuel' order for new generation of innovative gas carriers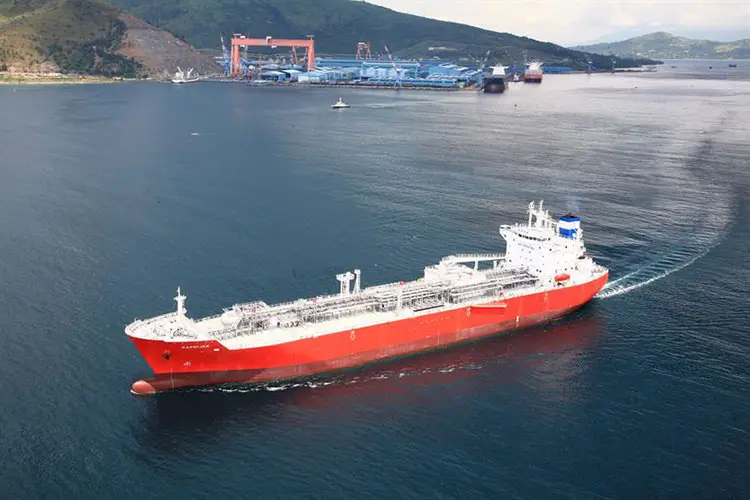 The technology group Wärtsilä will provide an integrated cargo handling and fuel gas system for two new gas carrier vessels for Exmar, the Belgium-based fleet owner. The ships, which will transport liquefied petroleum gas (LPG), are being built at HHIC-Philippines (Hanjin Heavy Industries & Construction Philippines) in Subic Bay. The design of these ships focuses on high efficiency and a more sustainable operational profile. In achieving this, these 80,000m³ Very Large Gas Carriers will be the first vessels capable of running on LPG. This valuable order with Wärtsilä was booked in July, 2018.
Wärtsilä has more than 50 years of experience in the gas carrier business, and the company's latest technologies have been utilised to offer 'LPG as fuel' as a fully integrated part of the cargo handling system. The system is controlled by the state-of-the-art Wärtsilä Nacos Platinum integrated automation system in combination with the company's remote process analytics software, which ensures optimised operability and safety.
The Wärtsilä Nacos Platinum automation platform combines and visualises data from the bridge navigation and communication controls, the engine room, and the cargo control centre. This integrated solution enables high energy efficiency with lower carbon emissions, providing a positive Energy Efficiency Design Index (EEDI) for the vessels. The integrated automation notably reduces both building and operating risks.
Wärtsilä will also deliver its Airguard anti-pollution shaft sealing system, which provides extra security against oil leaking into the sea. The propeller shaft mounted additional 'air barrier' ensures complete separation of the stern tube oil from the seawater.
The Wärtsilä equipment is scheduled for delivery in mid-2019, and the vessels are expected to be delivered during the latter part of 2020.
"Wärtsilä has worked closely with Exmar Group for many years, and we are proud they have selected such a broad scope of our products, which have been combined into a smart marine solution for this new generation of LPG carriers. Wärtsilä's integrated solutions are designed to promote sustainable shipping and a lower total cost of ownership with lifecycle optimisation," says Timo Koponen, Vice President, Processing Solutions, Wärtsilä.
"These are 'game-changing' gas carriers and our aim has been to achieve the best possible operational and economic performance, while at the same time, ensuring the lowest possible environmental footprint. Wärtsilä's systems and solutions will help us meet these targets," says Pierre Dincq, Managing Director Shipping, Exmar. "Exmar has extensive experience with a variety of fuel systems, including HFO, MDO and LNG fuelled steam turbines. Adding LPG as a fuel to this array of fuel systems will be beneficial to Exmar's reputation as a gas transportation expert."