Ultimate Guide To Marine Navigation Lighting
[lwptoc]
If you drive a car or even ride a bicycle, you might be well aware of the necessity of lighting systems (though in the second case the word 'system' doesn't quite apply) for the safety of you and the people around you. The thing applies just as well for ships. But since they are much larger than a car, the lighting system or navigation lights on ships is a little bit more complicated as well. Marine navigation lighting is also one of the most critical aspects of nautical studies.
It is mandatory for boats of all sizes to have a navigation system. This is to make sure that the chances of any significant accident are minimized. The United States introduced the system in 1838, and the United Kingdom followed suit. Before being internationally adopted in 1897 suitable guidelines were established by the International Maritime Conference which was established in 1889. Three colors were chosen that were to be used for the light colors. They were red, green and white.  This was based on a set of rules specified by the US and are followed around the world to this date.
This article discusses the different rules and regulations of using navigation lights, their importance, and also some basic marine navigation lighting systems along with their positions and ranges.
Marine Navigational Lights, Rules and Regulations
A standard pattern of marine navigation lighting is followed for the identification of both the vessel as well as the IALA buoyage system at night. If you are required to move from sea to a channel you need to have a list of all the IALA as well as the other fixed navigational lights that are visible on entering the channel. This includes distant lighthouses as well.
If you also make a note of the inland features like the radio and television transmitter masts it will benefit you because they act as good navigational aids due to their height and warning lights.
The helmsman should not be using any bright light source in the cockpit area and should rather take the aid of red lights and very dim white lights in the galley and navigation area. This is because he needs to preserve his night vision so that he can accurately interpret both the buoyage marine navigation lights as well as the boat navigation lights of other vessels.
The nautical almanacs contain the details of each and every visible maritime light signal coming from navigational markers that are both inside and outside the channel.
All the details about any particular light can be found in a published list or on a marine navigational lights chart: its color, period, and in some cases even the elevation and range of the beacon. Use the chart to keep a tag on the lights you are passing by putting a tick mark on the lights that you are about to pass and as the boat sails past, the tick is checked.
You will get two visual clues to figure out how far you are away from a buoy. The light will elevate from the horizon at 0.5 nm and at about 200m, the light will reflect on the surface.
Position of Boat Navigation Lights
Most of the variations that can be found in the different vessels can be read about in most almanacs. At the very basic level, a vessel needs to show a red light to port and green light to starboard. Depending on the size of the vessel, one or more colored or white lights are used as well.
For vessels that are 12 ft in length or shorter, the navigation lights must be visible from a range of one nautical mile and for the ones that are longer than 12 meters the required visibility range is 2 nautical miles.  From 5 degrees above to 5 degrees below the horizontal happens to be the required minimum intensity in a vertical sector.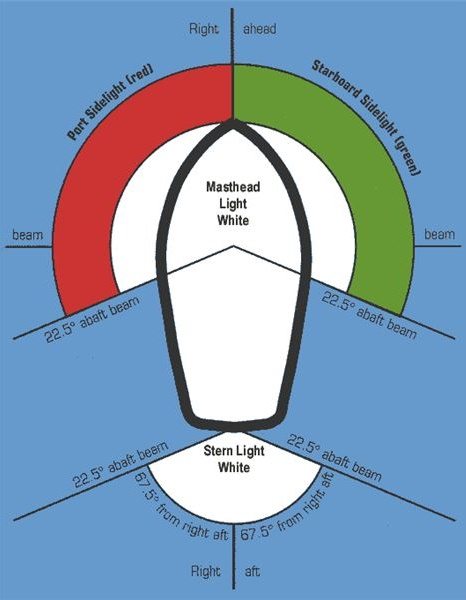 International Navigation Rules state that the boat navigation lights should be placed above the uppermost continuous deck. In case separate fixtures are used for the red and green sidelights, the masthead or all-round white light is placed as close as possible to the vessel's fore and aft centerline. The masthead or all-around light needs to be positioned at least 1 m or 3.3 ft above the sidelights.
Following are the basic positions of navigational lights. We will discuss the same in greater detail ahead.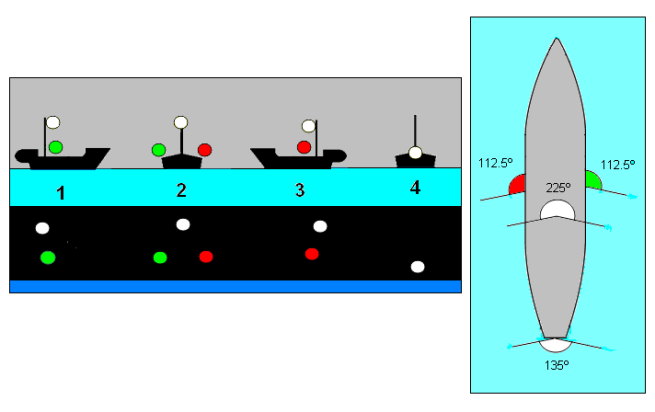 Also read: What Is A Marine Sextant?
Boat Navigation Light Regulations
Several rules and specifications are related to the type, size, layout, arc, and distance of visibility of boat navigation lights used by all vessel types which are collectively known as the International Regulations for Preventing Collisions at Sea or COLREGs. The navigational lights used are known as 'COLREG lights and shapes. A boat might be anchored or underway, under sail or power, or fishing or trawling. These various situations can be communicated through multiple combinations of boat navigational lights.
In addition to the primary navigation lights, vessels may also display one or more steaming lights. These lights are very useful for it gives details about the various aspects of the ship like whether it is in the sail or under power, the direction in which it is going and, in some cases, even the size of the vessel. If a ship is engaged in a specific task that might involve certain restrictions, that too can be indicated with some extra boat lights.
Always maintain the lighting system and display the correct navigation light combination to make other vessels in the vicinity aware of your course and state as to whether your vessel is under power or not. If you follow this a considerable amount lowers the chances of a collision. Here is a list that you might use to familiarise yourself with the basics of the lighting system.
Basic Navigation Light White Light: Small dinghies that are 7m or less in size are required to carry a torch having a white light that can be flashed when needed.
All-Round White Light: An all-round white light is expected to be displayed by a small boat, up to 7ft long that is under power and can go beyond 7 knots of speed. This light must be visible at an angle of 360 degrees and from two miles away. An all-around white light is also used when the boat or vessel is at anchor but not at a designated anchoring area. This is to make sure that the ship is visible to all the nearby ships to avoid any accidents.
Stern and Combined Side Lights: A stern light is a white light that is installed at the end of a boat.  A vessel that is over 7 m or 23 ft in length is expected to show red and green sidelights when sailing. Each of these lights needs to cover an arc of 112.5°. The sidelights may be combined in one lantern at the bow when below 25 m or 65 ft. The white stern light can be seen over an arc of 135°. These lights need to be visible from a distance of a mile and need to be placed 39 inches below all white lights for boats of lengths equal to or less than 12 ft.
Masthead Light: A combination of sidelight and stern light in a tricolor combination may be used sailing yachts of heights 20 m or lower.  A masthead light is required by vessels of lengths between 39.4 ft and 65.6 ft. It is placed in the masthead whose height provides excellent visibility. Still, stern lights and sidelights should be fitted separately in case of or use under power along with steaming light. This kind of light needs to be visible across an angle of 225 degrees and from a minimum distance of 2 miles.
Separate Lights: The displaying of the tricolor masthead light is not allowed in the case of yachts that are longer than 20 m or 65 ft. Instead, they use them separately. Often on large sailing vessels, these all-around, red over green lights are present. These red and green sidelights need to be visible from a distance of one mile and across an angle of 112.5 degrees.
Steaming Lights Combined Lights: A combination of the masthead and stern light are used in the case of power crafts that are less than 20 m or 65 ft in length. The arrangement is present at the bow.
Single Steaming Light: Visible over a 225 degrees arc, a masthead steaming light is used by power-driven vessels that are up to 50 m or 160 ft long. Separate stern lights and sidelights are used in case of a length exceeding 20 m or 65 ft.
Two Steaming Lights: Power-driven vessels that span over 50 m or 160 ft in length display two masthead steaming lights. The forward light placed lower than the aft light with both of them being visible over an arc of 225° with the sidelights and separate stern light.
Conclusion
The area of the nautical lighting system is a precise business and requires some amount of study and a good deal of responsibility. It is because its application forms a core element in safe marine navigation.