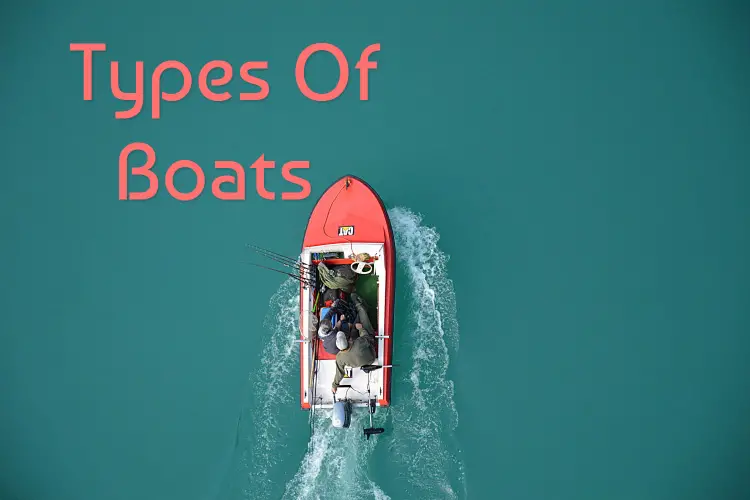 Boats are used every day for various things, be it catching fish in personal or commercial fishing boats, enjoying recreational activities in rented ones, or merely spending a holiday on a luxury boat. You must be well aware that there are different types of boats.
Most people are familiar with simple fishing boats which they might have used in lakes and the lifeboats which of course, as the name suggests, are deployed for saving lives. These are generally kept in larger vessels and called for action when this vessel fails, and the passengers have to be transported to a secure location. They have a food and water supply that can come in handy in case of a shipwreck or a similar situation.
As mentioned earlier, there are different types of small boats. The differences lie in the construction material, the mode of propulsion, and use cases. The most widely used materials for construction are fiberglass and aluminum. Pressed aluminum is common in entry-level trailer vessel boats.
Commercial fishing boats and ferries also use aluminum as their building material. Most cruisers and yachts are manufactured from fiberglass. Fiberglass boats are heavier than aluminum boats and are comparatively less durable too. The construction of a vessel relies solely on what a person intends to do with it.
Boats also differ in how they are powered. Motorboats are engine-powered while sailboats are propelled partly or entirely by sails. Rowing boats require skillful handling of oars and one or more pair of strong hands.
The following list of boats has been grouped into 3 main categories: (i) boats for commercial fishing, (ii) boats for sports and recreation, and (iii) luxury boats. They come in different sizes and construction.
Boats for Fishing
There are different types of boats and here are some of the most famous ones listed.
1. Fishing Boats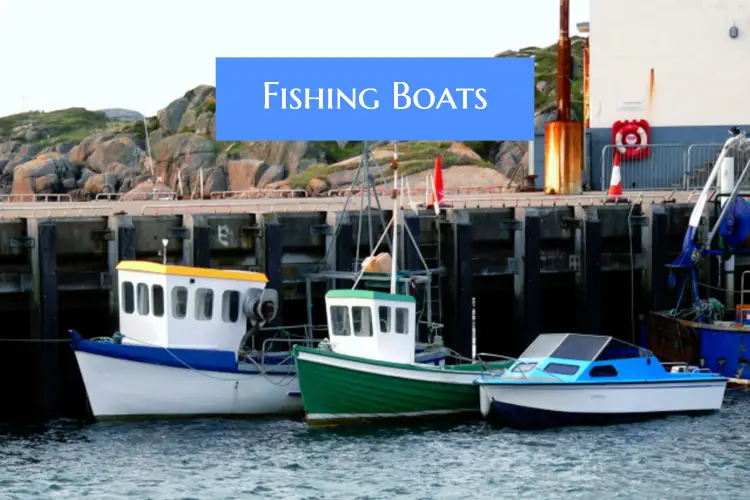 The name is pretty self-explanatory. They are robust, stable, and durable. Fishermen use these boats for fishing on both saltwater and freshwater. Being constructed of aluminum, they are quite lightweight too. They have their sub-categories. Some of the higher-end models are feature-packed with front bows, trolling motors, and outboard power. These are quite popular as river fishing boats.
2. Catamaran Boats
These are an excellent choice for fishing but are not limited to that only. They can also be taken for a cruise because of the way they are made and the features they provide. Unlike the more common single-hull boats, these are multi-hulled boats. Catamarans have twin-hulls of the same size and shapes. They are mostly used for offshore fishing. The two hulls ensure more in bad weather. Catamarans also have interior seating and resting area making them comfortable and luxurious. Because of their lightweight and hydrodynamic, Catamarans are more fuel-efficient than monohulls.
The ones having three hulls are called trimaran. Both power and sail versions are available in the market.
3. Center Console Boats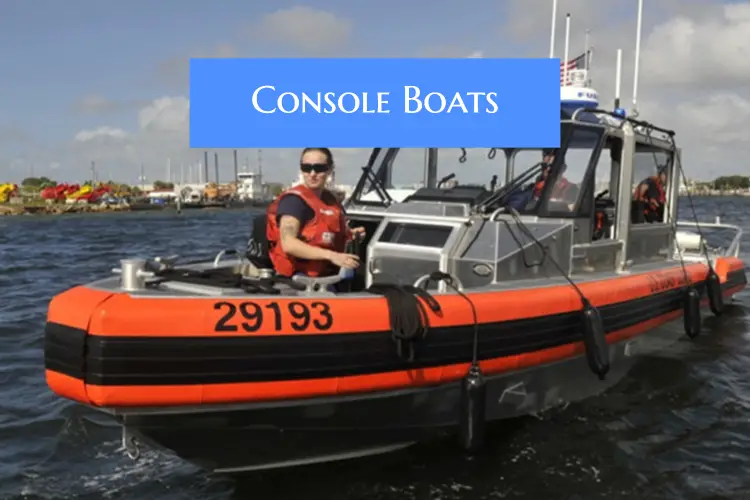 Console boats have usually an open deck space or seating at the front (open hull) and the controls like steering and ignition are on a console at the center  These are specially built to withstand offshore waters. Console boats are great for fishing in the oceans. Even the boat cover is constructed in such a way that it does not interfere with the fisherman's casting. It is spacious and has the provision for storing fish in iced conditions. These boats are designed to provide safety and comfort even in choppy conditions. It also has ample space for keeping gunwale rod holders, outriggers, and bait wells. All center console boats have outboard power. The console boats can range from 18 to 65-ft and have a speed of 30-knots or more.
4. Dinghy Boats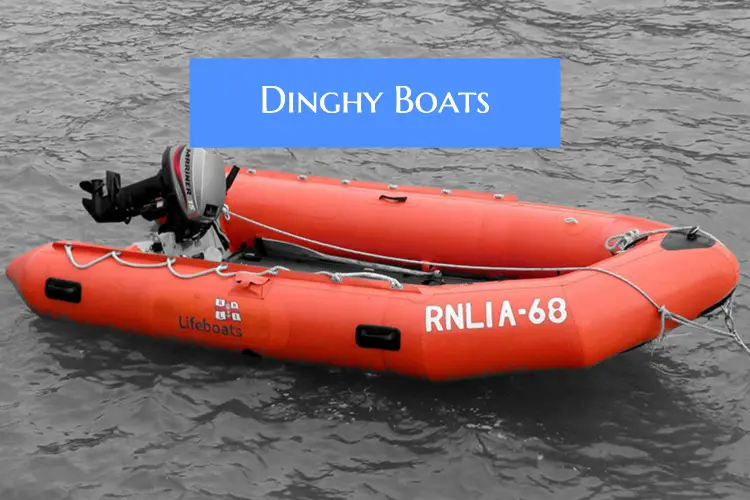 Dhingies are small boats made of rubber and are inflatable. Inflatable dinghies come in three categories: With rigid bottoms, With air floors, and a hybrid between the two – ­ dinghy with jointed or slatted bottoms. These are carried in bigger vessels and are used in shallow places which the bigger vessel cannot access.
They are often called inflatables or rowboats and come with a pair of oars and a small outboard engine. Dinghies are capable of maneuvering in shallow waters and are thereby used for fishing in such places. They are frequently taken on camping expeditions.
Inflatable with rigid bottoms called RIBS (Rigid Inflatable Bottoms) are preferred because of their light-weight and stability. These can also be deflated and stored easily. Because of their soft-sides, they don't damage the motherships.
5. Game Boats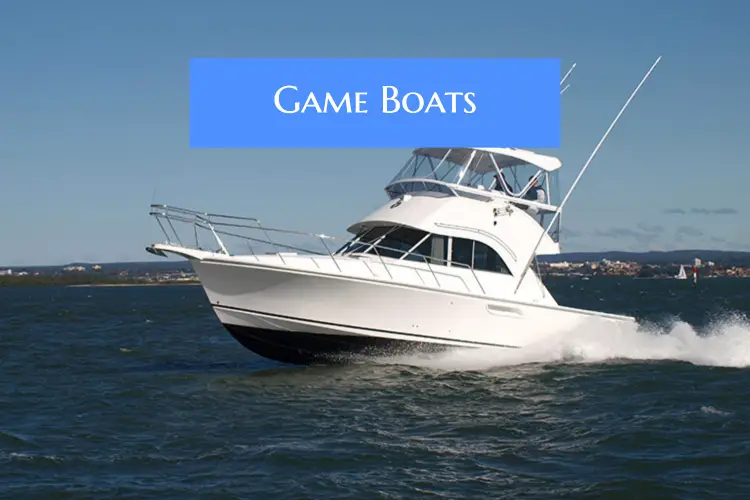 This boat is typically used for catching fish in the open sea like tuna and marlin. They are designed with two hulls make it easy for the fishermen to catch large fish. These maritime boats use diesel and petrol engines to run and can remain in the water for quite some time and when it needs to do so the sleeping berths, and cooking galleys come handy. Catamaran cruises are also quite popular.
6. Bass Boats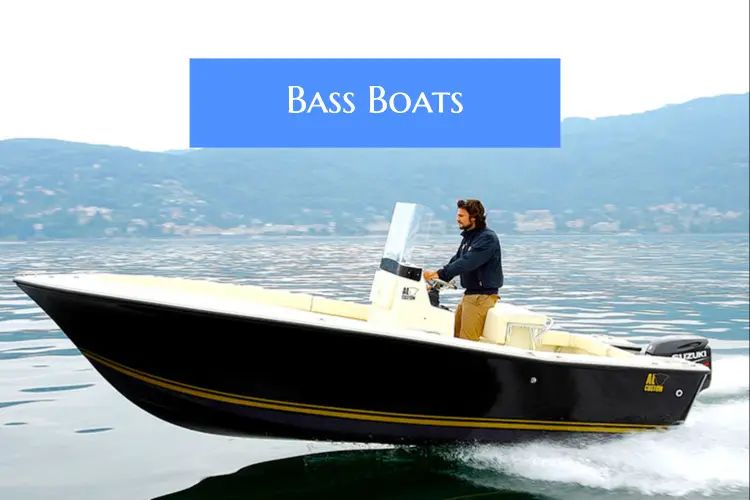 These are specially made for catching a North American gamefish that is colloquially known as black bass. The outboard motor enables them to move quickly from one place to another whereas the trolling motor allows them to move slowly where the fisherman is fishing. In case of the failure of these motors these boats are so small that they can be propelled by oars if necessary. Either aluminum or fiberglass is used as the construction material. The aluminum ones are lighter, smaller, and less expensive than their fiberglass counterparts. On the other hand, the ones constructed out of fiberglass have more space and better handling.

7. Well boats
These are a special kind of boat focussed on fishing. All the boats mentioned in this list that are used for fishing preserve the fish after catching to be used later. However, these are different. They can breed the fishes until they can be shipped to their respective centers for processing. Thus the fishes remain alive till their ultimate stage of processing. This type of methodology and consequently these types of boats are gaining much popularity today.
Boats for Sports and Recreation
These recreational boats are meant for those who like watersports or just cruising.
1. Bowrider Boats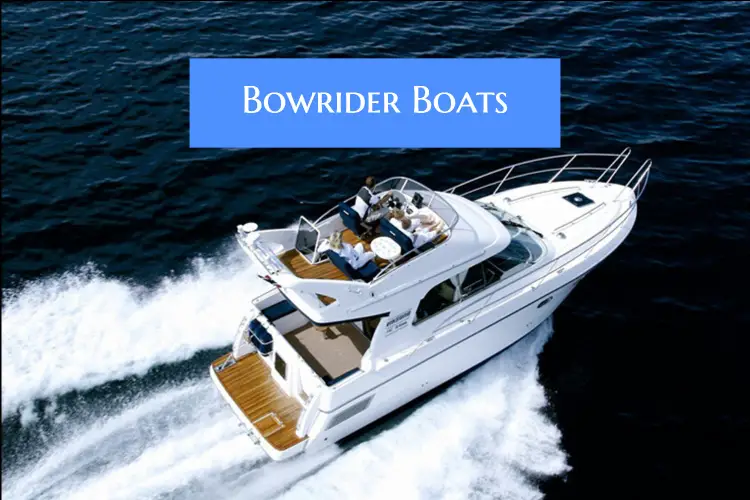 This type of boat has an open bow area with spacious seating.  Though more and more people are shifting towards outboard engines, the majority of the existing bowriders are still using the sterndrive power. They are used mainly for water sports. They have a swim platform at the stern. Here people can put on their skis or keep their wakeboarding equipment. Wakeboarding is a kind of water sport where the person riding on a short wide board similar to a surfboard is towed by the motor-powered boat.
2. Cuddy Cabin Boats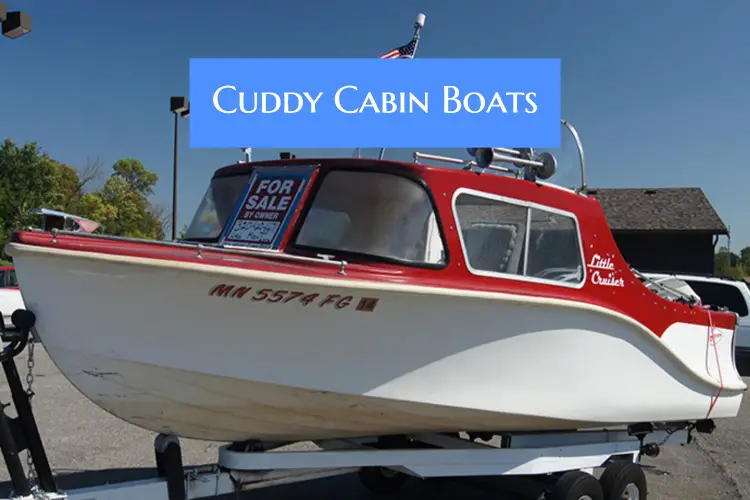 These are perfect for fishing and cruising activities with one's family. These are nimble, giving sufficient control to the person maneuvering the boat. Apart from its ease of use these boats also feature a closed deck with sufficient storage area or a nice place to rest. They also come with a toilet and a sink and sometimes even a cooking area. However, their plumbing capabilities are quite limited. These usually have aluminum or a fiberglass build, and the smallest cuddy cabin boats are approximately 4.75m.
3. Trawler Boats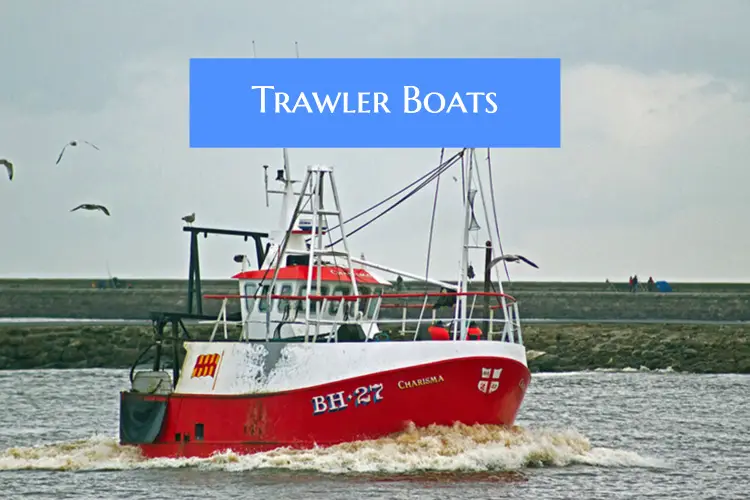 These big boats feature a displacement hull making it an efficient vessel that is easily maneuverable through the waters. It's easy to sail, and their low fuel consumption makes them an excellent option for long-range cruising activities. They have all kinds of essential amenities necessary for a weekend trip complete with a cooking area, a place to sleep, and good plumbing.
4. Jetboat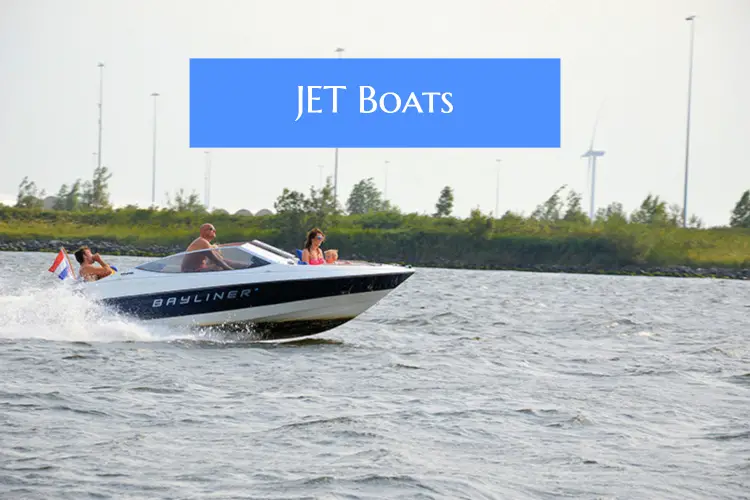 Unlike most of the boats in this list, these boats don't use motors and propellers to move them forward. Instead, they come equipped with pump-jets that draw water from underneath before pumping it out through a nozzle at the stern. They are highly maneuverable and can stop very quickly. This is called a 'crash stop'. These solved the problem where propellers would strike the rocks in shallow waters and thus damage the boats' components. These are becoming increasingly popular in all places where a boat is required, be it rescue operations, ferrying, sports, or as fishing ​jet boats.

5. PWC (Personal Water Craft) Boats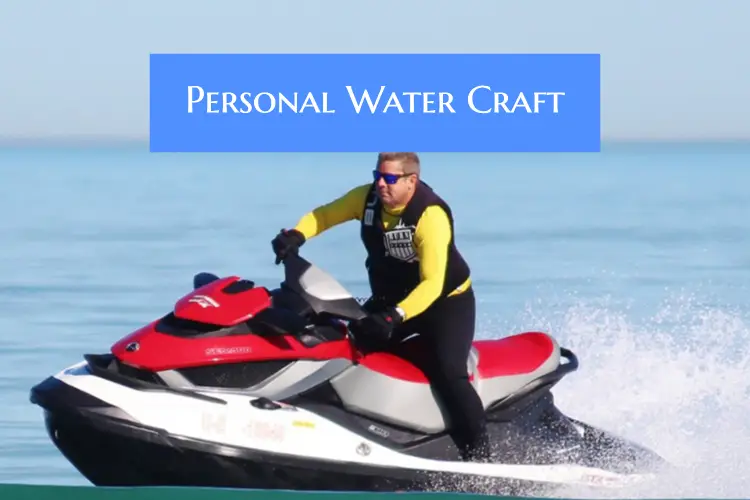 These are some of the most common boats when it comes to water sports.  They are safe and comfortable and are packed with top-notch features. Their small form factor makes them ultra-portable storable and maintaining them isn't much of a hassle either.
PWC are commonly called water scooters also. Jet Ski is a brand name that has now become a generic name.
The standing water scooter is small with no seat. The pilot has to stand upright on a platform called the bucket. The sitting scooter (saddle scooter) is a larger water scooter with one to four seats. The pilot can carry passengers on board.
They can accommodate 2 or more people at a time and are a solid choice for adventures and trips. Most popularly used for waterskiing, they are also used for a variety of activities. They have two categories depending on whether the rider sits down or stands. The 'stand-up' styles are used for racing and doing tricks in competitions.

6. Runabout Boats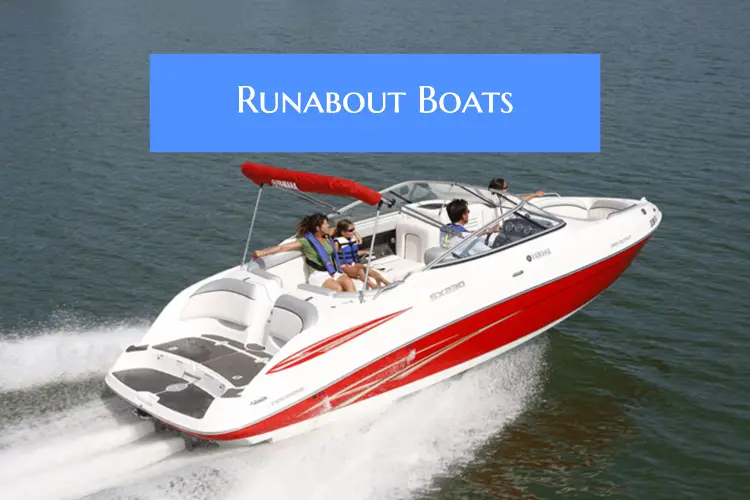 The difference between a cuddy cabin and a runabout is that the latter doesn't have a cabin space. These marine boats are open boats and equipped with forward controls operated with a steering wheel. A cuddy cabin just has enough space to store life jackets and other gear. They are categorized under entry-level boats for fishing and boating. Runabouts used for fishing are also called fishing ski boats.

7. Banana Boats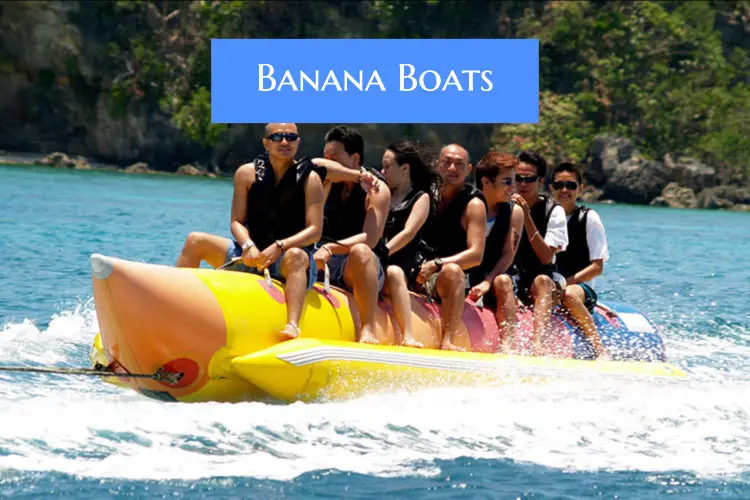 These are not to be confused with the banana boats which were actual ships used for transporting bananas. These are simply banana-shaped inflatable boats that lack any kind of inbuilt motor and is used solely for recreational activities. Up to 10 people can fit in this boat.
8. Pontoon Boats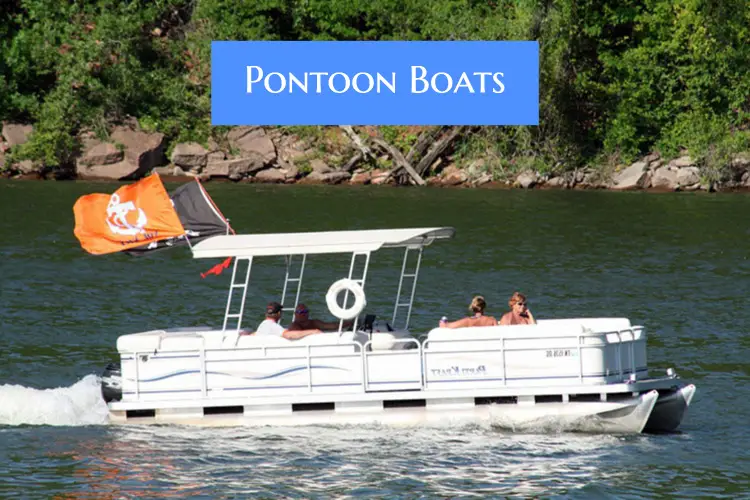 They are among the top 10 most famous boats in the world. These types of boats are popularly used as ferries to cross rivers or lakes. They have a flat structure and are kept buoyant with the help of aluminum tubes. This enables them to carry huge weights which comes in handy while transferring goods within short distances. Their shallow drafts (8 inches) prevent underwater damage. They have wide and spacious decks and can be used for leisure trips as well. Pontoon boats are not meant to be used in choppy conditions.
9. Kayaks
Kayaks are narrow and small in size. They are propelled with the help of a double-bladed paddle. Kayaks are used for various purposes like fishing, photography, surfing, and other recreational activities. Kayaks are available in different types and use various kinds of material like wood, canvas, carbon fiber, fiberglass, polyethylene, polyester, neoprene, and the list goes on.
Luxury Boats
These are used for leisure voyages by boat. They have a large number of facilities and amenities. Here are the most common luxury boats.
1. Houseboats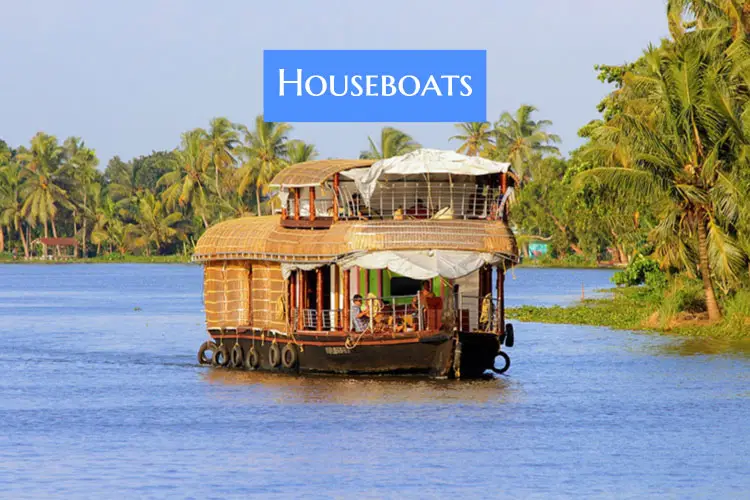 These boats cater to the needs of people who want to live on the waters as opposed to navigating them. They are extremely popular in Kashmir and Kerala in India. In the western countries, these boats are either owned privately or are rented out to people who want to spend their holiday in some canal or lake.
Just like hotels, houseboats also vary according to luxury and features. While the cheap ones are not well furnished, the expensive ones offer some of the best facilities that are available including fine dining and comfortable sleeping arrangements.

2. Cabin Cruiser Boats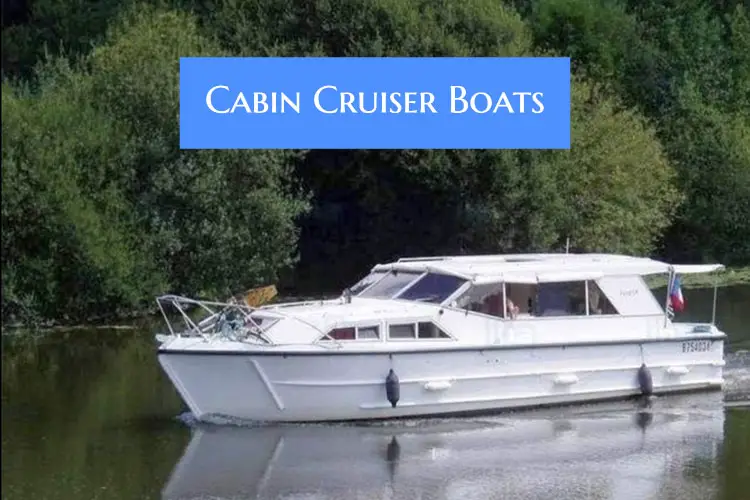 Cabin cruiser boats are cheaper than yachts. The owner can operate the cabin cruiser, whereas the yachts need a dedicated crew. They are less expensive than yachts while providing almost similar facilities. Cabin cruisers have a spacious cockpit they come with a stateroom, toilet, a galley (kitchen), and some additional berths. They also have a dining area. Bigger cabin cruisers can sleep up to a dozen people. Some of the expensive models come with pre-installed air-conditioning and power generators. Due to their size, they can handle water well and provide a stable ride.
Cabin cruisers are great fun if you like water because they have all the facilities and luxuries like spacious swim platforms, ladders, sun pads, and decks. which allow you to spend considerable time in the boat without getting bored.

3. Motor Yacht Boats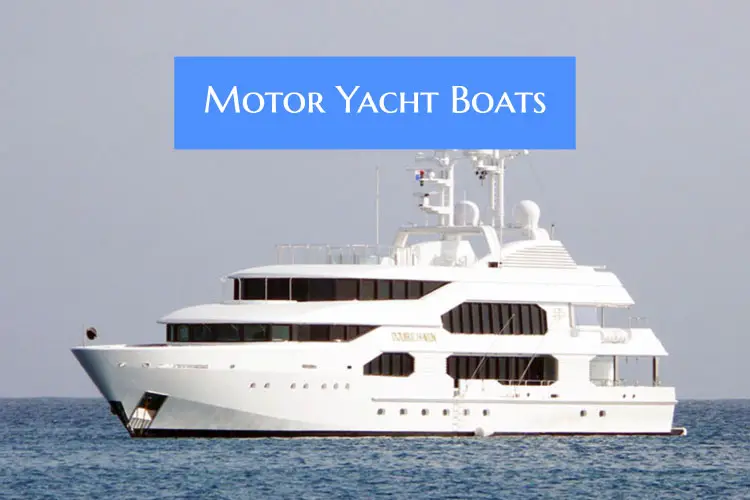 These are popular among people who want to enjoy a longer trip with their family. They come equipped with one or two diesel engines and are capable of sailing on big rivers and oceans for prolonged periods. There are several different types of motor yachts like –
The daily sailing yachts, also known as sailing dinghies, are meant for a few hours of daily usage.
The weekender yachts are a little better equipped and come with a single cabin, kitchen, and even a double bed.
The sedan yachts have a separate area on the top in addition to a control panel and lounging and sitting area. The rooftop of the yacht greets the passengers with a 360-degree open view. The other yachts include cruising yachts, luxury sailing yachts, and racing yachts.
Also read: Difference between Ships and Boats
Other types of boats
In the boating world, deck boats are almost synonymous with versatility. In a way that they can maximize the open space. They have the necessary safety equipment and have a V-shaped hull. Though they have easy controls they are catered more towards seasoned boaters.
If you are a novice or just getting into boating, you might be interested in Skiff and Jon boats. They are entry-level boats and come with steering consoles. These can be navigated through shallow waters.
Lifeboats are another type of important boats which are needed in emergency situations. Lifeboats are sturdy and buoyant boats usually carried in a bigger vessel like ships and cruises. They are deployed in case the mother ship meets an accident which can endanger the life of the passengers and the crew. It is a survival craft. According to SOLAS, each ship should contain enough lifeboats to save 37.5% of crew and passengers on either side.
Some other boats that don't belong to any of the above categories include pilot boat, fireboat, patrol boat, etc. Each of them is used for unique situations.
The pilot boats are used to ferry pilots and helmsmen to their respective vessels from the harbors and back.
The fireboats are used to combat the fire on the docks or to assist the firefighters on the shore. They have the advantage of the unlimited supply of water as they pump it directly from below the hull. For coastal defense duties, coast guards use patrol boats.
Summary
Though I have categorized the boats based on their usage, it is safe to say that most of these boats serve multiple purposes and thus a small fishing boat might very well serve the purpose of a leisure boat and vice-versa.
It all depends on what kind of water you wish to take it on or for how long you need it on the waters and whether you need a lot of storage or not. A little bit of research would tell you what kind of boat would be perfect for you.
Several other kinds of boats are employed in different parts of the world to carry out different tasks. Many of them are very similar to one another and do more or less related tasks with little variations here and there – sometimes the size might be a bit different, sometimes the shape, and sometimes they just belong to different brands.