Aqualis Offshore Successfully Completes Jacking Trial Of Wind Turbine Installation Vessel Ouyang 1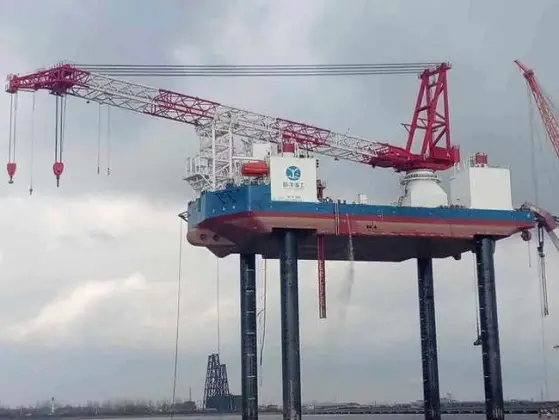 Aqualis Offshore was engaged by Ouyang Offshore Co. Ltd. to supervise the construction and the jacking trial of the self-elevating wind turbine installation vessel. OuYang 1 is a four-legged, DP1, self-propelled vessel with a working depth of 50 metres. It can house up to 75 people and is suitable for offshore wind turbine installation and maintenance work.
"The jacking trial consisted of pre-loading up to the maximum design capacity and full distance jacking of 75 metres. During the trial, all relevant equipment was tested at the designed maximum 15-metre air gap. We are pleased to announce that the entire jacking test was successful," says Peng Yonfei, China country manager, Aqualis Offshore.
In October, Ouyang Offshore Co. Ltd. awarded Aqualis Offshore a contract to supervise the construction of a second wind turbine installation vessel, OuYang 2.
A wind turbine installation vessel can rapidly raise its hull clear of the water to provide a stable platform from which offshore construction and maintenance work can be conducted.
Press Releases: aqualisoffshore.com
Photo Courtesy: aqualisoffshore.com