Crane Issues Hamper Operations of ESL Shipping's New LNG-Fueled Bulkers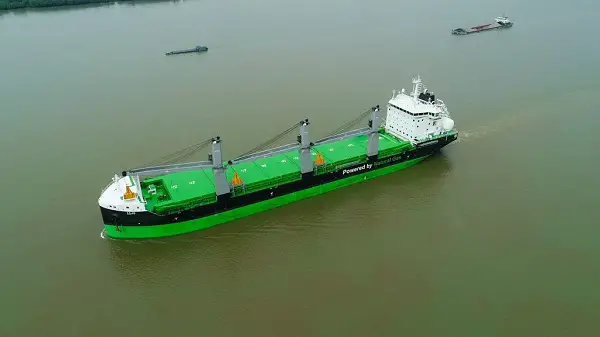 The 25,600 dwt handy size dry bulk cargo vessels, Haaga and Viikki, the first of their kind to use LNG, were delivered to the company in 2018. In the fourth quarter, both vessels arrived fully laden to the Baltic Sea via the Northern Sea Route.
However, "extensive and serious problems" in the conventional mechanics of high-power cranes, which are subject to warranty, have significantly interfered with the efficient operations of both vessels.
As informed, these issues have resulted in a significant loss of income and additional costs for the shipping company.
Due to the delivery times of spare parts, repairs by Cargotec MacGregor are expected to be completed only at the end of the first quarter of 2019. During this time, the vessels cannot be operated fully efficiently as planned, the company said.
"We can be satisfied with the operation of the energy and environmental efficiency systems of the new vessels. When we can raise the reliability and efficiency of the loading and unloading operations of the new vessels to the planned level, the vessels will meet our high profitability requirements and they can be placed to intended customers' cargo deliveries," Aki Ojanen, CEO of ASPO Group, noted.
The delay in full deployment of Haaga and Viikki was revealed in the company's financial results for 2018 which show that ESL Shipping improved its profitability during the year.
The company's operating profit stood at EUR 15.1 million (USD 17 million) in 2018, an increase of 11.9 percent when compared to EUR 13.5 million reported in the twelve-month period a year earlier.
In addition, the shipping company's net sales grew by 51% in January-December 2018 to EUR 120.1 million from EUR 79.3 million seen in 2017. The overall increase was driven by the growth of 105% in net sales in the fourth quarter of 2018.
As explained, net sales in the fourth quarter increased significantly as a result of higher transportation volumes, the completion of the new vessels and the increase in the vessel capacity through the acquisition of Swedish shipping company AtoB@C. As part of its growth strategy, ESL Shipping completed the acquisition of AtoB@C on August 31, 2018.
As a result of the acquisition and the addition of the two new vessels, the shipping company's vessel capacity increased. The increase in capacity enables the company to improve its operational efficiency and profitability especially during the second half of the year when there is typically a shortage of vessel capacity.
At the end of the financial year, ESL Shipping's fleet consisted of 49 vessels with a total capacity of 464,000 dwt. Of the vessels, 22 are wholly-owned, two are minority-owned, one is leased and the remaining 24 are time-chartered.
Press Releases: ESL Shipping
Photo Courtesy: ESL Shipping