MOL Launches New Large-Scale Ferry "Sunflower Kirishima"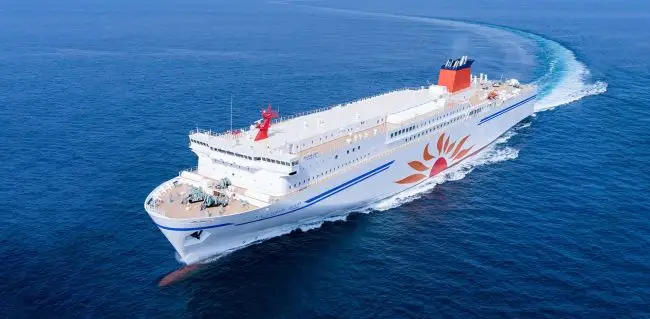 TOKYO-Mitsui O.S.K. Lines, Ltd. announced that the newly built large-scale ferry Sunflower Kirishima operated by its group company Ferry Sunflower Co., Ltd. was launched on September 15, and with many passengers aboard, departed the Nanko Sunflower Terminal in Osaka Prefecture for the Port of Shibushi, Kagoshima Prefecture.
The new Sunflower Kirishima has room for 20% more trucks compared to the old Sunflower Kirishima. With its sister ferry, the Sunflower Satsuma, which was launched on May 15, they will enhance their role in promoting a strong modal shift from long-distance transport by trucks to ocean transport by ferries driven by the need to reduce environmental impact and a shortage of truck drivers and serving as a vital link in the logistics chain connecting the Kansai and Kyushu regions.
The new Sunflower Kirishima also offers significantly upgraded passenger services, with the aim of enhancing passenger comfort. The number of private cabins, which have showers, vanity spaces and toilets, has sharply increased. The new ferry also has a large and open entrance lobby featuring a three-floor atrium, along with a spacious restaurant and scenic public baths, as well as suite rooms. Through these facilities, we seek to provide "casual cruises" that offer the excitement and anticipation of a first-time experience to customers spanning a broad range of age groups.
The MOL Group continues to take a proactive stance on improving services to allow more customers to utilize the Sunflower Ferry.
Outline of Sunflower Kirishima:
Gross tonnage 13,659 tons
Length 192.0 m
Breadth 27.0 m
Draft 6.8 m
Speed 23 knots
Main engines 8,830kw×2
Capacity of passengers 709
Vehicle capacity 121 large trucks*
* Based on average length of 13m
134 passenger cars
Press Releases: mol.co.jp
Photo Courtesy: www.sunflower.co.jp