M/V Blue Marlin: Heavy Lift Vessel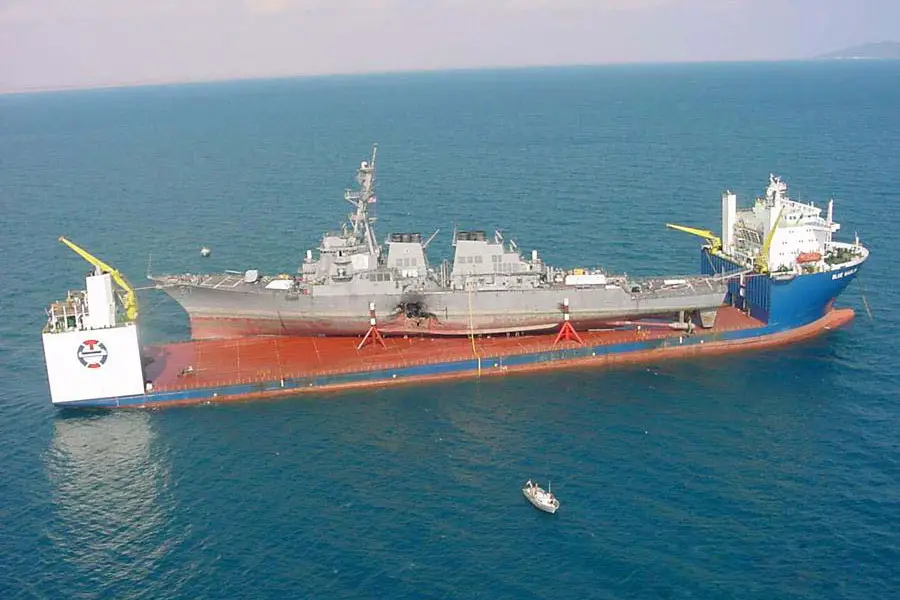 Passenger ships and cargo ships sure help us carry huge loads over wide areas. But what happens when they themselves need to be transported from one area to another? This is when float-on/float-off (Flo-Flo) ships or Heavy Lift Vessels like MV Blue Marlin come in handy.
A terrorist attack in the year 2000 destroyed one of the best naval ships belonging to the United States, known as USS Cole. The M/V Blue Marlin was responsible for bringing whatever was remaining of the USS Cole to Yemenite port where it was restored with technological assistance.
The M/V Blue Marlin is a semi-submersible ship of Dutch Origin that was built in the year 2000.
The special feature of this vessel is the fact that it can be partially submerged, that too at different levels based on the requirement. This is something that comes in quite handy when there is a variation in the weight load of the cargo that is mounted on top of it. It maintains its balance irrespective of the variation and thus prevents damage to the cargo.
It has been designed to transport very large semi-submersible drilling rigs above the transport ship's deck. MV Blue Marlin has 38 cabins to accommodate 60 people, a workout room, sauna, and swimming facilities.
The primary objective of building the M/V Blue Marlin was to act as a base or anchorage to oil rigs. The stability and reliability of this heavy-lift vessel made it a suitable choice to bring the damaged USS Cole from Mississippi to Yemen.
It has the capacity to carry approximately 30,000 tons. The feat of carrying the 6,800 ton heavy and 505 ft high USS Cole proves its endurance and capability.
Heavy lift vessels like the M/V Blue Marlin come equipped with cranes to lift and place cargo on top of them. The Blue Marlin has a total lift-off capacity of 100 tons at the very first lift from a single crane. Thus it becomes quite clear as to why it is so reliable.
The general purpose of these heavy lift vessels is to provide cargo facility to warship ports and dry docks to carry out repair work on them. The technology used is obviously much more versatile and hence can be used in other expeditions such as the one carried out by the M/V Blue Marlin.
M/V Blue Marlin Specifications
MMSI: 248314000
Call Sign: 9HA4605
Flag: Malta [MT]
AIS Vessel Type: Cargo
Gross Tonnage: 51821
Deadweight: 76061 t
Length Overall x Breadth Extreme: 224.6m × 63m
Year Built: 2000
Status: Active
MV Blue  Marlin Video