[VIDEO] Watch Construction Of Future US Aircraft Carrier John F. Kennedy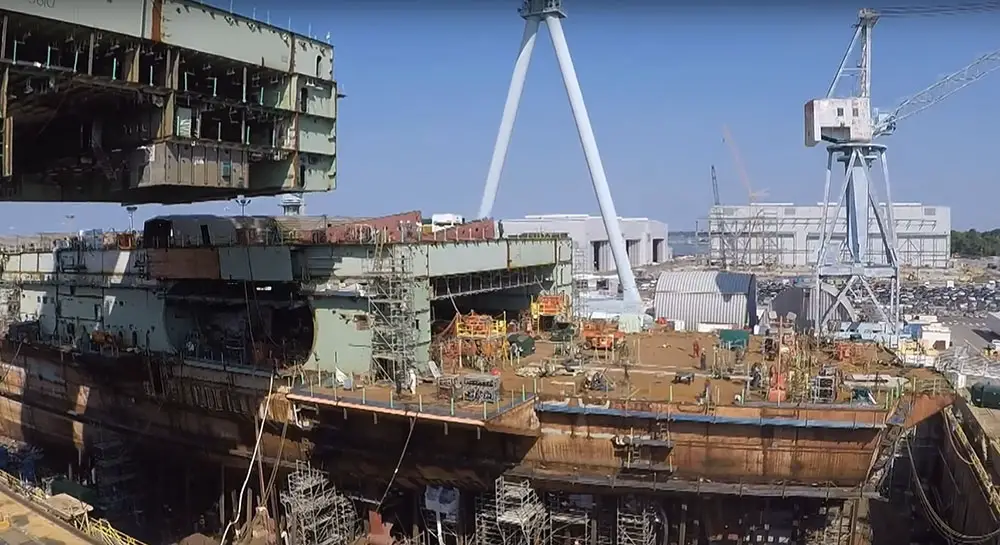 Huntington Ingalls Industries' Newport News Shipbuilding division reached the halfway point in the construction of the nuclear-powered US aircraft carrier John F. Kennedy (CVN 79) following the installation of one of the largest units on the ship.

The superlift weighs at approximately 905 metric tons and is one of the heaviest of the planned steel structures. The superlift of the aft section of the ship between the hangar bay and flight deck is 80 feet long, about 110 feet wide and four decks in height.
The carrier will be the second ship in the Gerald R. Ford class.
Combining 19 smaller units into one superlift allowed the shipmakers to install a majority of the outfitting equipment — grating, pumps, valves, pipe, electrical panels, mounting studs, lighting, ventilation, and other components — before the structure was hoisted into the dry dock using the shipyard's 1,050-metric ton gantry crane. This methodology resulted in the being completed 14 months earlier than it was on the first ship in the Ford class.
Kennedy is scheduled to move from the dry dock to an outfitting berth in the fourth quarter of 2019, three months ahead of schedule.