AIDAnova Bunkered with LNG during Maiden Call in Tenerife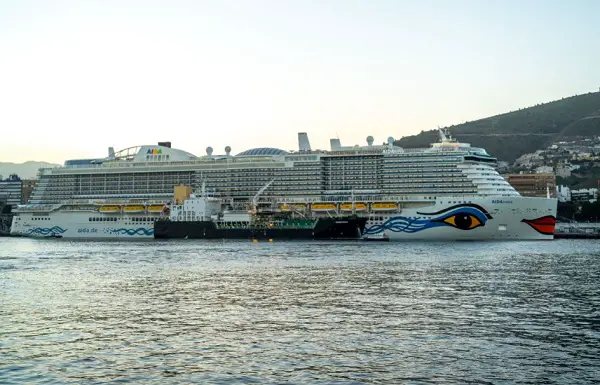 The cruise ship, that can be powered at port and at sea with LNG, arrived in Tenerife on the afternoon of December 18, 2018. Once there, the Shell LNG tanker Cardissa supplied AIDAnova with LNG for the first time for its premiere season.
A day later, AIDAnova welcomed its first guests for its initial cruise around the Canary Islands and Madeira.
With the cruise ship's maiden call in Tenerife, the Carnival group also celebrated the official start of operations of its cruise terminal in Santa Cruz de Tenerife. The company recently announced an agreement with the Port Authority of Santa Cruz de Tenerife to be the first concession-holder to operate the Canary Islands' and Mid Atlantic's newest cruise terminal.
Read more: Ship Bunkering Process
AIDAnova features four dual-fuel engines and three gas tanks on board, making it the first cruise ship in the world that can be powered at port and at sea with LNG. With this fuel, emissions of particulate matter and sulfur oxides are almost completely eliminated, while nitrogen oxides and CO2 emissions are sustainably reduced.
In 2021 and 2023, two additional ships from this new AIDA generation will join the AIDA fleet. In total, following AIDAnova, Carnival Corporation has an additional 10 next-generation "green" cruise ships on order that will be powered by LNG in port and at sea, with expected delivery dates between 2019 and 2025.
Press Release: AIDA cruises
Photo Courtesy: AIDA cruises