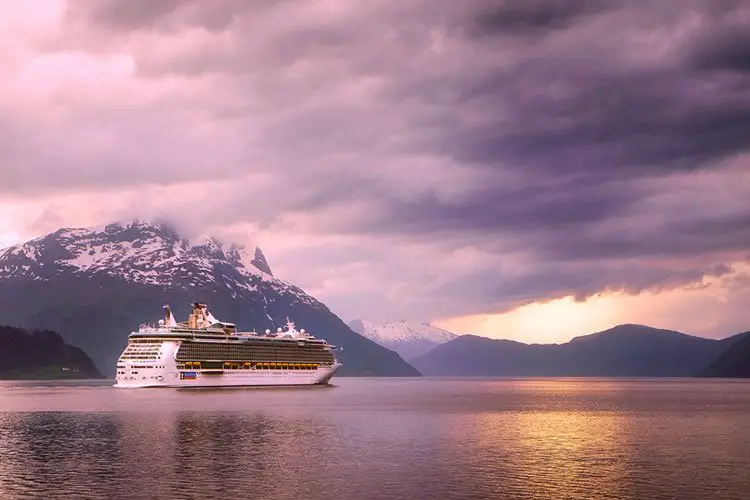 [lwptoc]
What Is  A Cruise Ship?
A cruise ship is a luxurious passenger ship used for recreational and pleasure voyages and has all the amenities, entertainment options, activities, and attractions present only for the purpose of enhancing the passenger's experience.
A cruise ship usually takes a round trip of a particular route that is assigned to it and unlike an ocean liner which merely carries passengers from one place to another. The journey of a cruise ship is may range from 2-3 days to even 14 days or more depending upon the itinerary. The vessel stops at different points which are usually exotic locations. Cruises can run internationally or locally and in seas and oceans as well as rivers.
What Is The Purpose Of A Cruise Ship?
Cruise ships today offer a wide range of amenities onboard which include casinos, shops, swimming pools, theatres, spas, gyms or fitness centers, libraries, buffet, lounges, clubs, tennis courts, basketball courts, infirmaries, ping pong tables, pool tables, bowling alleys, rock climbing walls, miniature golf courses, chain restaurants, obstacle courses, video arcades, etc. to name a few.
Hence, cruise ships can also be considered as 5-star hotels on boats.
A cruise ship vacation means that you don't have to plan the logistics. A cruise ship itinerary usually includes multiple popular tourist destinations. As a tourist, you don't have to plan, choose, and book different hotels or transportation. All these problems are non-existent when you choose a cruise vacation.
One more advantage of a cruise ship is that you board a cruise ship and unpack in your cabin once. After that, your ship will visit multiple destinations but won't need to pack and unpack each time.
A Cruise ship is very enjoyable as you get to relax, take sunbathe, inhale invigorating ocean air, and socialize with people. These options may not be available in most vacations.
Cruise ships also have a plethora of entertainment and recreational options that keep every passenger of every age and gender busy and entertained for the entire journey.
There are many restaurants and eating options on a cruise ship which makes it a foodie's delight.
Cruise ships are a great value for money!
Also read: 15 Largest Cruise Ships In The World!
What Are The Types Of Cruise Ships?
Cruise ships have evolved a lot in terms of amenities and purposes in the last few decades. There are many types of cruise ships designed to provide specialized cruise and excursion experiences in seas, oceans, rivers, and lakes.
Mainstream Cruise Ship
This is the most common and popular cruise ship which can be considered as floating resorts. These cruise ships are designed and equipped with all amenities which are generally present in resorts. A mainstream cruise ship has a capacity for 850 – 3,000 passengers and comes with all features, and services, like restaurants, bars, and pubs, nightclubs and discos, shopping areas, theatres and cinemas, galleries and museums, libraries, casinos, personal care areas with gyms and spas, swimming pools and other sports facilities.
Mega Cruise Ship
As the name suggests this ship can accommodate more than 3,000 persons. Mega ships are a new class of cruise vessels. They are highly sophisticated and technologically advanced ships
Ocean Cruise Ship
Ocean cruise ship is designed to be more stable and sturdier than other cruise ships as these sail in harsh conditions of long ocean excursions.
Luxury Cruise Ship
This ship is a highly luxurious vessel equipped with the highest level of comfort, amenities, and equipment. These generally cater to those who can afford to shell out a lot for exotic destinations and experiences.
Small Cruise Ship
The small cruise usually ranges from a Yacht size vessel to mid-size cruise ships which can accommodate a few hundred passengers. These are chosen by those tourists who like a more personalized and relaxing experience.  The voyages are to not-so-famous destinations and provide specific services such as sea conventions, history cruises senior cruises, etc, and to places where larger cruises cannot go.
Adventure Cruise Ship
Adventure cruise ships typically go to remote destinations where larger ships cannot venture. These are smaller vessels but equipped luxuriously.
Expedition Cruise Ship
An expedition cruise ship provides exclusive experience such as expeditions to the Arctic or Antarctic region or biosphere reserves. These can accommodate fewer passengers than mainstream cruises and are not very luxurious. They though provide adequate safety and comfort features.
River Cruise Ship
These smaller ships can carry only a few hundred people at a time and navigate the rivers and inland waterways. They are luxuriously fitted with many amenities. Typical destinations are Amazon, Nile, Rhine, Siene, Volga, Mississippi, etc.
How Many Cruise Ships Are There In The World?
According to cruisemarketwatch.com, there are 314 ships as of December 2018 with a capacity of 537,000 passengers. Annualized total passengers carried worldwide will be 26.0 million
History Of Cruise Ships
The 20th century for remarkable growth in the cruise ship industry with countries like Britain and Germany leading the markets. Some of the most iconic ships of that time were Lucy Tanya, the Olympic, and of course, the Titanic.
During the first world war the building of new cruise ships was interrupted, and many old liners were converted into troop transports. Great Britain and the United States took over many German superliners. Cruise ships were considered as a luxury that was only accessible and exclusive to the rich and famous, high society people because of the high costs. Today, cruise ships are within the reach of almost everyone. However, they are still one of the most expensive types of boats. On average, a cruise ship costs about 150 dollars per person per night.
What Are Cruise Lines?
Companies operating and marketing cruise ships to the public are called cruise lines. Today there are several Cruise lines operating in the whole world some of which are specific to rivers.
Talking about oceans and sea, some of the biggest cruise lines in the world today are the Norwegian Cruise Line, Royal Caribbean, Star Cruises, MSC Cruises, Hapag-Lloyd Cruises, etc.
Some of the world's biggest cruise ships have been listed below.
Symphony of the Seas
MS Harmony of the Seas
The Allure of the Seas
MS Oasis of the Seas
MSC Meraviglia
Quantum of the Seas
Anthem of the Seas
Ovation of the Seas
Norwegian Bliss
Norwegian Joy
Norwegian Escape
Norwegian Epic
Freedom of the Seas
Independence of the Seas
Videos