Top 10 Biggest Ports In UAE
Let us first understand what ports are before moving on to the top major ports in UAE.
A seaport is a nautical facility with one or more wharves where ships, including freight and passengers, can load and discharge cargo and passengers. It is usually found on the seashore or in an estuary, however, some well-known ports are found inland, with access to the sea through a river or canal.
The United Arab Emirates has spent much on infrastructure, resulting in sophisticated ports and airports, making the country a seaport centre. The UAE's strategic location, as well as its history as a trading centre and its abundance of hydrocarbon resources, have all contributed to the country's rise as a trading destination. They have become a global centre of marine trade as a result of their ongoing growth and development.
The United Arab Emirates, which borders Oman and Saudi Arabia, has emerged as a beacon of growth and trade in the Arabian Peninsula. To the west and north, it shares marine seas with Qatar and Iran. Abu Dhabi, Dubai, Sharjah, Ajman, Ras al Khaimah, Fujairah, and Umm al Quwain are the seven states that make up the United Arab Emirates. The country is located on the northern side of the Strait of Hormuz, making it a vital transit and commerce point for seaborne containers.
Dubai is a coastal metropolis with several small and big seaports that stretches along the Arabian Gulf's coasts. These maritime ports are critical to the city's continued success as a flourishing economic centre. They aid in the strengthening of trade and transportation, as well as the import and export of cargo for a variety of sectors. Furthermore, Dubai's seaports assist international travellers in shortening their journey.
Dubai is one of the world's most populous and dynamic economic centres. Jebel Ali Port, Mina Rashid Port Dubai, and Al Hamriya Port Dubai are the three major shipping ports in Dubai. All three ports on the Dubai seaport list have large cargo operations and contribute to the region's economy.
The ports in this list are organised by the Emirate to which they belong. The Arabic word "Mina" implies "port" or "harbour." The majority of ports are also referred to as Mina – before their names. Port Khalifa in Abu Dhabi, for example, is also known as Mina Khalifa.
Top Ports in UAE
| Sl. No. | Port Name | Location |
| --- | --- | --- |
| 1. | Port Khalifa (AEKHL) | Abu Dhabi |
| 2. | Mina Zayed Port (AEMZD) | Abu Dhabi |
| 3. | Musaffah Port (AEAMF) | Abu Dhabi |
| 4. | Port Jebel Ali (AEJEA) | Dubai |
| 5. | Mina Rashid (AEDXB) | Dubai |
| 6. | Mina Al Hamriyah (AEHAM) | Dubai |
| 7. | Port of Fujairah (AEFJR) | Fujairah |
| 8. | Mina Saqr Port - Ras Al Khaimah (AEMSA) | Ras al Khaimah |
| 9. | Mina Khalid Port (AEKHL) | Sharjah |
| 10. | Khor Fakkan (AEKLF) | Sharjah |
1) Port Khalifa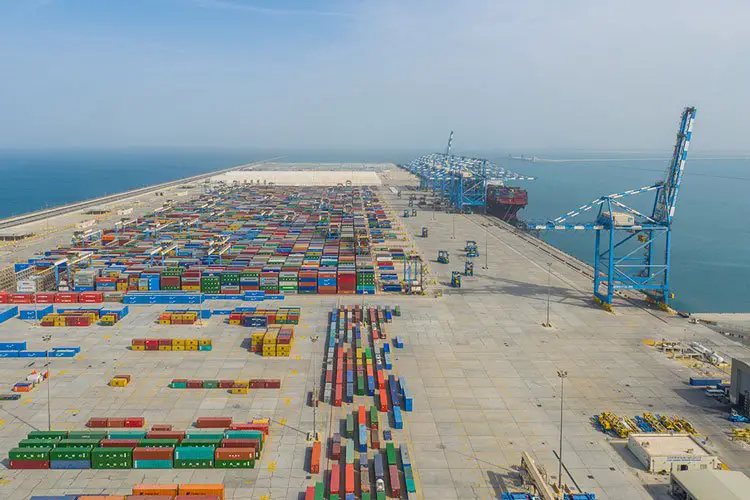 The Khalifa Port is Abu Dhabi Ports' flagship deepwater port, designed to accommodate the world's largest ships at the time of construction. This port with cutting-edge technology and latest facilities is Abu Dhabi gateway that handles all of the Emirate's container traffic. In December 2012, the transfer of container cargo traffic from Zayed Port to Khalifa Port was completed.
The capacity of Khalifa Port in Phase 1 is 2.5 million TEUs and 12 million tonnes of general cargo per year, with a capacity of 15 million TEUs and 35 million tonnes of general cargo planned by 2030. The President of the United Arab Emirates, Sheikh Khalifa Bin Zayed Al Nahyan, officially inaugurated Abu Dhabi Ports' Khalifa Port on December 12, 2012, after a three-month transition of container operations from Abu Dhabi's Zayed Port.
Abu Dhabi Terminals (ADT), a joint venture between Abu Dhabi Ports, Mubadala, and Mubadala Infrastructure Partners, manages and operates the container terminal at Khalifa Port. ADT and Abu Dhabi Ports announced a 30-year concession agreement to manage and operate the Khalifa Port Container Terminal until 2042.
Abu Dhabi Terminals, which previously operated Zayed Port and the Freeport in Musaffah, was founded in 2006 as the operator of all ports in the Emirate of Abu Dhabi. Khalifa Port Container Terminal has increased Abu Dhabi's container commerce and now connects Abu Dhabi to 62 direct worldwide destinations under Abu Dhabi Terminals' leadership.
Abu Dhabi Terminals handled 32% more containers in 2015. The terminal handled 1,504,293 TEUs (twenty-foot equivalent units/containers) in 2015, up from 1,137,679 TEUs the previous year. In the first half of 2016, Abu Dhabi Terminals volume at Khalifa Port increased by 11%, reclaiming the title of the fastest-growing container terminal in the Middle East area as most ports reported flat or negative growth.
Despite significant efforts to transition away from petrochemical dependence, megaprojects such as Abu Dhabi's Khalifa Port have been criticised as non-strategic vanity projects of the ruling tribal monarchies – an oft-repeated example in a well-documented pattern of duplication, redundancy, and waste within the UAE's infrastructure framework.
Since its opening in 2012, Khalifa Port has been relatively calm, owing to its proximity to Dubai's Port of Jebel Ali, the world's ninth busiest port, the largest man-made harbour, and the largest and busiest port in the Middle East. Despite the port's 2.5 million TEU capacity and a goal of 15 million TEU, throughput at Khalifa Port remains stubbornly low at roughly 1.5 million TEU.
Also Read: Major ports in Spain
2) Mina Zayed Port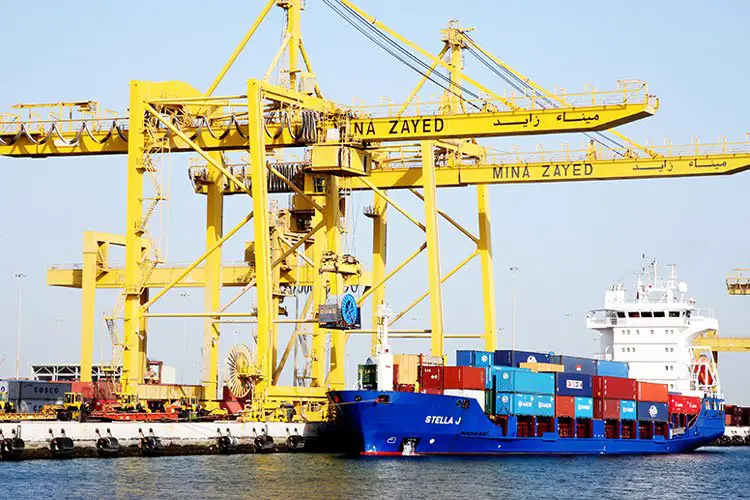 Mina Zayed is a deep-water commercial port in Abu Dhabi, United Arab Emirates, owned by Abu Dhabi Ports. Zayed Port, which opened in 1968, is located in the northeastern part of Abu Dhabi. It was named after Sheikh Zayed bin Sultan Al Nahyan, the previous President of the United Arab Emirates, and was officially inaugurated and fully functioning in 1972. In 2012, the container traffic from Zayed Port was transferred to the newly built US$7.2 billion Khalifa Port container port.
Zayed Port is 535 hectares in size, with 21 berths varying in depth from 6 to 15 metres and a total berth length of 4,375 metres. The city's Zayed Port remains the gateway for general cargo vessels, RORO (roll-on/roll-off), and is emerging as a destination for international luxury cruise ship tourism; the nearby Free Port caters to smaller vessels, tugs, barges, and service crafts; Musaffah Port is located in the heart of the industrial township of Musaffah, and the new state-of-the-art Musaffah Port is located in the heart of the industrial township of Musaffah.
The port approach channel is dredged to a depth of 15 metres and extends about 5 miles NW of the island (2001). A subsidiary fairway dug to an 11-meter depth, connects the main channel just inside the breakwaters and continues to the southeast, leading to an offshore supply station within Khawr al Bighal. At the intersection of the two canals, the main fairway swings sharply south and leads to Mina Zayed.
Except for a spur at its NW end, which has been dredged to a depth of 6m, Mina Zayed has been dredged to a depth of 15m (2001). (2001). There are 21 berths for the container, cement, grain, and bulk cargo handling. Ro-ro vessels med-moor to the break-bulk berths to work cargo, while tankers are accommodated near the SE end of the port. When berthing, vessels with a draught of more than 11m must consider the tide.
According to reports from 2003, the port will build an additional container terminal with a length of 650 metres and a depth of 17 metres alongside, which will be able to accommodate two container ships.
3) Musaffah Port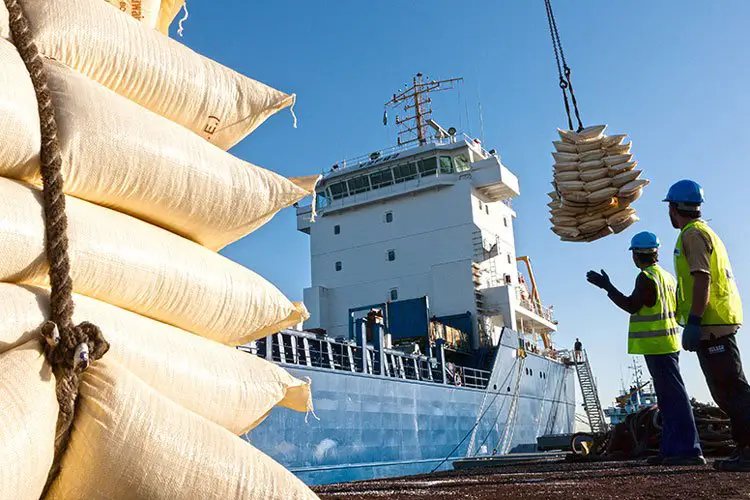 The deep-water exploration Musaffah Port is the second-oldest port in the emirate of Abu Dhabi, behind Zayed Port, and one of the busiest in the world. The port, which is located in the Musaffah Industrial Area, is known for housing the 53-kilometre Musaffah Channel, the region's second-longest channel after the Suez Canal.
Musaffah Port is a general cargo terminal with a variety of services, including break-bulk and RoRo operations. The port enables cargo operations and provides warehouses for a variety of industrial and commercial sectors, including steel, dredging, shipbuilding, and offshore construction, to expand its services.
The port also houses the cutting-edge Abu Dhabi Ports Maritime Training Centre, which offers internationally recognised training for the next generation of maritime professionals. The port and channel service the Musaffah Industrial Area as well as the ICAD I, II, and III industrial zones. Steelworks, shipyards, rig construction, offshore construction and supply, dredging, shipping, and construction businesses are among the large commercial and industrial companies that occupy the waterfront.
Following a period of local restoration and infrastructure improvements in the 1990s, enthusiasm in expanding Abu Dhabi's neighbouring township of Mussafah into an industrial centre grew. The Abu Dhabi Seaports Authority announced a Dh2.4 billion development plan for Mussafah in 1996, which included the construction of a new port. Many medium-rise structures were proposed in 1998, largely for offices, and a local police station was built.
A wide range of clients uses the port facility for cargo operations and warehousing. The airport and Musaffah are connected by a new 280-meter tunnel. The Musaffah Channel is a man-made channel filled with huge, bladed gypsum crystals. "Pleistocene reworked dune deposits, unconformably overlain by Holocene carbonates and sabkha evaporated," according to the Musaffah Channel's eastern bank.
The inner portions of the waterway are about 7 kilometres (4.3 miles) inland from where the current lagoon is located. The port includes a main quay that is 342 metres (1,122 feet) long and two side quays that are 40 metres (130 feet) long, with a total surface of 37,500 square metres (404,000 sq ft). The port has a draught of 11 metres (36 feet) and is connected to the new Musaffah Waterway (a 53-kilometre (33-mile) long channel dug 9 metres (30 feet) below the datum).
4) Port Jebel Ali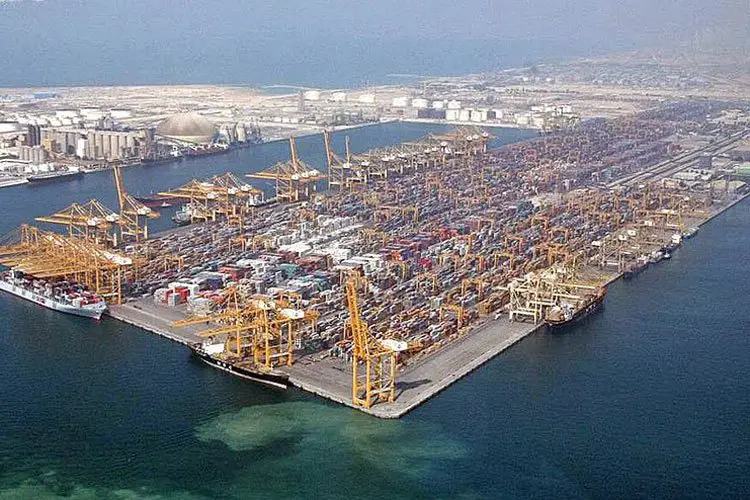 Jebel Ali Port Dubai, DP World's flagship seaport in the UAE Region, is one of the world's largest seaports. This port's enhanced sea, air, and land accessibility is one of its most appealing aspects, making it a preferred port for sectors that require large-scale logistic networks.
Jebel Ali Port, operated by DP World, is the Middle East's largest gateway hub. It connects the eastern and western markets of North Africa, South Asia, and the Middle East. Jebel Ali is one of the top ten container ports in the world, with a capacity of 19.3 million TEU (20-foot equivalent units). It has been rated the greatest seaport in the Middle East for 24 years because of its multi-modular facilities.
Jebel Ali Port includes a warehouse that specialises in freight consolidation and deconsolidation. Outside Gate 2 at the port, the Container Freight Station houses commodities and products that must be sent to various exporters and importers in or near the Gulf region. CFS has a total storage space of 134,343 square metres, with 11,900 square metres covered and 122,443 square metres uncovered.
The cold storage facilities at Jebel Ali Port are excellent for storing commodities that require particular cooling conditions. They have a storage capacity of 9665 square metres and may keep chocolates, cigarettes, cosmetics, and pharmaceutical products. The Jebel Ali Port also handles and stores various types of goods and shipments, including bulk, breakbulk, and RoRo shipments. The Gulf, Indian Subcontinent, and African markets are all served through the Jebel Ali Port. The nature of the cargo imported and exported reflects the diversity of the region and the markets supplied by Jebel Ali Port.
Outside of the United States, the port at Jebel Ali has become the most regularly visited by US Navy ships. A Nimitz-class aircraft carrier and several ships from the accompanying battle group can be housed pier-side due to the depth of the harbour and the extent of the port facilities. Because of the frequent port visits, semi-permanent liberty facilities (dubbed "The Sandbox" by military personnel) have been built adjacent to the carrier berth.
5) Mina Rashid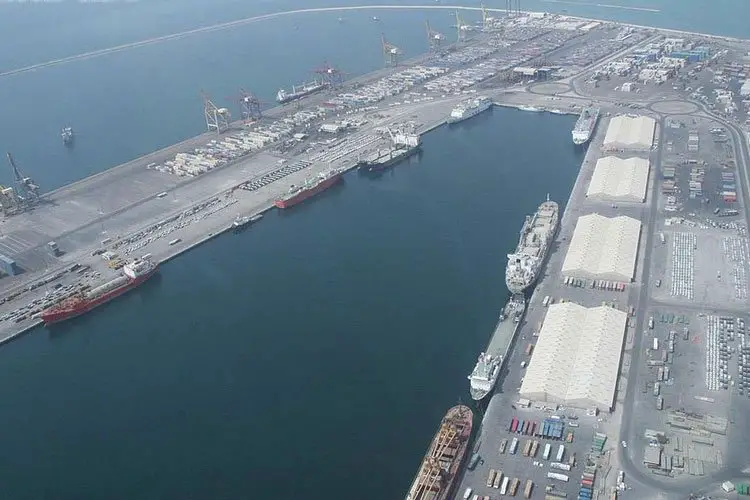 Mina Port Rashid, named after His Highness Sheikh Rashid Bin Saeed Al Maktoum, is a modern, multi-purpose port in Dubai that serves both passenger and freight ships. It is one of the most appealing places for traders and tourists alike, having opened in 1972. It's close to Dubai Maritime City and Dubai Drydocks World.
Mina Rashid Port, which covers an area of 2 million square metres and can accommodate seven mega-cruise ships with a capacity of over 25,000 people, has a capacity of seven mega-cruise ships. It is the only port in the UAE to have obtained the coveted International Maritime Security (IMS) Security Certificate of Excellence, as well as ISO-9002 accreditation.
In polls conducted by the World Travel Awards, Mina Rashid Port has been chosen the most prominent luxury port in the Middle East for the last eight years.
Mina Rashid Port is home to the Dubai Cruise Terminal, one of the world's largest cruise ports. The terminal can hold up to 25,000 passengers at a time and includes five different terminals with different baggage processing areas and sizes. Cunard, Hapag-Lloyd, and Holland-America Line are among the cruise lines that have used the Dubai Cruise Terminal. Mina Rashid is the epitome of glamour and glamour. Luxury homes, gleaming white boats, sun-kissed beaches, and stunning boat parties are the norm in this bustling seaside town.
Sheikh Rashid bin Saeed Al Maktoum is the full name of the port, which opened in 1972. The port had only two gantry cranes and a capacity of less than 100,000 TEUs at the time. The port was enlarged in 1978 to provide 35 berths (five of which were able to be used by the largest container ships at the time). The port now has 9 gantry cranes and a capacity of 1,500,000 TEUs, at a depth of 13 metres (43 feet).
Mina Rashid now has berths available for ordinary cargo, RoRo, and passenger ships. Mina Rashid was augmented in the early 1980s by the Port of Jebel Ali, which is located further from Dubai's commercial centre near the Abu Dhabi border.
Dubai Drydocks and Dubai Maritime City are located next to the port. Because of Mina Rashid's vicinity, both of these facilities were created. However, in January 2008, the port was announced to be renovated. By the end of March 2018, all cargo activities will be moved to Jebel Ali Port. Mina Rashid will be transformed into a cruise port. Nakheel will also reclaim a portion of the port to construct "a lively mixed-use urban waterfront" that will accommodate 200,000 people.
Top developer Emaar had announced an exclusive debut of a new project Sirdhana at Mina Rashid, which offers 1-3 Bedroom Apartments within a new marine destination of Mina Rashid, in conjunction with DP World.
6) Mina Al Hamriyah
Mina Al Hamriya is a traditional freight gateway, allowing non-containerized cargo to be transported between Dubai and the Arabian Gulf, East Africa, and India. The port is recognised for its versatility, since it can accommodate a wide range of boats, from traditional dhows to breakbulk carriers and RoRo ships. Because of its near to Dubai's central business district, the port is a great destination for commodities that benefit from the city's vicinity.
Mina Al Hamriya is a destination terminal for animal imports since it features one of the largest quarantine facilities in the Middle East. Because of its ability to berth 190 fishing vessels at once, it is also a favoured port for the region's fishing sector. Given its proximity to Dubai's used automobile markets, the port is an appealing centre for used car trading.
Al Hamriya Port was developed under a Dhs. 20 million (US$ 5.4 million) deal with the Dubai government in 1975. This was in part due to an increase in economic activity in Dubai, which put a strain on Dubai Creek. The port's objective was to handle small fishing boats as well as certain commercial ships bound for Dubai.
Mina Al Hamriya, like all other ports in the city, is now controlled by Dubai Ports World. The port facilitates trade between Dubai and countries in South Asia and East Africa. Food, car components, and cattle make up the majority of trade through the port. Al Hamriya Port is undergoing expansion, which will involve a 2.5-kilometre extension of its commercial quay in two parts.
7) Port of Fujairah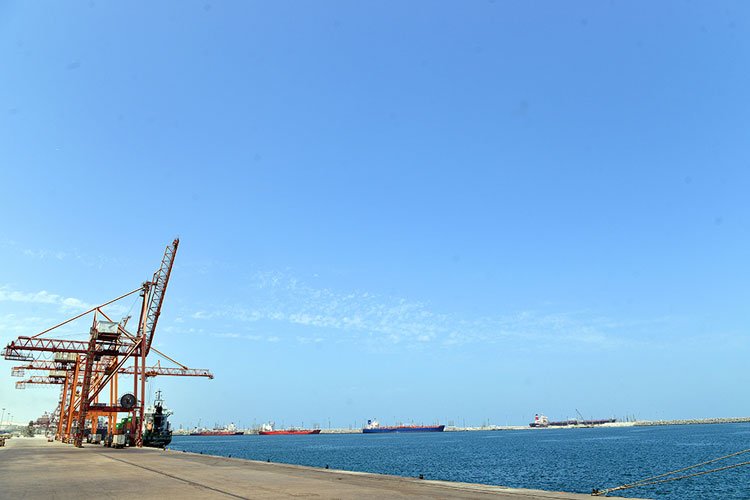 Under the patronage, vision, and support of His Highness Sheikh Hamad bin Mohammed Al Sharqi, Ruler of the Emirate of Fujairah and a Member of the UAE Supreme Council, the Port of Fujairah has developed to become a critical, all-encompassing resource for the maritime industry.
Strategic investments in the Port's infrastructure, state-of-the-art facilities, cutting-edge technology, and comprehensive support services have allowed it to stay ahead of ever-changing and increasingly diverse trade and industry developments, allowing it to maintain its world-renowned position as a safe, progressive, and highly efficient maritime port.
A versatile port that handles dry and liquid bulk, containers, and project cargo, as well as a four-SPM offshore terminal. It is an important bunkering depot with a free zone nearby. Deep, obstructed-free waters were used to get there. Ships can anchor as near as 0.5 nautical miles from the port.
The Port of Fujairah is one of the UAE's most important ports, with a lot of impressive amenities. The port is also known as Fujairah Port or Al Fujairah Port, and it is the world's second-largest bunkering hub after Singapore. It is a multipurpose port ideally located on the UAE's east coast.
Fujairah Port employs people and contributes to the regional and global economy through its various operations. This is a comprehensive description of the UAE's marine centre.
Fujairah port is the UAE's only maritime facility located on the country's eastern coast, and this unique trait contributes to the port's strategic importance. The port shares a location that connects east and west maritime routes.
It also provides rapid access to the UAE's road networks in all of the emirates. Between the port and the seven emirates, the distance is between 110 and 300 kilometres. The port is also linked to other UAE ports, including those in Dubai, such as the Jebel Ali Port and the Mina Rashid Port. These characteristics significantly increase international and regional trade through the Port of Fujairah.
Also Read: Major ports in China
8) Mina Saqr Port (Ras Al Khaimah)

Saqr Port is the Middle East's main bulk-handling port. Saqr Port handles the majority of the over 60 million tonnes of cargo handled by RAK Ports each year. Its unique location at the foot of the Hajar Mountains feeds into Ras Al Khaimah's expanding quarrying sector, which generates enough aggregate, cement, and other building materials to service the majority of GCC construction projects. This makes Saqr Port an important part of the industrial supply chain in the Arabian Peninsula and abroad, supplying supplies for large-scale projects like Expo 2020 in Dubai.
Saqr Port has a stellar reputation for efficient cargo processing and quick vessel turnaround. In the last five years, import/export movements via Saqr Port have doubled, with vessel turnaround times also doubling in efficiency to cope with the massive increase in cargo movements — a monument to the Port's operational competence.
Saqr Port is committed to a strategy of continuous investment in the quality and modernization of Port infrastructure, as well as a responsible, long-term expansion plan that involves the construction of additional deep-water berths capable of accommodating Capesize vessels effectively.
Construction supplies are the most common transport through Saqr. Repairs and ship servicing are handled at Al Jazeera Port, which is located south of the main RAK facility. It runs dockyards with cutting-edge gear and equipment. Marinas that berth pleasure craft, yachts, and personal boats are available nearby.
9) Mina Khalid Port
The Port of Khalid, located in the heart of Sharjah, is a pioneer seaport in the region, having the region's first container terminal, roll-on/roll-off cargo terminal, and free trade terminal. General, reefer, and dry, liquid, and bulk commodities are handled at the Port of Khalid, which has 21 berths. Two dockside cold stores, as well as oil and offshore support, are available. The Port of Khalid has been consistently modernising its infrastructure and services since its inception.
The emirate's three ports are owned and controlled by the Department of Seaports and Customs (the Port of Hamriyah, Khor Fakkan, and Khalid). The Gulftainer Company Limited was established in 1976 to run and administer the Sharjah Container Terminal and the Khor Fakkan Container Terminal.
The Port of Khalid has a lot of space. It has a public-use cold storage facility with a capacity of 5,000 tonnes, as well as a private dedicated cold storage facility with a capacity of 3500 tonnes. The Port of Khalid has six warehouses with a total area of 4600 square metres and five warehouses with a total area of 7200 square metres.
The North Wharf warehouse is 3600 square metres in size, with seven sheds totalling 3756 square metres. The Port of Khalid also has open storage facilities totalling more than 220,000 square metres.
Mina Khalid Port, along with Hamriyah and Khor Fakkan, is one of the UAE's three best deep-water harbours and is managed by the Department of Seaports and Customs. Cold storage, reefer storage zones, bulk cargo, and 33 multi-purpose berths are all available at the port. The port of Mina Khalid has extensive cargo storage and has been regularly modernising its facilities and services since its construction.
Mina Khalid is a multipurpose port that serves as a crucial entrance point into the United Arab Emirates' industrial heartland. The port is equipped with offshore and oil support, as well as two cold warehouses on the dockside. The port's construction plan also includes the construction of a dhow wharfage facility and a new dock within the breakwater reclamation.
10) Port of Khor Fakkan

The Port of Khor Fakkan is located in Sharjah and is one of the world's largest container transhipment ports. It is only three hours away from the UAE's main hubs, making it a perfect site to trade cargo from the Arabian Gulf, India, and East Africa. It is run by the same people that run Mina Khalid Port, and it provides simple open-sea access for cargo containers to be handled by ship-to-shoe gantry cranes. There is also a natural deep-water harbour waterway that serves as a cruise ship port at the port.
The Khor Fakkan authority is constantly looking for ways to improve staff skills and the working environment in order to make the port the best in the world. The city of Khor Fakkan has a population of around 35,000 people, making it the UAE's second-largest country, and it is for this reason that the people favour the port of Khor Fakkan. This port has direct access to the open sea and can handle over 1,000 reefer containers at once.
The terminal also serves as a vital land link for local container traffic entering the UAE. When a container is imported into the UAE through the Khorfakkan Container Terminal, it arrives at a consignee's warehouse at least 4-5 days sooner than if it were imported through another UAE container terminal.
It thus provides a vital service to the country's importers and exporters who believe in the time value of money, assisting them in maintaining a lean and Just in Time supply chain management approach.
Also Read: Top Ports in India