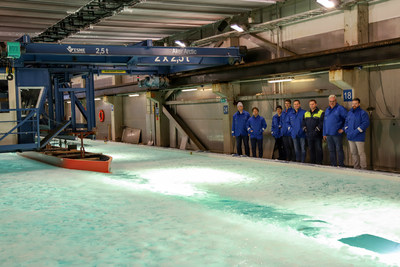 Seabourn which is one of the finest ultra luxury cruise line of the world has crossed yet another milestone by completing the ice model test for the PC-6 rated hull of its new ship, Seabourn Venture.
The test was done at a large indoor testing basin Aker Arctic, Finland. The test gives proven and proper ways making sure that the hull design of Seabourn Venture will perform according to the requirements in the ice conditions it may come across. A ship that is rated to PC-6 Polar Class standards has the capability to operate in summer & autumn in ice conditions in Antarctica, the Arctic, and other exotic destinations around the world.
"We know that Seabourn Venture will deliver on the expedition experiences we're creating after seeing this series of tests completed," said Robin West, vice president of Expedition Operations for Seabourn. "Our team is fully committed to taking luxury expedition travelers to some of the world's most sought after locations and Seabourn Venture is certainly going to be up to the task with its purpose-built design."
The critical part in designing and building a process for the ships which will operate in regions where ice is common is foreseeing the way ice might behave according to the hull. At the time of ice testing series, a large model mock up of the hull of the ship is connected to a carriage in which maneuver and operational tests can be conducted. During this time the team members of Seabourn and Carnival Corporation team watch through a series of viewing windows.
Seabourn Venture's keel laying will be done in December. The ship is expected to be launched in June, 2021. The ships are being designed to make it the ultimate blend of ultra luxury and customized services by the top travel experts and professionals who have great experience in expedition, hospitality, and ultra-luxury cruising.
The ships will so designed and built that it will be able suit extreme and different environments and will comprise a variety of modern hardware and technology which will expand the deployment and capabilities of the ship in the world.
The ships will be featured with two customised submarines that will be carried on board which will provide the guests with underwater views on optional excursions. The ship will also have 24 Zodiacs onboard which will make it flexible enough to take all the guests on a Zodiac tour at once. The ship will also have 132 luxurious oceanfront veranda suites.
Adam D. Tihany has made the designs for all the public and luxurious guest suites areas.
The vessels will also have an onboard crew which will include experienced wilderness experts, scientists, historians and naturalists. The members of the team will interact with the guests and provide detailed information during each voyage.
The other details, full color rendering and the interior spaces of the ship will be released in the months to come.
Reference: seabourn