TOTE Services Is Awarded Contract To Construct National Security Multi-Mission Vessel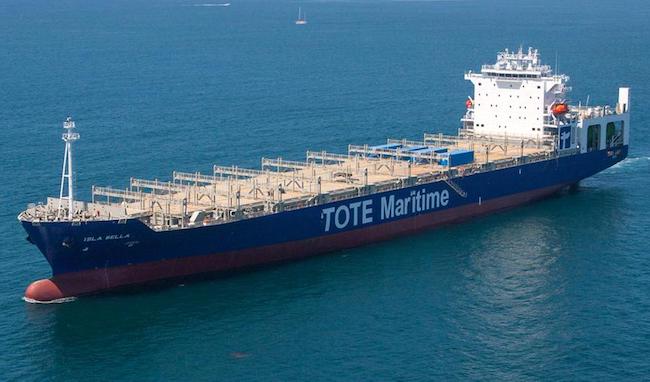 TOTE Services, an industry leader in ship management, marine operations and vessel services, which is an affiliate of TOTE, LLC ("TOTE")   has been awarded a contract by the Maritime Administration (MARAD). This contract is for managing construction of a new class of vessel – the National Security Multi-Mission Vessel (NSMV) – to provide training to sustain world-class maritime sea training for America's future mariners and to support humanitarian assistance and disaster relief (HA/DR) in times of need.
"TOTE Services is honoured to have been awarded this contract to construct the NSMV that will serve as the new training ship for the US maritime community," said TOTE Services President Jeff Dixon. "This award reflects the wide-ranging knowledge and capabilities that TOTE Services has and will provide in executing MARAD's vision to recapitalize the training fleet for our nation's maritime academies, which provide qualified officers to support the domestic maritime industry."
These vessels will help in promoting the growth of our nation's domestic maritime industry. This will be accomplished   through the development of a next-generation training fleet while addressing a critical shortage of qualified officers needed to crew commercial and government-owned sealift ships during crises.
In addition to being a state-of-the-art training and educational platform, the NSMV is a highly-functional national asset designed to fulfil numerous roles. As the Vessel Construction Manager (VCM), TOTE Services will manage the development of the new vessels, which specifications have been established to be compatible with the dock length, draft restrictions and mooring limitations at each of the maritime training academies, as well as ports able to conduct HA/DR operations.
The new vessel class will include state-of-the-art training facilities and the latest in maritime technological advancements with space to train up to 600 cadets at sea, maximizing the ship's capabilities and its mission to provide future mariners with a world-class education. It also features modern hospital facilities, a helicopter pad and the ability to accommodate up to 1,000 people in times of humanitarian need. Furthermore, the NSMV will provide a roll-on/roll-off ramp and container storage.
Soon a request for information will be sent by TOTE Services to interested shipyards with the goal of awarding a contract to build by the end of 2019. Delivery of the first of these new class vessels is expected in 2022.
"TOTE has a long history of supporting maritime academy training programs and disaster relief missions in conjunction with MARAD," said Dixon. "We're confident in our ability to deliver on the NSMV and are excited to again work with MARAD on this important initiative."
Since 2015, construction and management of the world's first LNG powered container ships, activated U.S. training ships has been overseen by TOTE Services to support disaster relief following Hurricane Maria, and managed various MARAD vessels, including six fast sealift ships.
Reference: toteinc.com