Heerema's Aegir Installs Cutterladder Into Cutter Suction Dredger 'Spartacus'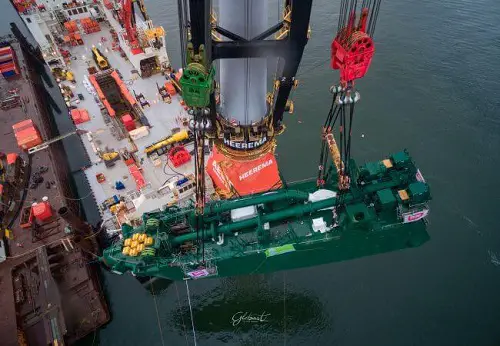 Heerema's Aegir has successfully installed the 2,500-tonne cutterladder into the world's most powerful Cutter Suction Dredger 'Spartacus'. Spartacus is going to be the world's first LNG-powered cutter Suction Dredger built by Royal IHC for DEME. Its length is about 164-meters.
When the cutter ladder was transported by barge the 'Spartacus' was dragged from IHC's shipyard in Kinderdijk to the Caland Canal. First, Aegir lifted the cutterladder from the barge with her dual crane blocks. 'Spartacus' was then moved into position and moored alongside Aegir.
The cutter ladder whose length is 57-meters was carefully lowered into position by rotating the ladder as well as shifting the 'Spartacus'. Clearances encountered during this process were as small as 24 mm. After the locking pins were engaged, the cutter ladder installation was completed.
Now for further construction activities and leftover work 'Spartacus' will now return to IHC. Aegir will soon depart Rotterdam to execute other projects in the North Sea.
Reference: hmc.heerema.com