How To Become A Marine Engineer: Salary & Qualifications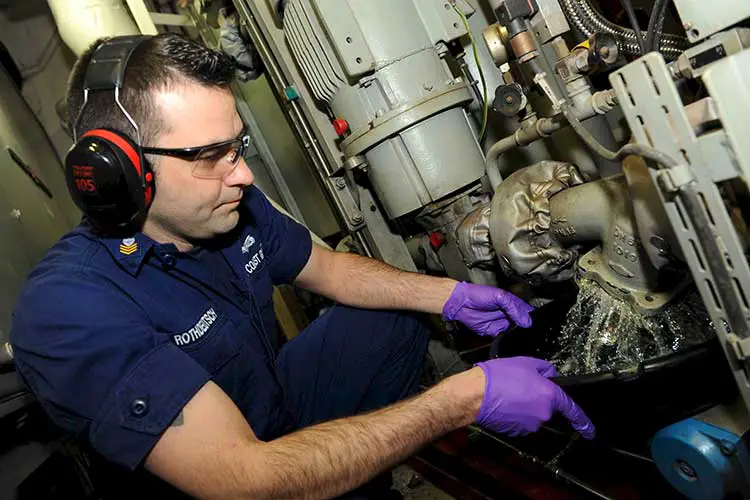 [lwptoc]
Marine engineering is one of the most lucrative jobs currently available. This is not surprising considering the glamour and incentive that is associated with it. However, how much of it is true, only someone working in the field can tell you. In this article, we will familiarize you with the career path and the duties that will be vested in you at the start of your career as a marine engineer. After reading this article you'll know how to become a marine engineer.
It will surely clear some of your doubts and misconceptions and hopefully not scare you off for the truth is indeed a little distant from the reality of the lives of marine engineers.
The shipping industry is growing at a steady rate with the increase in commercial activities, and thus, there are several opportunities for students who want to take marine engineering as a career. With the rise in the number of navy and trading vessels getting registered the need for marine engineers is rising too.
There are specific prerequisites that need to be fulfilled by an aspiring candidate. Here is a detailed guide on how to become a marine engineer.
How To Become A Marine Engineer: Career Path of a Marine Engineer
Anyone aspiring to be a marine engineer needs to get a graduate and a post-graduate degree from a reputed college offering the course. This is the bare minimum, and it does not take much to get into this course. A senior secondary certificate works just fine. In most places, the duration for this course is four years but may vary from place to place.
During this course, a student learns both the theory and its practical usage. The latter might be conducted in-house or in a more real-world scenario like shipyards. Here, they are familiarized with Magnetic and Gyro compasses, electronic navigational aids like the Radar, Decca, etc. The students are also taught practical navigation and astronomy.
Since English is the most widely used and understood language in the merchant navy, it is given special importance. Apart from that, computer science, applied mathematics, physics, electronics, and marine management are taught to students.
Some special topics that are purely related to this field are also taught like maritime commerce, the control system, and last but not least environmental science.
This training not only trains the aspirants mentally but also prepare them physically as well and are hence, made compulsory.
After completing the bachelor's degree, it is always recommended to get a master's degree in the same as not only does it increase the candidate's employability but also improves upon his already gathered skill set.
It is not too difficult as the end of the previous course covers most of the tough concepts. Here, the knowledge that the candidate has gained over the past four years (in most cases) is put to practical use and that involves spending a lot of time doing lab work.
As long as one is focussed cracking these is not that difficult. One needs to have a clear idea as to what one expects from the industry. If one is serious one can do a Ph.D. in this area as well.
Life of a Marine Engineer
The life of a marine engineer is not a very easy one. A marine engineer is expected to know almost everything about the ship, and I am not even exaggerating.
From the design of the entire ship to how every component works, a marine engineer should know like the back of his hand. They not only understand them but are also responsible for designing the steering system, heating, cooling, and ventilation systems and hydraulics of the ship.
After they have designed the system and have chalked out where and how every component needs to be, like where each duct, machine and power source is to be located, they move on to estimating the maintenance cost of the entire system, which later needs to be approved by the management.
After the budget has been approved and the design and specification that are to be followed have been decided on the next step is to carry on regular inspection and checking.
A marine engineer also needs to provide the management with regular updates regarding expenditure and progress reports. Any issue that comes up also needs to be fixed by them.
As is evident, a majority of the work can be done by marine engineers from an office. Still, they need to be on the ships for inspection and to understand the requirements of the ship and its crew better.
They also carry out maintenance works, e.g., a marine engineer who specializes in offshore drilling may be required to supervise the maintenance and repair works of the machine and the components involved in the process.
Job Description of a Marine Engineer
Marine engineer is a specialist technical professional who designs, develops, builds, installs, inspects and maintains the engines, propulsion systems, pumps and other technical equipment of a ship or other marine vessels. A marine engineer can choose to work on different types of vessels depending on his aptitude and expertise.
As a marine engineer, you may decide to be an expert in one domain such as either the engines and propulsion system of a vessel or become a design engineer of a ship.
A Marine Engineer, you could be entrusted with any of these roles:
Act as a technical leader and provide project management for ship design and construction.
Inspect and evaluate marine construction and metrics like stability, weight, and hydrostatics.
Document all the requirements, instructions, material specifications, and troubleshooting guides for a vessel.
Identify trends and improve designs using all the logs and data.
Marine Engineering Salary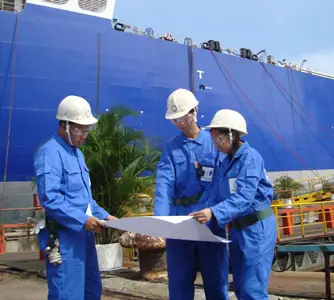 A job this trying obviously has its perks. Based on the US Government's Bureau of Labor Statistics, the average annual salary of Marine Engineers and Naval Architects is $84,850. However, for the more successful ones, an annual salary of $145,790 is quite common.
Shipping is still the cheapest mode of transport and hence is indispensable especially in trade. Hence the number of ships continues to increase and with that, the demand for marine engineers is seen to experience steady growth.
In addition to the traditional ships, the emergence of newer fields like utilizing alternative sources of energy like wind and tide as opposed to oil has expanded the horizon for the aspirants.
The market for marine engineers is going to keep growing because the old vessels need to be remodeled based on the newer guidelines and norms and newer ships are to be put into service. Some offshore opportunities for marine engineers will also open up as companies start looking at alternative energy sources like wind turbines.
However, we must not forget the fact that despite all this marine engineering is a niche field and will always be a small part of the job market.
A marine engineer starts off by learning the working mechanism of specific systems and as he becomes more and more adept at using these systems, he or she is made to learn the use of more complicated applications which becomes mandatory for operating in the maritime environment.
However, if one is not comfortable with the idea of spending long durations at the sea, there are still some career opportunities available in the field like office jobs where CAD (Computer Aided Design) skills are sought after.
What to do After Marine Engineering
Doing marine engineering does not necessarily mean that you need to stick to it for the rest of your career. Experience is probably the most important quality of a marine engineer.
This experience is well sought after by clients all over the world. Getting USCG licenses can help you boost your career. With the increase in its level, your responsibility increases and so does your worth in the market.
Many people move to sales while others share their valuable experience with high paying clients who have their own projects in mind. They need your help to execute them.
Also read: Top Marine Careers – Sea Jobs On Ships
Should you Choose Marine Engineering as Your Career?
I hope that the article has so far educated you with everything that you need to know about marine engineering as a career. Now it is your turn to decide whether you are ready to take the plunge. As it happens with any engineering field, your maths and science need to be strong.
The training itself is a rigorous process and underestimating its level of difficulty will only get in trouble in the long run. So, it will serve you well to prepare accordingly.
The driving force behind any successful career is your passion. To work as a marine engineer, you need to be extremely passionate about the ocean and the various technology involved in harnessing the power of the sea.
All marine engineers do not get the comfort of a desk job. So, if you are thinking of completely avoiding onshore duties, you might want to look at some other career opportunities for it would not be long before you fail miserably and that too after wasting years of hard work in an extremely niche field.
But if ships, sea and the maritime life fascinate you then you, will definitely find this career to be extremely rewarding.