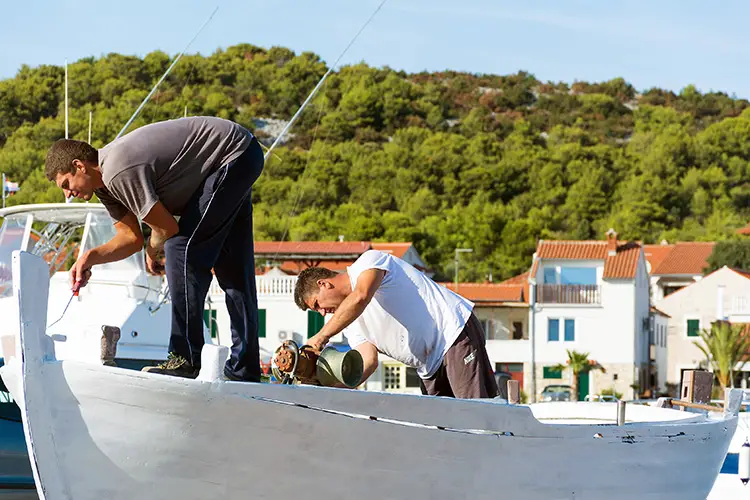 [lwptoc]
Any kind of machine, be it a machine in a factory or a simple refrigerator or microwave oven at home, requires proper maintenance and in case of malfunctioning, repairing. When something is malfunctioning we generally call a mechanic. In the same manner, a boat mechanic is the one who repairs ships and other machinery concerned with them.
What does a boat mechanic do?
A boat (ship) mechanic is a skilled person who repairs boats, installs necessary equipment and machinery, and carries out an inspection of the boat periodically in order to ensure a smooth run.
The work of a boat mechanic includes plumbing and intake, propeller fuel systems, electrical and AC system maintenance, transmission disassembly, performance documentation, mechanical cleaning and flushing, hydraulic monitoring, etc. Ship mechanics may also need to purchase the required supplies to perform the repairs.
Also read: 11 High Paying Marine Careers
What are the qualifications required to be a boat mechanic?
Being a boat mechanic is a proper profession that requires a proper education if not as high as other career options. There are several educational qualifications required to become a mechanic for boats. These include a certificate, a diploma, or an associate degree in small engine repairs. High school graduation with mathematics as a subject is a mandatory requirement.
Most aspirants prefer on-the-job training and internships as specialized training courses in this field are limited. They are some selective courses available in some high schools. Vocational courses are also a good option. The average duration of specialization courses is twelve to eighteen months. Vocational courses may also be as long as two years.
A boat mechanic is trained in all aspects, which is both technical and theoretical learning. They are mostly taught about engine and fuel systems, hydraulics and related parts, welding, transmission repair, electrical and auxiliary systems, steering mechanics, etc.
However, other than educational qualifications, it is necessary for the candidate to have an interest in technology and mechanics and an inclination towards science and maths. Practical skill is the most important as almost all of the work is practical but at the same time, thorough knowledge is also needed. They also need to be physically fit as they may need to work in all types of weather and sometimes for long hours. They must also have excellent hand-eye coordination as most of the work involves it.
It is also not enough to have qualifications and skills. Boat mechanics need to be updated and aware of the new science and technology as the marine industry is one of the most rapidly growing industries in the world.
Also read: Who is an oil rig roughneck?
 Where can a boat mechanic work?
Boat mechanics are required on all kinds of boats like commercial fishing boats, cruise ships, or even smaller personal crafts, both onboard and offboard.
Boat mechanics may be hired by boat dealers, repair shops, boat rental companies, marinas, or boatyards. They may have to work indoors or outdoors depending upon the nature of their duty and the size of the boat they are working on. If a large container ship needs repair, the work would need to be done on sight without removing the engines. The nature of the job may vary with the season, the weather, and the geographic location.
Most employers prefer ship mechanics who have had formal training. However, some firms also provide on-the-job training along with employment.
Being a ship mechanic is not the most secure of jobs as the number of mechanics employed depends largely on the season. For example, mostly, only routine maintenance is needed during winters and not many employees are required for that. The job may also depend on the port at which a person is working and the kind of business going on there.
Also read: Who is a bosun?
How much does a boat mechanic earn?
The salary of boat mechanics can vary largely. Obviously, the experienced ones earn more than new recruits. The average salary of a boat mechanic is between 32,000 dollars to 40,000 dollars per year. In 2013, the average wage per hour was 17.35 dollars. The job growth in the past few years has been slower than estimated.
Also read: Top Marine Careers – Sea Jobs On Ships
Institutes offering courses for boat mechanics
Some institutes that offer courses for people wishing to become ship mechanics are as follows:
New England Institute of Technology, Rhode Island, United States
Euro Maritime Academy, India
College of Ship Technology, India
Are there any other career options?
If one is interested in pursuing a career in mechanics but does not find the career of a ship mechanic suitable, he or she can always consider a career as an automotive service technician or mechanic or a diesel service technician. These careers involve working and performing repairs on cars and trucks instead of boats. These careers require similar educational qualifications and practical skills.