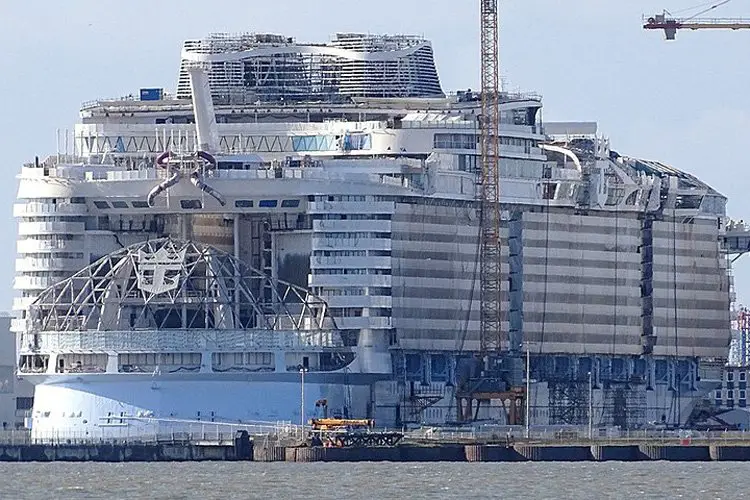 Utopia is a planned luxury residential ocean liner project. It is supposed to have residences ranging from SD 3.9 million – USD 30 million which later escalated to USD 36 million.
MS The World is only one resident-owned cruise vessel as of 2023.
The Utopia was earlier planned to be launched in 2017 which later got pushed to 2021 due lack of funds.
The cruise which will cost USD 1.1 billion was to be built by Samsung Heavy Industries.
The ship is designed with a gross tonnage of 108,000 tons and will have dimensions of 296 meters in length and 36 meters in breadth. It will stand at a height of approximately 50 meters and have a draft of 8.3 meters. The ship will be able to accommodate 900 passengers and will have a crew capacity of 600 members.
Utopia collaborated with Elomatic Consulting & Engineering for the conceptual design of the ship, with Tillberg Design serving as the primary and coordinating architect. The ship's interior design was a joint effort between Nancy Iraggi and Tillberg Design.
Novenco's Marine and Offshore Division will supply the heating, ventilation, and air conditioning systems, while Wilhelmsen will oversee the ship's technical management.
Upon completion, the ship will feature 204 hotel suites available for short-term rentals, akin to hotel rooms. There will be 200 apartment-style cabins for sale as permanent residences, with purchasers acquiring cabins on the ship but without ownership stakes in the ship itself.
The residences will come in different sizes and prices, ranging from a 1,400 square foot two-bedroom, two-bathroom unit priced at $3.7 million, to a spacious 6,600 square foot four-bedroom, three-bathroom home priced at $25 million.
Long Island Cruise
These are some of the most famous Cruise in Long Island, New York:
1) Skyline Cruises
2) Cross Sound Cruises
3) The Moon Chaser Cruises (Babylon, NY)
4) Discovery Wetlands Cruise (Stony Brook, NY)
Utopia of the Seas
Utopia of Seas by Royal Caribbean is the epitome of luxury and adventure on the high seas. This extraordinary vessel offers 204 opulent hotel suites for short-term rentals and 200 apartment-style cabins for permanent residency, where you can own a cabin on the ship but not a share of the ship itself. With 204 hotel suites, Utopia of Seas rivals top boutique hotels on land, ensuring an indulgent stay for every guest.