Largest Ship Propellers In The World
Humans are always fascinated by the biggest and the fastest. Ships which are some of the most mammoth structures made by us provide us plenty of opportunities to be awed. Have you wondered how these giants on the sea move? Propeller is the answer. And to move the biggest ships in the world, we need the largest ship propellers in the world!
Propellers are generally used to make an object move forward. The thrust produced by the rotation of propellers drives the ships or aircraft.  Propellers are used in aircraft and ships. In our childhood, we all have played with small boats having a small fan-like structure on the back, and on rotating that fan our boat would move in the water. Now imagine, for making a huge ship move forward we need a huge propeller.
Largest Ship Propellers In The World
Here are some ships having the biggest propellers in the world:
1) MSC OSCAR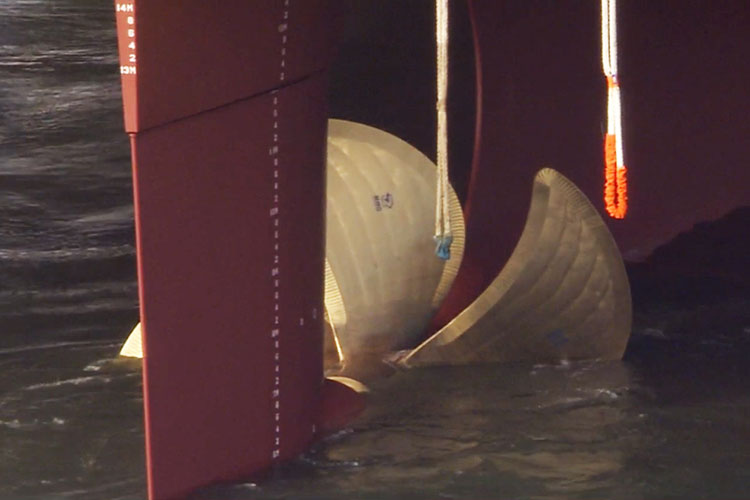 MSC Oscar, built by Daewoo in South Korea, is one of the largest container ships in the world. The total length of this ship is 395 meters. The propeller consists of five blades, each blade measuring 10.5 meters. The main engine of this ship is MAN B&W 11S90ME-C, which enables the maximum speed of this container vessel is 22.8 knots. The 45,300-ton steel MSC Oscar cost US$140 million to build.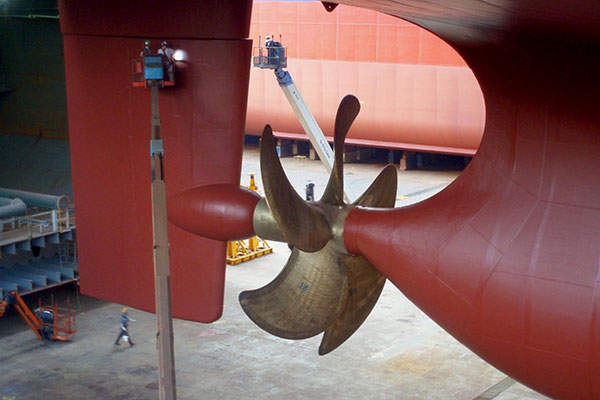 It measures a whopping 395 meters long, 59 meters wide with a draught of 16 meters which is equal to the size of four combined football fields. Obviously, such a massive ship needs the biggest propeller.
2) EMMA MAERSK
Before the manufacturing of Triple-E-Class ships, Emma Maersk was the biggest ship in the world. Being one of the oldest and largest ship containers (1302 feet long and 207 feet wide), Emma Maersk has one of the world's largest ship propellers. This propeller, having a diameter of 9.6 meters and weighing 130 tons, is owned by A. P. Moller-Maersk Group. It is a six-blade propeller made of an alloy of copper, aluminum, nickel, iron, and manganese.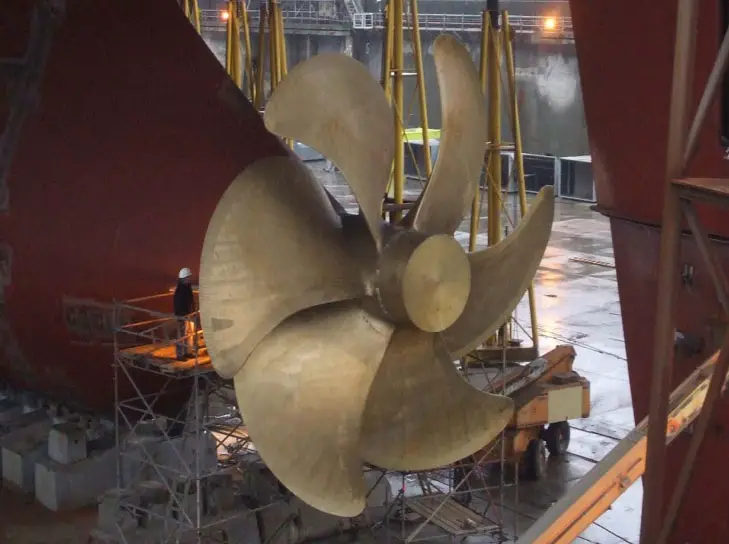 Emma Maersk has a Wartsila-Sulzer 14RTFLEX96-C 199,000 horsepower engine, the world's largest single diesel unit, which burns 3,600 gallons of fuel per hour. This gives it a speed of about 31 knots.
3) MT FRONT CENTURY
This vessel is a Crude Oil Tanker, built in 1998 by Hyundai Heavy Industries. The owner of this ship is Frontline Ltd. This ship is powered by a MAN B&W-Hyundai 7S80MC engine. It has a four-bladed key-less 6.46-meter pitch propeller with 9.7 meters of diameter.
4) MOL TRIUMPH
This container ship was built by Samsung Heavy Industries in 2017 and it is one of the four ultra-large ships built for MOL of Japan. It has a high-efficiency propeller. It can give a maximum speed of 24 knots by driving a single five-bladed propeller of the 10-meter pitch.
5) MV BARZAN
This ship was built in South Korea for the United Arab Shipping Company (UASC) by Hyundai Heavy Industries. It is an 18,800TEU container vessel ship with propellers weighing about 110.2 tons. The propeller has a diameter of 10.4 meters.
6) ROYAL CARIBBEAN OASIS CLASS SHIPS
These ships are one of the largest cruise ships in the world. The first two ships in this class are Ocean of the Seas and Allure of the Seas. Propellers in these ships have a diameter of 6 meters. The propulsion is provided with the help of three 26,800 hp  Azipods, ABB's brands of electric azimuth thrusters.
7) HAMBURG EXPRESS
This container vessel ship is owned by Hapag-Lloyd AG (a German-based transportation company). It is a 13,177 TEU container vessel built in 2012. Its propeller is six-bladed. With a diameter of about 9.1 meters and a weight of 101.5, this propeller is one of the largest propellers in the world.
8) TITANIC
We all know the story of the Titanic of how the biggest ship of its time sank after it struck an iceberg. There were three propellers in this ship weighing 38 tons each. Each propeller was operated using separate engines. The propellers measured 7.2 meters. The propellers were made of bronze.
9) SEAWISE GIANT
Seawise Giant was the longest ship ever built. It was a ULCC supertanker, twice as big as the titanic. This ship was sunk during the Iran-Iraq war and was named Happy Giant after repair. The ship had five-bladed propellers, weighing 50 tons, with a diameter of 9.14 meters.
10) QUEEN ELIZABETH 2
Queen Elizabeth 2 is a floating hotel and retired ocean liner which was built for Cunard Line. Since 2018, the ship has been operating as a floating hotel in Dubai.
QE2 has two huge variable pitch propellers each having a diameter of 22 feet and weighing 43 tons. The propellers are fitted with "Grim Wheels". These are free spinning blades that are fitted behind the main propellers. This design was used for recovering the propeller thrust and reducing fuel consumption.
11) PALMER
Icebreaker, Nathaniel B. Palmer, is a ship made for navigation through the ice-covered water and is mainly used for research purposes. For making a ship to move through the ice-covered water propeller with high strength are needed. Therefore, the propellers of this ship are made up of a sturdy alloy.
This ship has two four-bladed propellers that are about 4 meters long.
12) ELATION
It is a Fantasy-class cruise ship owned by Carnival Cruise Line. Its service speed is about 22.3kt. It is the world's first to use a unique electric azimuth Azipod propulsion system in which a ship is pulled rather than being pushed by the propeller. Elation has two 14MW Azipod propulsion units.
13) BISMARCK
Bismarck was a battleship built for Nazi Germany's Kriegsmarine before World War II. The ship had three manganese bronze propellers each having its own engine. Each propeller had three blades. The diameter of the propellers was 4.7 meters and the volume was a 2.4-meter cube.
This huge German battleship was sunk on 27 May 1941.
So, these were some of the biggest propellers in the world.