Merchant Navy Recruitment Process Guide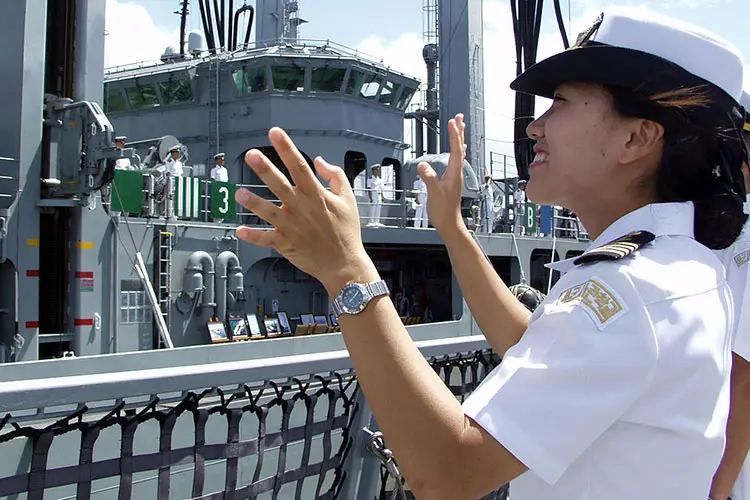 [lwptoc]
Due to the heavy reliance of economic trade on the shipping industry there happens to be a huge demand for employment in Merchant Navy. The jobs are lucrative as well and hence quite a number of students are interested in taking this career path. As a result, several websites and other forms of information providers have sprung up all over who provide Merchant Navy Recruitment Process information that is not always accurate and more often than not misguide the aspirants. So here we have tried to curate all of the details that an aspiring candidate might be requiring to follow the career of his choice.
Merchant navy is a profession where the candidates' capabilities and abilities are measured at an international level. However, every country and nationality have their own set of standards that they follow. But the candidates are highly rewarded in all parts of the world.
How To Join Merchant Navy – Merchant Navy Entrance Exam
To get into this field you have to clear all the required government-regulated examinations and also have to prove that you are capable of performing well on board as well. As it might be clear by now this is indeed a very competitive and professional area.
After completing your 10+2 you can start preparing for any of the merchant navy courses. To join as a Deck Officer, one has to pursue BSc in Nautical Science which is a three years course.
You can also choose to do a diploma course in the same which will take you one year. On the other hand, to join as an engineer you will need to have a BE or a B. Tech in Marine Engineering which is a 4-year course. If you want to start from class X itself, then you can join the catering department after taking a 6 months Maritime Catering Course or getting a B.Sc. in Marine Catering which is 3 years long course.
The list is in no way exhaustive but gives a fair idea of the various starting points in this career. Previously all these courses were affiliated to various universities spread across the countries. However, now most of the recognized ones are under the umbrella of the Indian Maritime University.
The degrees and diplomas of the different courses are awarded by this university. This is because previously problems were arising regarding the validity and the acceptability of these degrees. Interested students are advised to keep an eye on their official website www.imu.edu.in to get updates regarding the various dates, timelines and the examinations.
IMU conducts a Common Entrance Test and based on the rank one achieves in this examination the candidate is placed on one of the several campuses of IMU or one of the institutions affiliated to it.
The UK controls all training related guidelines from a central training board known as Merchant Navy Training Board and is regulated by the MCA.
Eligibility for Joining the Merchant Navy
Before getting your hopes, high there are a few things that you need to know regarding the eligibility for this career. These include both physical fitness, age, academics, etc. but are in no way associated with a person's gender.
Merchant Navy Age Limit: The candidate should be within 17 to 25 years age to be considered eligible for the various examinations related to the merchant navy. Candidates from scheduled castes and scheduled tribes have a maximum age relaxation of 5 years, as per government rules.
Physical Fitness: This is a really important factor because one has to be fit if one wishes to work at the sea. The conditions at the sea are much different and considerably severe as compared to those on land. Therefore, it is mandatory to get certified by a registered medical practitioner as physically fit, to get admission to the course. This has nothing to do with discrimination.
Rather, since it is a job where lives of several people are in the hands of the merchant navy it goes without saying that only the people with the maximum capacity of carrying out the duties should be given the responsibility.
Merchant Navy Eyesight Requirement: 6/12 in each eye or 6/9 in better eye and 6/18 in the other eye for distant unaided vision. There is no place for candidates who are color blind.
Merchant Navy Educational Qualification: Anybody applying for the officer grade needs to have a minimum of 50% in English and an aggregate of 60% in Physics, Chemistry, and Mathematics. For ratings, the requirements are a little lower with 40% marks in English in Xth and XIIth and a 40% aggregate in Xth or XIIth with English, Mathematics, and Sciences in Xth and any stream for the XIIth board.
For candidates wishing to apply for the catering department, the requirements are somewhat similar. However, this is just a general guideline, and the institution you wish to enroll in might have its own set of guidelines. So, it is always advisable that you check their official website to know their specific requirements.
Merchant Navy Colleges and Course Fees
It is very important to check out the legitimacy of the institution that you wish to enroll under. The list of approved institutions can be found on the official website. To maintain a certain level of quality and standard the website is regularly updated. Similarly, the list of legitimate nautical colleges in the UK can be found on their official website.
There are many institutes that try to lure candidates in the name of placements. It is better to avoid them. You should know the difference between 100% placement assistance and 100% placement for they are completely different things and in the first case promises almost nothing.
The college fees depend on the institution as well as the course. So naturally, the course fee for a 3 years B.Sc. in Nautical Science will differ from a 1-year diploma in the same. Below are the average course fees of a reputable institution:
 B.Sc. (Nautical Science):
Total Duration: 3 years
Total Fees:
For Male Cadets 2,20,000/- per annum
For Girl Cadets 1,40,500/- per annum
Diploma in Nautical Science (DNS) leading to B.Sc. (Nautical Science)
Total Duration: One-year (2 Semesters) Pre-sea course
Total Fees: 2,20,000/-
The UK government takes care of the fees for UK nationals. Some of the courses in India are conducted with the cooperation of some UK courses which exposes the candidates to a Higher National Diploma in Nautical Science.
Merchant Navy Recruitment Process
In India, there are a number of shipping companies that run their own training institutions. Here candidate gets placed into the same company as soon as they complete the pre-sea course. Anglo-Eastern happens to be one such company that runs its own training institutes that enables aspirants to become officers.
The process involved in getting into such a company is a little different than the other ones out there. One needs to appear for both an interview as well as written tests.
On the other hand, if you are enrolling yourself in one of the other types of institutes that are not run by some shipping company you should be aware that it will be your responsibility to find yourself employed after completing the course. It is not as hard as it might seem but is definitely not as easy as the earlier case either.
In the UK the process is a little more interesting. The company itself sponsors the candidate to study in a particular institution. After completing the course, the candidate gets to join the company that paid for institution fees.
Also read: Top Websites For Merchant Navy Jobs
Merchant Navy Salary
It is true that people joining the merchant navy are well rewarded. This does not only mean monetary benefits as the kind of experience the person gains is no less rewarding. The common people are in awe of those working in the nautical field and have great respect for the latter. The salary is of an international standard and is more often than not tax-free in all countries. The different salary structure as per the role are as follows:
Deck Cadet – USD 250-700
Third Officer – USD 2000-3900
Second Officer – USD 3000-5000
Chief Officer – USD 7000-10000
Master Mariner/Captain – USD 9000-15000 or higher
It is important to note that most of these numbers depend on the person's experience and vary from company to company and from country to country. Also, the risk involved in the type of ship that a candidate is to work in is an important factor deciding the salary, e.g. officers that are working onboard tankers are paid a few dollars more than the officers working on bulk carriers as the risk involved is less in the latter case.
Conclusion
Though it might seem that the merchant navy is a great career path in terms of the demand of candidates it is important that you realize that it is fully based on a supply and demand relationship that might crash or blow at any moment.
Despite that the shipping industry is a booming business and a steady one too, it is slowly getting saturated in terms of employment, and getting a job is not as easy as it used to be a few years ago. So, it is important that you are well informed about what you are getting yourself into. But if you are still hell-bent on getting into this field you will be highly rewarded, and we wish you the best of luck.